⌈
I will happily help you! But first... this plump, juicy strawberry is begging me to eat it...
⌋
---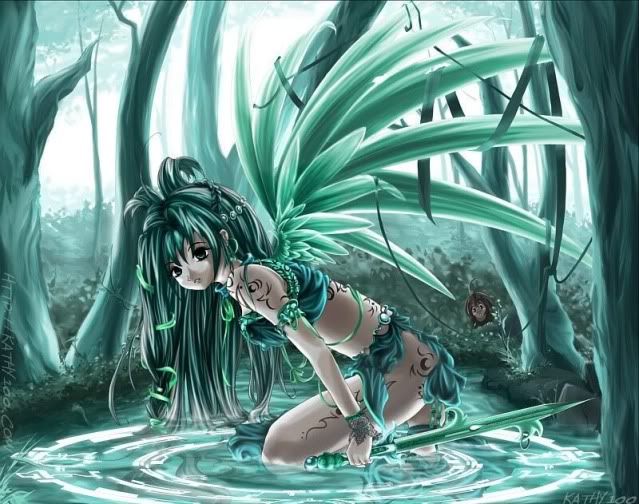 ⌈
Species
⌋
Midori is an Alchemehr. More specifically a pixie type.

⌈
Age
⌋
Midori has lived a very long time. She appears to be a teenager and certainly can act like one at times. Her age, though, remain's a mystery, even to Zrye who has been with her for a very long time.

⌈
Sexuality
⌋
The little pixie doesn't have an interest particularly in that way.

⌈
Appearance
⌋
Midori can be described in a few words. Her name essentially means 'green', given to her by Zrye when he'd found and saved her. Her long locks of green-blue hair certainly set the tone for her name. Her wings look to be made of emeralds, but when touched are as soft as velvety plush. She wears dark green clothes made out of the tiny vines found inside the leaves all woven together intricately as only one of her size can possibly do. She is only twelve inches tall with a round face and large dark green eyes that seem to sparkle almost all the time.

Her skin is of a pale complexion. Midori's arms and legs may look small, but she's rather strong considering. Almost always there are thin, flexible leaves of bright green woven into her hair, helping to keep the long locks from frizzing into her face. Bracelets of thin vines and other natural elements weave their way along her arms and legs. Midori is barefoot at all times, preferring to feel everything beneath her feet and also because she finds any type of shoe to be constricting (not to mention ugly).

---
⌈
Personality
⌋
The little green pixie can be quite the talker. She's almost the exact opposite to her companion whom she's chosen to make a contract with. She can talk about anything, ranging from how beautiful the colored sky is to what it means to be a leaf on a tree. One could say the development of the little beauty becoming a chatter box was because of the silence of her winged protector, Zrye. The man doesn't talk much and so she feels the need to speak for both of them. Zrye has seemingly grown accustomed to her constant flow of speech for she can continue for days and he won't say anything about it, only listen to her.

Midori is a little ball of energy, never staying still for more than a few minutes unless she's sleeping where she is finally both still and silent. She laughs easily, smiles all the time and is in general an easy going creature. Still, for one full of such energy and love, she can easily be hurt. Insults of any kind directed towards her or anyone she holds close will make her angry to the point of tears. She can't find anything to say at these times and will end up crying instead because she couldn't say anything. When she's crying for one reason or another, she tends to hide in Zrye's clothes or under his wings or even sealing herself in the ring she'd made the contract in with the Lagoi. Most times, though, she prefers his wings to hid under.

She can be very stubborn at times as well and though rare, she can get bored which leads to a lot of complaining and Zrye only smiling softly whilst reaching to stroke her wings in an attempt to calm her. Midori's stubbornness can be a hassle to deal with, especially when it comes down to something she wants. Puffing out her cheeks, crossing her arms and stomping her feet and usual signs that she's irritated, and hot headed about something. Though during these times she's most like a child, the pixie does express her true age every once in a while depending on the situation at hand. She can be mature, which may shock some who've never seen it before due to her acting like a small child most times.

Fighting is something that terrifies Midori and she despises it because she hates to see anyone in pain. Though she does carry a weapon, she hesitates to use it at all. Most times, she confines herself within the ring and allows Zrye to use her magic. There she can't see the pain being inflicted and thus it's easier to deal with even though it still scares her slightly. Usually after any sort of fighting, she becomes depressed for a while, one of the only other times that she doesn't speak very much. She will sit on his shoulder, right behind his ear where she will stare behind them for hours on end until she's finally beginning to feel better.

Though Midori seems to love everything, there are a few things that she hates. The Bellatores, Raconteurs, and the Talpas. Not only is she afraid of the Talpas, she hates them because of their destructive and cruel nature. She cannot fathom how such beings exist and if reminded of them she will immediately either disappear into her ring or she'll order those who are speaking of them to be silent about it. The Bellatores she hates because of what they did to her and her small community. To add to that, she despises Raconteurs not only due to the natural hate that everyone has for them, but also because of their reputation for sealing her kin unwillingly into random objects. Midori wishes to have nothing to do with any Bellatores or Raconteurs, she believes firmly that all of those in that race are evil.

⌈
Likes
⌋
Midori enjoys sweet fruits. Her favorite are strawberries and blackberries. She'll eat them like candy until she gets a stomach ache.
Grass is her favorite. She loves the way it looks, the way it smells and how soft it is to touch.
Creating new pieces of clothing for herself is a joy, the tedious work keeps her occupied for hours (which is the only time she's quiet thankfully, though it doesn't seem to bother Zrye).
Receiving and giving gifts makes her extremely happy, especially if it's fruit given to her.
Midori likes happy people as well, her energy seems to grow when she's around laughing, smiling individuals.
She loves to sleep on Zrye, usually his chest where he is the warmest.
In addition, she loves that he strokes her wings because of his fascination for soft things.
⌈
Dislikes
⌋
The little green pixie despises sour things, usually making a strange face and noise before tossing such things away and looking for something sweet.
She dislikes being told what to do, especially if it's being told to be quiet.
The Talpas and Bellatores she absolutely hates and doesn't talk about nor associate with.
Midori dislikes large bodies of water for some reason, perhaps because of her small size the water seems almost three times what it actually is.
If one thing is for sure, the pixie absolutely despises being away from Zrye for any amount of time, she will grow distressed, fall into depression and quite literally loses all of her energy until she's with him again.
Finally, she hates heights. The highest she's been is up on Zrye's head and that's as far as she's willing to go, any higher and she'll cry.
⌈
Equipment
⌋
Midori has only one weapon. She carries a sword that is green in color and is seemingly made from some sort of glass. It would be akin to a letter opener in size, but for her it is the perfect 'long sword'. Light in weight it hardly constricts her. Aside from this, she has a small wooden pick she uses as a needle when making clothes. Otherwise, only her hand made clothes are what she carries.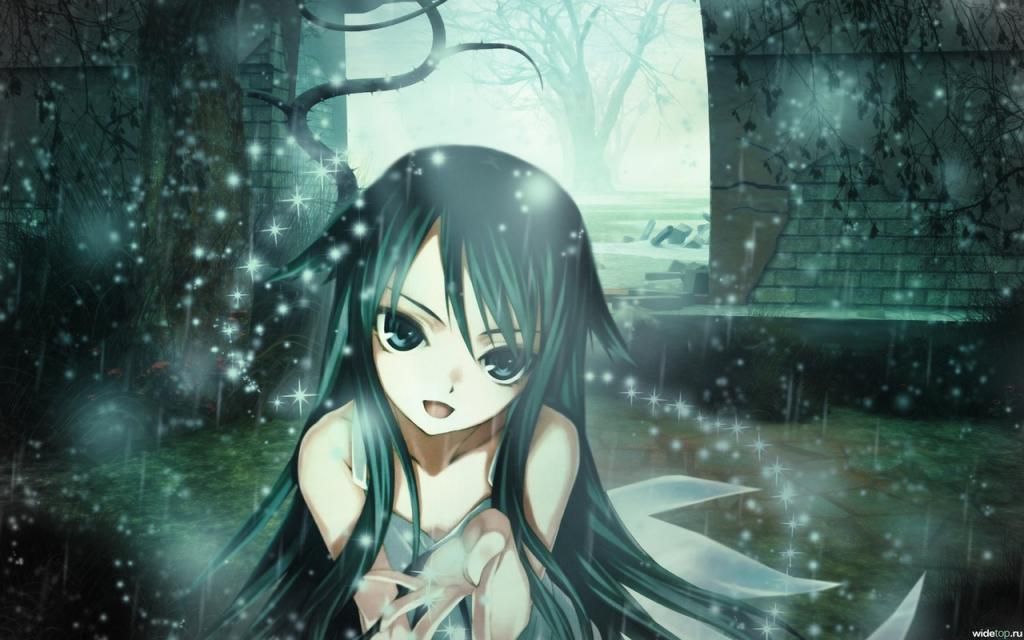 ⌈
Abilities
⌋
Midori has the natural affinity to electricity. Her magic can be potent when conducted via a contract. One wouldn't think that a species her size would have such a capability to conduct so much power. However, her energy is unlike most races probably due to her being an Alchemehr. She has amazing control over the power. Creating anything from a small spark to light something on fire to larger strikes of lightning. She can conduct the power to course all over her small frame, so if someone were to grab her, she could very well electrocute them into letting her go. Midori can extend her electricity outwards away from her body as well. Summoning down a strike of lightning at a range of a few yards, up to twenty yards when she needs to. Usually the little green pixie will send out sparks of the white numbing light in rapid succession during a fight, aiming for arms and legs so that the adversary cannot move either of them after taking a hit of her potent magic.

Her swordsmanship is good as well, enough to keep herself alive if it came down to it, though she tends to resort to her magic more often than using her weapon. In all actuality the small green sword is used more for foraging and cutting away leaves and fruits than fighting. Certainly the weapon is sharp enough to cut through skin and can do some damage. Because of her small size, Midori will go for the face with her weapon if she's not using her magic. The eyes are her target, blind the enemy and then make an escape. Finally, Midori is capable of flight, fluttering around rather quickly and is hard to catch. She has amazing accuracy and can cast her electricity whilst performing complex aerial movements.

⌈
Strengths
⌋
Though she is small, Midori is quite hardy including her wings. Though they are soft, they're hard to break. She can sneak around quite well for eavesdropping, but that depends on what's going on and if she'll have to be separated from Zrye for long or not. Convincing her to do some scouting of that kind could be hard, but definitely worth while once achieved. Though she talks a lot, she can be silent and sneaky if the situation asks for it. Being fast and agile her her greatest strengths.

She is a good cook and taught Zrye how to cook as well. In addition, she also taught him how to track. Having lived in the forest for most of her life, Midori knows all sorts of wildlife. She can identify plants of various nature, knows which are poisonous and which are not. Along with her cooking, tracking and knowledge of plant life, Midori is a wonderful seamstress, creating all sorts of clothing and jewelry (of course all of these things are 'pixie sized'). The little pixie is also an amazing haggler when it comes to buying things in a city or town. She can argue for quite some time on price, nine times out of ten she wins (probably because she's stubborn and unusually persistent).

⌈
Weaknesses
⌋
Having a fear of heights definitely puts a damper on things because she will cry if she's put up too high, or shown how high she is if passing over a cliff or anything like that. She's not big on fighting, and thus usually will hesitate if she's not residing in the ring to assist Zrye. This can cause injuries to herself if she's not careful. Overwhelming fear can also take it's toll on her for she won't think clearly and thus if she's captured but too much in shock or terrified, Midori won't think to electrify her body to be freed.

Although she's a strong flyer, her small size counters her in negative ways. Large gusts of wind can blow her around easily due to her not weighing much. She can't swim, and with the addition of her fear/hate of water, being tossed into it can result in her drowning. Finally, although she's seemingly always full of energy, even Midori can grow tired with overuse of magic and flying for too long. Her limit is about two hours of continuous flight before she's completely drained. Thus, she tends to fly in spurts, utilizing things around her to keep moving rather than continue flying constantly. When not flying, she is slower and much easier to catch.

---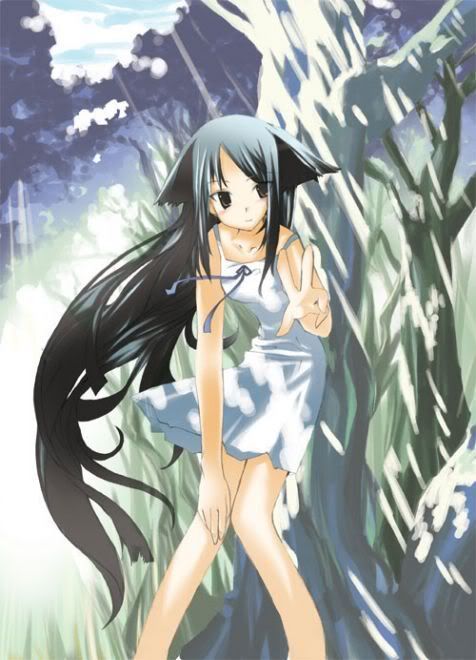 ⌈
Home
⌋
Midori used to live in the forests within a small community of Alchemehr's. She was born and raised under the leaves of the bushes and trees, nestled within the grasses of the forest floor. However, now she wanders with the Lagoi Zrye due to her contract with him and his not staying in one place for very long. Though Midori was not one to leave the forest of her home, she's now become accustomed to moving around the land so long as she's with Zrye.

⌈
Relationships
⌋
Midori is currently single, without any interest in love or anything like that. Her expressions of love are far different from what others might see them as. She 'loves' others as she would love a brother or sister. As of right now, she is close to Zrye only, considering him far more precious than anything else and in a way she loves him. She would do anything for the white winged Lagoi. She once had family, but they are forever lost to her. Her father and mother were her only family and she had been particularly close to her mother.

⌈
History
⌋
The tiny green pixie was born in the thick forests of Nominum. She was a part of a small community of a handful of Alchemehr's that resided there. Their numbers were not overly large, but not small either. It was the perfect size in Midori's opinion. Midori had a different name before she met Zrye. She was called Elehmbre, Ele to her parents and close friends. Most of the community was made up of pixie sized Alchemehr's a handful of glowing insect types and a couple of fairies that were just a bit larger than the pixies, not quite as large as humans though.

Midori loved her home just like the others that surrounded her. Everyone was full of life. She was taught to cook by her mother, taught to control and manipulate her electricity by her father as well as the ways of the forest. She learned about the animals and the plants while accompanying her father and others into the wild. She was bubbling with energy much like usual and learned rather quickly, picking things up almost immediately. Life for her was easy going in that forest and she loved every minute of it.

The first time the green pixie witnessed the Talpas, she was intrigued by their appearances. Interested in what they were and why many of the people in her community warned the younger ones to keep away from them, she followed after a few of these creatures that seemed to be nothing but inky darkness moving through the trees of the outer edges of the forest. It was also there that she saw her first human village. The Bellatores resided in an enormous place surrounded by a huge wall. To Midori, it had seemed like they'd boxed themselves in via rock and dirt, a curious thing if she did say so herself.

As she watched, she had her first taste of fear as fires erupted suddenly, engulfing the small town. Screams of fear, rage and pain filled the night air as the Talpas engaged in a bloody fight with the human warriors. The destruction was so violent and quick that Midori thought she was dying with those inside the walls. Fleeing the area, she flew straight back home, crying. It took days before she no longer had nightmares and could sleep on her own, months before she could even leave the safety of the community.

A handful of years later, when Midori was considered an adult by Alchemehr standards, she and a group of her friends had gone out into the forest to forage and bring back the sweet fruits that she so loved. With makeshift carts of craftily folded up leaves, the group of seven spent most of the day scavenging for berries and edible plants on the forest floor. With a huge load and the end of the day nearing, they finally decided to return home to share with the others their valuable find. The sounds of shouting and larger creatures storming through the forest alerted the small group. Leaving the fruits behind, they scattered into the bushes, climbing up as high as each was willing to go to see what was going on.

Midori found terror again that day. This time from the Bellatores and ones that she would later learn to be the Raconteurs. Many of the Raconteurs had captured many of the pixies and insect Alchemehr's. The handful of Bellatores were helping them, though tension seemed high between the two races. At the time Midori couldn't tell the difference between the two, associating them all to be Bellatores. Her group of seven fled the area, but many of them were unfortunate to run into more Raconteurs, Midori included. She was captured after being knocked from one branch of a bush to the ground. Cut and bruised, she was too frightened to move after taking the blow.

Unsure of what was going to happen to her as the Raconteur approached her, she could only pray that she wouldn't end up eaten or killed or worse, trapped into an object like many of the stories said happened to Alchemehr's who were caught by the humans. Trembling from fear, she didn't notice her mother had followed after her in the chaos. In a brilliant streak of light, Midori's mother attacked the Ranconteur, knocking him backwards. Picking up her child both of them fled once again through the trees. Midori was unsure as to how long they ran, but with her mother injured already, she knew they couldn't go much further.

Stopping briefly, her mother told her that they needed to go separate ways. Although Midori didn't want to, her mother wouldn't have it any other way. They were separated with the final words of love and a promise to see each other once again. Midori found herself out in a clearing that she'd never known to be a part of the forest before. It was huge, with no trees in sight. Later, she learned it was the open grass lands of Nominum that she'd stepped into. No humans came after her once she left the forest, but she didn't dare return either for fear of what she might find.

So she wandered the grassland, wondering when it would be alright to go back or if she had the courage to go back anyway. During one night of her pondering this dilemma, she found she'd wandered into two Talpas. Fearfully she ran, but they were faster. Her electricity wasn't much, hardly harming them at all but she surmised this was due to her own inexperience and the terror that gripped her, keeping her from manipulating the magic properly. Heavily injured from the two Talpas that were 'playing' with her, she tumbled into a hole just barely large enough for her and hid there till morning. Crawling out the next day, she was too exhausted to do much more and lay there half awake, half unconscious.

That was when Zrye found her. Finally rescued from eternal loneliness, she happily made a contract with him, both in payment for his healing her as well as to stay with him. Midori is hopeful to one day return to the forests of her home. Perhaps her travels with the wandering Lagoi will take her there one day.

---
⌈
Theme Song
⌋
https://www.youtube.com/watch?v=htJHlsTb_54&list=RD02KCoqdCjzFV8
SlenderMan