'Even if it is impossible, do so anyway. Because to not try is to give up, and giving up is Dying.'
---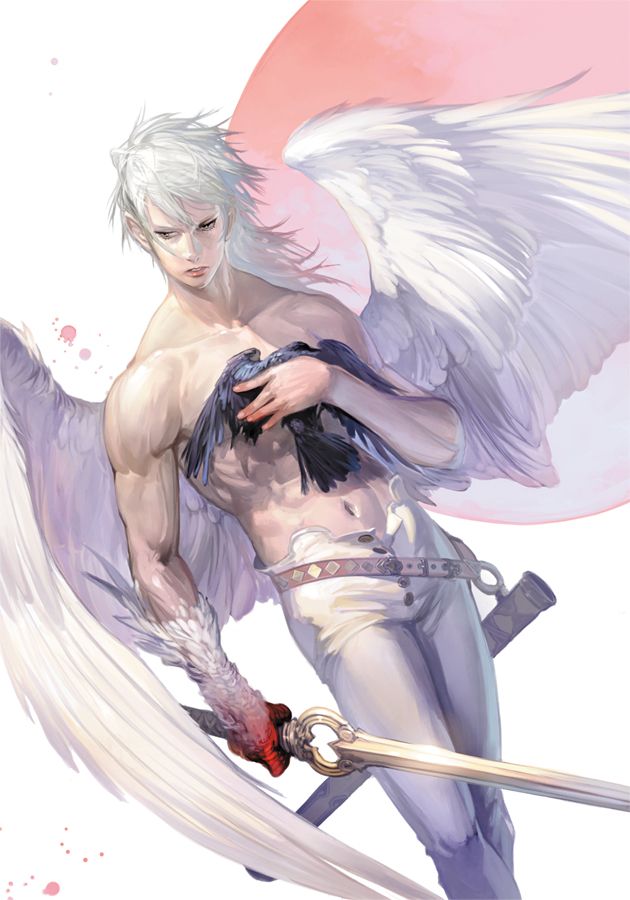 ⌈
Species
⌋
Zrye is a white winged Lagoi. His wings are twice his size, extending outwards to a full length of twelve in a half feet. When rested, the wings are folded back against the shoulder blades and along the line of his spine. Even when folded, they still stand well over his head and the edges of the wings come just past his arms. The feathers of the wings are each almost a foot long in length. These beautiful, powerful limbs are able to sustain flight for quite some time allowing him a wide range of aerial abilities.

⌈
Age
⌋
Zyre appears to be around his late twenties, he doesn't keep track. If one were to ask his usual answer is 28
⌈
Sexuality
⌋
He doesn't mind whom it is that he may be in love with. He once was in love with another male. There is no discrimination in his eyes. Any and all should be happy, no matter the circumstances.
⌈
Appearance
⌋
Standing at an intimidating height of six feet, he is anything but small. Toned muscle curves every portion of his frame, but not overly muscled either. Shoulder length white hair is just as silky as it looks, feathering around his face and falling into his eyes often. His gaze is mostly considered gray in color, but there have been times when they become a striking pale blue.

The Lagoi prefers light weighted equipment and armor as it doesn't inhibit his ability to fly when he needs to. Pastel colors are his favored, mostly whites and pale blues. Rarely does he wear any armor as it constricts his movements. However, if he does don any sort of metal plating, it is usually just to cover his chest in silver and gold plating. This is, as stated, a rare occurrence and most will find Zrye wearing white pants with a single belt for his sword and knife, a white tunic of sorts and light colored shin high boots.
---
⌈
Personality
⌋
Zyre is a difficult person to read most times until you've gotten to know him. Stony features and a stony gaze are what is presented within a first meeting and remain so for quite some time. He rarely shows emotion, and if he does it is very slight. This doesn't mean that he doesn't know how to laugh or smile, only that he's closed off to those he may not know very well. It takes time for Zrye to show anything but a blank look to someone else. He prefers it this way. Getting close is a long process. Cutting through the exterior of his well built iron can be tough, but well worth it in the end. Zrye is fiercely loyal to those that he may call friends or companions. He knows what betrayal is like, and thus has been colored by it. The sharp feelings of such a circumstance keeps him from doing so to others. He wouldn't wish it on anyone that he cared for.

Once one gets to know him, they'll realize that he is not cold at all and that he is very knowledgeable. He is very prideful as well about being a Lagoi. Zrye gains pleasure from healing others, but takes it rather hard on himself when he is unable to do anything for another person. The white winged Lagoi doesn't quit, even if he knows there's virtually nothing he can do for someone who may be on the brink of death. He will do everything he can to ease their pain and try to heal them. Though he knows his limits he often pushes to far, putting himself in precarious situations of weakness. Though he isn't the easiest to get close to, he will still help others regardless. He has the power to do so, and instead of not using it -which would be a huge waste and an insult to his race- he uses the ability of healing to it's utmost potential.

He is open minded about anything, accepting others as they are and never forces his own views onto another being. Zrye is a great listener and often times offers advice to any that may seek it, or may not seek it. He doesn't expect his words to be heeded, but feels slightly warmed if they are heeded. He is an honorable individual, following certain codes and rules that he's either set out for himself or he has learned over time. Though he may seem cold and uninviting, he treats other with the highest respect possible and expects it in return. If he were to be treated rudely or anything of the like, he tends to simply walk away, preferring not to have to deal with such people. It has taken some time to learn that not everyone can be changed in their way of thinking, mostly in part to Midori's influence. Though she is sweet and loving, she is reasonable and wise. Zrye puts great trust in her words.

Midori has become his closest companion and she has influenced him greatly. He puts in more of an effort to communicate with others once he's gotten to know them a bit more. It can be a bit awkward at times, but it is a work in progress that his little pixie companion pushes him to do. Her talkative nature pleases him greatly and he enjoys listening to her even if she's complaining of boredom or anything of that nature. He doesn't speak all that much, only because he doesn't have much to say anyway unless the situation calls for it. Besides, Midori does most of the talking, enough for the both of them and then some. However, on some occasions he does engage in light conversation, mostly with Midori as she does tend to say some interesting things.

Though he is not accustomed to showing his emotions freely, Zrye can still be pushed to opposite ends of the spectrum. Happiness is easier to show in a slight smile or soft laugh as is his usual behavior. Sadness comes in the form of solitude and silence, the familiar stony expressions upon first meeting others. Anger is harder to come by, but is possible to stoke if the right conditions are met. He doesn't allow anger into his system so easily, though, as it blinds him. The death of a close friend or family member can do this, threats to any whom he considers close can do it as well -especially if Midori were to be threaten or taken away from him-. Falling into anger is as deadly as poison to Zrye. It is hard to get him to come back to his normal, calm, relaxed state once he's been lost to rage, usually only Midori can do this.

⌈
Likes
⌋
Zrye has a variety of likes, pastel colors of cloth is a sort of fascination of his.
Sugary smells is another.
Anything that is soft gains his attention ranging from rugs to animals. One of his favorite things to do is to stroke Midori's velvety soft wings. He's always so fascinated by how soft they are that he often finds himself doing it without having thought of it. One could say it's become habit to run his fingers through her wings.
He enjoys listening to conversation even if he doesn't join in, he likes the sound of voices.
Healing is a passion, being able to help others is almost like an extension of his own life.
Zrye enjoys the forest as well, though it constricts his flight. It's the breeze that he loves, the smell of it.
⌈
Dislikes
⌋
Zrye dislikes dishonest people. He finds them to be cowards of a sort. Lying to him is the worst thing one could do and he will feel disappointment and deeply hurt by that fact. He would consider it a dishonor, a betrayal even.
Being away from Midori can sour his mood, make him broody even without her because he's gotten so used to her being with him.
Sour things, or bitter things he dislikes as well.
Dark colors, especially black for clothes he avoids wearing or buying, though he doesn't mind how it looks on others.
Zrye absolutely despises caves, being surrounded by rocks makes him feel ill because he cannot see the sky.
⌈
Equipment
⌋
The tall Lagoi's weapons are few. He wields only a sword and long knife. The knife located against his lower back horizontally, his sword located at his side at all times. Both of which are strapped to a single belt around his waist. Around his index finger is a silver ring, this is his contract with his pixie Alchemehr.

⌈
Abilities
⌋
Zrye is proficient with his sword and knife, preferring a combination of both weapons when engaged in a fight. He uses his wings in two different ways when fighting. Either aerial combat where he will easily flit back and forth around his opponent in quick succession, or by alleviating his weight when he's on the ground to move faster. Both uses of his wings increase his speed and agility, making him very nimble and very hard to hit.

In addition, Zrye has the capability to wield electricity via the use of a ring that he often wears around his first finger. The silver metal is etched with symbols of a spell that is a contract with his Alchemehr, Midori. The little pixie has the ability to control the electrical element in a rather potent form. Zrye can control this whenever she is residing in the ring. What her abilities are become his own then, except in a larger form. Electrifying his own body, much like she can; summoning strikes of lightning to quite literally 'smote' an enemy; and casting out less vile amounts of electricity to stun or disable an opponent.

He's not fond of using this as a weapon because it does in fact use Midori's own energy, thus he usually uses her magic in small dosages. Zrye favors the smaller abilities of shocking an enemy into numbness or covering his own form in the electricity in case of losing his weapon and having no other form of protection. Even though he uses what could be considered a diluted amount of her magic in order to not put any strain on Midori, a single touch can still put a full grown person on the ground, completely numb. However, should Zrye ever be provoked into a blind rage for any reason, he will unleash the full potential of his green pixie without thinking.

Finally, Zrye is an amazing healer. Stab wounds to broken bones. He can heal almost anything. The more damage, the more magic he'll have to use via the wings on his back, more specifically the feathers. One feather per wound, depending on the wound, though, he may need to use more than one.

⌈
Strengths
⌋
Listening is one of his strength not only because he enjoys the voices, but because he can then offer help if it's needed, which is something he's very happy to do once he knows someone well enough. In addition, his ability to keep his emotions under a tight lock and key could be considered a strength. Being provoked in battle is a natural tactic any foe may use against another. However, for Zrye, it is very hard to do and any knowing opponent would be wise not to do so.

Aside from the young Lagoi's healing and fighting capabilities, he knows quite a bit in the ways of the world. Having traveled for most of his adult life and having Midori to teach him, he's learned many things and is able to use what he's learned. He can barter quite well, a skill he picked up from Midori though she does it far better than himself. Zrye is a good cook, -oddly enough- taught so by Midori. He tends to enjoy cooking rather often making -at times- the most exquisite meals out of simple ingredients. In addition, he is a good hunter, he can track -to a point- especially if it is over open area's as he can get an aerial view which he prefers to do.

Simply put, Zrye's greatest strength is to be with Midori. They're an inseparable pair, and together they can either be a force to be reckoned with, or an amazing pair of loyal companions.

⌈
Weaknesses
⌋
Zrye's weaknesses are many. Though his wings are his strength, they are a weakness as well. They are fragile. Landing on them the wrong way, taking a slight blow or even passing through a crowd without extra care can break them easily. Once broken, the pain is near blinding, causing Zrye to be unable to do anything until they're healed.

Healing comes with a cost. Using too many feathers will deplete his energy sufficiently forcing him to sleep for either many hours up to a few days depending on what he's attempted to do. Small cuts and bruises can be easily healed with a single feather. Gashes and deeper wounds usually take two feathers. If the wounds are mortal, and the person is dying, Zrye may use a handful of feathers in an attempt to heal the person before their passing, however this greatly weakens him and most times the person dies anyway -a fact that he should know by now, but tends not heed-. Broken bones can only be healed with three or four feathers if he's able to tend to them within the first few hours of the break. Anything past that and he's unable to do the healing process unless the bone is broken again.

His flight is limited. He cannot fly too high or the strain will cause fatigue or damage to his wings. The longest he's been able to stay aloft was a total of ten hours, but that was under an extreme circumstance and he's never done it again. Extended flight will weaken him as he grows tired faster. For this reason, he tends to fight on the ground. His electricity is extremely dangerous if he's been provoked into anger. Unleashing the full potential of Midori is not only dangerous to others, but also his precious little green pixie. It tends to go chaotic and is uncontrolled in his blind rage. Using up too much of the magical energy can put Midori in danger of dying of exhaustion. He doesn't think clearly when fighting under the impression of anger, but he becomes far more deadly than before.

---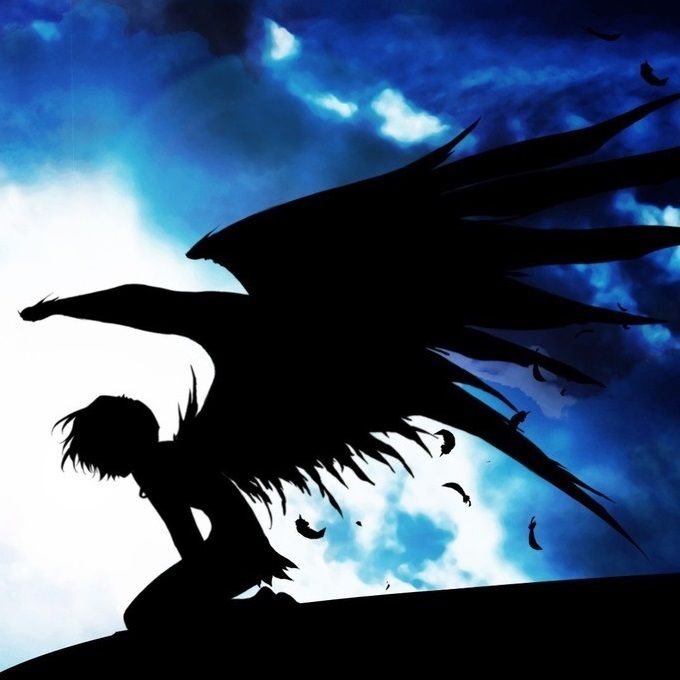 ⌈
Home
⌋
Zrye is a wanderer. He used to live in a place called Turell, but it was burned to the ground by creatures and monsters that had seemingly come from no where. He'd been there all his life, but with it gone and at a rather young age, Zrye was forced elsewhere or perish in nothing but blackened ruins. His journeys have taken all across the world, helping him to learn more about the beings around him who share the same space as he does.

⌈
Relationships
⌋
Once upon a time Zrye was in love. He and a childhood friend had grown rather fond of each other. Having been together for a long time, at the age of fifteen they had become aware of their attraction to one another. The other boy was another white winged Lagoi as Zrye was. However, the boy whose name Zrye does not remember either from the horror of the event or what have you, betrayed him as well as the entire town. Turell burned because the boy.

Before that, Zrye had a family, two brothers and a younger sister. He was very close to his sister as she was the youngest, the baby of the family. His elder brother he looked up to, and his younger brother he thought was a big pest most times, but Zrye still cared for him. His father had died, simply fading away at one point when Zrye was still very young and his mother soon died after his sister was born.

After the fire, Zrye was left alone. For a long while he wandered the world with no one at his side. Two years after being picked up by the lone Lagoi who taught him the ways of being a wandering healer, he found his first companion. She is a pixie Alchemehr whom has pledged herself to him. Zrye named her 'Midori' because of her green color. Though it took a long while for the white winged Lagoi to allow her to get close to him, the two share an inseparable bond as they understand each other and he has become extremely fond of her presence.

⌈
History
⌋
Zrye's reason to build the iron wall around himself is due to the experiences of betrayal when he was younger. At the age of fifteen he and a childhood friend had fallen in love with each other. The other boy was a year younger than Zrye was. They were together for three years, utterly devoted to one another. Zrye, who has forgotten the name of his first lover, doesn't remember how or why the other boy had fallen to darkness. The only lingering memory is the pain of watching the town burn under the hands of creatures he'd never seen before and watching his once lover stand in the middle of it all without any regret or pain on his face. He grew to learn that those creatures were the Talpas, vile beings of destruction.

Zrye left the village, fleeing the darkness. It was the one and only time that he'd flown for so long or so far before. He left the lands he knew when he was a child. When he finally could fly no further, he came crashing down into the beautiful grasslands where he lay for days unable to move because of the broken wings. He was picked up by a wandering Lagoi whom he'd never seen before. There were many other towns of Lagoi, but Zrye hadn't heard of any one Lagoi wandering on their own before.

The wanderer healed his wings and taught Zrye about what he did which was to simply offer his healing abilities to the residents of Nominum. Here Zrye learned the limitations of his own healing abilities. He was taught about what could be healed and what couldn't. The wanderer who had saved him was an older Lagoi, sweet in nature and never quick about anything except his healing. Perhaps if Zrye had stayed with this Lagoi, he would have learned to be far more opened again, but alas he was left alone again far too soon. The elder Lagoi passed one night with Zrye begging him to stay, but knowing there was nothing in his power he could do to keep the other in this life.

Alone once more, he began his own exploits around the world, moving from town to town and using his gifted wings to assist others. Though he doesn't ask for money in return for his services when he's healing the injured, he often gets paid anyway. Even so, Zrye tends not to stay in the cities or towns he goes to, preferring to camp in the wilderness though most times sleep doesn't come to him. All the while it seems he is running from a shadowing darkness that clings to his back. He won't return to his home village because he fears finding his old lover again and he's not quite sure what he might do should he find the other Lagoi. He has a colored perception of others, especially other Lagoi who are young like himself because of the incident, though he often tells himself that no one person is the same as another.

His travels have taken him from nearly one end of the land to the other. Interactions with the other races taught him much about how the world was run and who exactly was a part of it. He learned about the ways of the different species, some were welcoming while others were not. The Bellatores, for the many that he'd gone to and helped heal, were rather friendly, very prideful in their craft of weaponry and it was in one of these towns that he obtained his sword and dagger. Both weapons were made for him in return for healing the blacksmiths young daughter from her illness.

He met the Metamorphosi once, a large feline cat, black in color. Zrye was intrigued by her appearance, but she seemed to ignore him completely. His initial impression of the race was that they were haughty and too prideful. However, later on he met a a smaller house cat belonging to a family that he'd stopped by to help with the husbands broken arm that day. The cat was rather playful, and talked -which greatly surprised Zrye at the time-. He learned from the male Metamorphosi that it depended on who it was one would meet. Intrigued and honestly a slight bit confused, Zrye kept that in mind when he set out again.

During his wanderings, he came across an Alchemehr that was severely wounded. After healing her wounds, the tiny twelve inch tall pixie thanked him nearly a million times and offered to make a contract with him in repayment for saving her life. She was green in color and adorable to look at. Her little wings were so soft that he found himself randomly stroking them which seemed to make her very comfortable. He named her Midori, due to the green color of her hair, eyes and clothes.

Zrye, unsure of how such things worked, timidly agreed even though he felt slightly guilty towards having this girl become a 'slave' to him as he understood it at the time. Searching through the little belongings he had, he found a ring that had been given to him in payment for his services many weeks before. The young pixie agreed to making the contract and would use the ring as her vessel for the contract. It wasn't too long after making the contract that she informed him she was not a 'slave' to him in any way, thus settling his deepest concerns and guilt. It was a mutual agreement between them for her to be with him and lend her power to him when he needed it. Zrye was grateful to know that it wasn't as he'd originally thought, and became a little less nervous around her.

Soon, he and Midori grew close. She was the first to be let into his heart, breaking through the iron wall that he surrounds himself with. Having been together for quite a while, Zrye and the pixie know a lot about one another, including each other's pasts. In addition, the little green Alchemehr helped him in the art of cooking, teaching him how to make things, teaching him about bartering and people in general. She too is responsible for his ability in tracking and identifying plants.

Together with his Alchemehr, the Lagoi has traveled to many places, though never staying in one for more than a day or so. Zrye's reputation of healing has proceeded him and though he still wanders, he sometimes gets tracked down by villagers or city folk that he'd serviced before to come back and help once more. Never one to turn down such a request, he often frequents the same cities and towns for a few days, though never staying inside the walls of those places. After a few days, though, Zrye quickly disappears, heading off into the distance either during the night hours or early morning.

There was only one time that he stayed in a village for longer than was normal. Even his Alchemehr was surprised at such a change. Zrye isn't sure what compelled him to stay for so long, but he thinks that perhaps it was the appearance of another Lagoi whom he'd not seen in many years. At this time, he was about 20 years of age. Lingering there was a mistake, he realized later on. A man had asked Zrye to heal his dying wife. Unsure if he could do anything about it, Zrye told the man he would try but not to hope too much. There were, after all, somethings even Zrye couldn't do.

Once he arrived, the young Lagoi realized that there was nothing he could do to help, but did what he could to ease her passing. While he stayed there, he met briefly another Lagoi. This was a woman, and though she had no wings, Zrye could tell she was Lagoi by the feathers that sprouted across her arms, shoulders and neck. She was beautiful in every sense of the word. It was here that the young Lagoi learned that the Bellatore were prone to fighting and were indeed very good at it. When the wife passed into death, the husband -the one who had called to Zrye in the beginning- attacked him. In fury, he drove out Zrye, screaming that he'd promised to heal his wife and instead ignored the dying woman to trail after another.

Zrye, hurt and feeling yet again a sense of betrayal, fled the village. His iron wall rebuilt itself again. Even though he tried to keep the words of the cat Metamorphosi in mind, it is hard to do so especially with such terrible experiences. These experiences seem to follow him, no matter what happens and has considerably colored his trust in anyone.

During one travel, Zrye came across a group of Raconteurs, thought at the time he thought them to be Bellatores because of their physically humanoid appearance being much like the one another. Midori had been sitting on his shoulder, babbling away much like she always did as they passed the group. With no real intention of stopping, Zrye didn't pay much attention to these men, until they called for him to stop. Turning, he let them approach him and Midori. They asked him questions, mostly about the little green pixie who was now hiding behind his ear, tucked into the feathery white hair on his head. A little confused about this sudden display of interest in his Alchemehr, he told them simply what she was.

A grin spread on their faces as they looked to one another. Zrye felt the atmosphere change drastically and backed away from them. Midori urged him to leave, pleading him in such a tone that he'd never heard from her before. Spreading his wings, he attempted to leap into the air. A sharp pain filled his frame as he felt a sudden slash right through one of his beautiful wings. Immediately dropping with Midori screaming in his ear, he watched the men come forward. One ordered him to hand over Midori and live, or die and they would take her anyway.

It was the first time since learning how to use a weapon by his family in Turell that he drew the sword given to him. Midori disappeared into her ring and Zrye found himself lost to anger at such an act by these men. The fight didn't last long as the white winged Lagoi was driven by an indescribable rage that he'd never felt before. Thankfully there weren't many of them to deal with so his use of Midori's power and his weapons was short lived. It took Midori coming out of the ring and clinging to his ear, pleading him to calm down before he came back to his senses. Zrye learned of the Raconteurs, and he found yet another reason to be cold and distant.

---
⌈
Theme Song
⌋
https://www.youtube.com/watch?v=np3bhsxJPkA&list=RD02KCoqdCjzFV8
SlenderMan