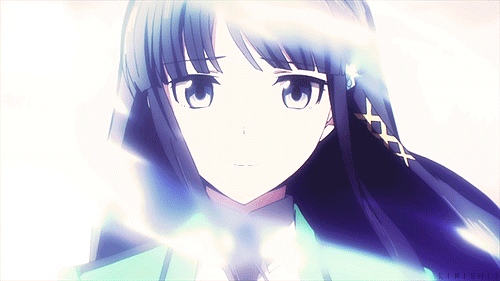 Pound the Alarm- Nicki Minaj
"Can't stop, won't stop!"
---
---
Name: Hitomi Sohma

Age: 21

Grade: First Year College Student

Gender: Female

Role: Horse

Oddities: Very Loud

Sexuality: Bisexual

Romantic Interest: TBD

Nationality: Japanese

Job: None
---
---
---
---
Eye Color: Black

Hair Color/Length: Black/Tushie Length

Height: 5'9"

Weight: 140 lbs

Scars: None

Tattoos: A Horse Galloping on Her Back Right Shoulder

Birthmarks: None

Piercings: Both Lobes, Right Helix and Left Conch
---
---
---
---
Danger Level: 7/10

Dominant Emotion: Wild

Personality: Hitomi is full of energy, albeit a bit too much. Both studious and athletic, she is a strong believer of chasing after dreams. Rather than wealth and fame, happiness is what motivates her. Hitomi expects others to operate at the same speed as her and don't understand why others can't.

Contradicting characteristics come from the fact that she has ever-changing emotions. Hitomi has a short temper and becomes angry quickly. But once it's over, she forgets quickly. Her biggest fault is that she is blind to her own faults. She is beautiful and give off a refreshing aura. Sometimes she is a gentle pony, other times she can become a wild stallion. Regardless, she is impressive and good at what she does. Motivation and help from others aren't important. As long as she is doing what she like, she will succeed.

Hitomi can be a chatterbox and has a clear division between like and dislike. However, she is usually indecisive. Rather than having a clear plan, she leaves things to fate.

Likes: Being Active, Going Out With Friends, Summer, Horses, Anything Blue

Dislikes: Being Alone, Authoritative Figures, Sleeping, Sitting For Long Periods, Cocky Attitudes

Talents: Extreme Endurance, Bottomless Stomach, Tae Kwon Do, Heavy Weight Drinker, Flexible

Flaws: Too Blunt, Doesn't Sleep Often, Disobedient

Weaknesses: Her Parents, Thunder, Family Head, No Street Smarts

Hobbies: Sports, Horse Back Riding, Fighting, Eating, Hiking
---
---
---
---
Typical Attire: Hitomi usually can be found in anything that doesn't limit her ability to move. Mostly shorts and an athletic tank top. But once nighttime rolls around, since she usually goes out with friends, her style turns a little more ... skimpy.

Keepsakes: A lucky horseshoe that hangs above her bedroom door that she got the first time she ever rode.

History: Hitomi was one of the unlucky Sohmas born to a not so accepting family. Her mother was appalled at Hitomi, calling her a freak and a monster with her father agreeing wholeheartedly. Because of their lack of love, Hitomi and Rikona quickly grew into the little devils they still are. Skipping school, sneaking out and drinking with her friends in the back alleys. It wasn't too odd for her to be brought home by the police. The one person she could never refuse was the head of the family himself. Since he was only a year younger than her, she was taken to him often to 'play'. They felt more like torture sessions to her. But she always stayed. After a couple of years, Rikona was sent away as a order from the head of the family. Hitomi never quite knew why, but for some reason, she never felt the need to ask. "She'll be back soon," a voice always told her. With this disappearance, her attitude became even more closed off and distant.

Hitomi eventually accepted her position and became quiet around the rest. She often went to see him, only to meet the same ending she came to know. Despite all the abuse, Hitomi never scarred from it, only mentally. A upperclassman, named Shiro Kazumaki, approached her one day. Though Hitomi was rebellious at first, he convinced her to join sports. She gave it a go and it turned into a drug for young Hitomi. All of the anger, hate and sadness gave her fuel. She started coming to school just so she could play. Shiro and her became very fast friends, and eventually Hitomi grew a crush on him. When she confessed, something she never expected happened. Shiro accepted her feelings and fully returned them. They began dating, Hitomi being careful of her curse.

It was only a matter of time though till Shiro found out about her. When he finally saw what she became, he cried. But not in fear, in sadness. He told her, "I don't know how hard that could be for you to deal with." They continued to see each other until the Head caught word about Hitomi's indiscretion. He summoned her immediately and brought his wrath with him. He ordered for the boy's memories to be wiped and for Hitomi to transfer to an all girls school.

A few years passed and Hitomi adjusted her environment in due time. It was time to graduate. She had been watching Shiro from afar. Hitomi planned on going to the same college as him and everything, following from behind in hopes he might remember. She moved to her own house inside the Sohma Estate, fairly close to the Head to her dislike. But now she could be without the authority of her parents and only have to deal with the Head when she was summoned. After only a couple months, something happened between her and Shiro, something she never talks about. So she went running to the Head of the Family, her feelings of anger and defeat following close behind. She practically became his doll in looking what she couldn't ever have with Shiro. She dropped out of the college and went to the one the Head chose. Her love for sports never died, and Hitomi continued to play and go out with friends, trying to keep herself as busy and surround as possible so the old feeling would never return.

Other: Hitomi has a slight attachment problem if she thinks she will be alone, she will do anything to avoid it.
---
---