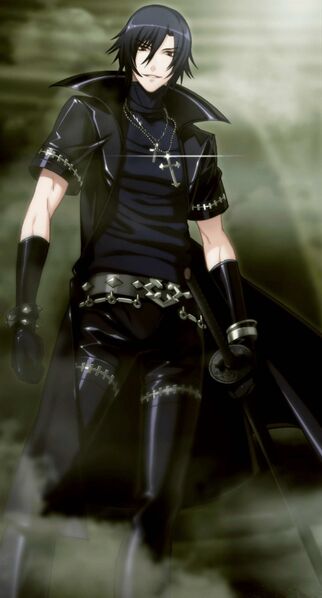 Name:
 Alistair Sohma
Age:
21
Gender
: Male
Zodiac Animal:
Snake.
Personality:
 Cocky and stubborn. Alistair wont stop until he gets his way, and he always thinks he's right. Alistair can also be a little mischievous and often sadistic, thinking it's fun to make fun of or scare other people.
Even though Alistair is usually only viewed as an evil and childish man, if you get to know him long enough (and withstand him) he can try his hardest not to let you down. Alistair is very honest and usually loyal to those he grows to like – if he ever does like you. In truth, all Alistair wants is a good time – sometimes he only acts as evil as he can to show off or make himself seem powerful. 
Deepest Desires: 
★  To do something useful out of his curse.
Hobbies: 
★  Practicing techniques with his Katana
★  Reading books (when he's alone)
★  Playing pranks on people
★ Wine sampling
Greatest Fear: 
★  Letting his curse control him
Parents: 
Alistairs' parents, like most parents of the zodiacs, didn't accept him or either showed it subtly.
History: 
Alistair was born into a middle class income family of a mother and father. His father was a zodiac member and his mother wasn't – which is why she wasn't used to not being able to hold her son. Slowly his mother just got sick of it and yelled at him constantly, and even abused him at times. When Alistair was 13 he ran away to the zodiac family home.
When he was 15, Alistairs mother got remarried after his father died. Alistair currently has 2 step-brothers but he's never seen them, and Alistair doesn't care to see them anyway.
He has now lived in the Sohma household for a great deal of time, so many relatives know him – Sometimes in a bad way or a good way. He usually does the cleaning around there or takes care of finances.
Crush/Lover:
None yet – but he really isn't interested in love, just mostly a one night stand if he feels like it.