---
❝I will always be here for my family ... no matter who or what.❞
---
---
---
| Full name |
Ichirou Suoh Sohma
| Gender |
Male
| Age |
23
| Role |
Pig/Boar
---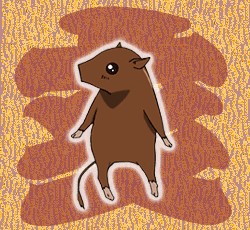 ---
---
| Eye Color |
Black
| Hair Color |
Black
| Height |
6'4"
| Weight |
170 lbs.
| Skin Tone |
Light Tan
| Distinct Markings |
Ichirou has a few scars scattered over the surface of his torso, along with a few on his legs. He also has a tattoo of a snake on his arm, the tail starts at his elbow and winds around his arm till it reaches his shoulder, where the head rests.
| Physical Description |
Ichirou stands at about 6'4" and weighs about 170 pounds. His soft black hair reaches to about his chin, occasionally covering up his deep black eyes. His skin is a lighter tan color due to his constant being outside. Ichirou usually wears a white button up shirt with most the buttons undone. He has a nice athletic build, because he works out constantly. He also sports jeans and sneakers. You might catch him in different looking clothes occasionally, but not often. He always has his sleeves rolled up to about his elbow. Ichirou has a stunning smile that he is almost always sporting. He has the type of aura that make him completely approachable by anyone. But when angered, he wears a scowl that would send chills down even the toughest spines. Most leave him be when he is angry. When he is working as a body guard or ... other things, he often wears a bullet proof jacket, very ahead of its time, and all sorts of black clothing. He sports a holster for his guns and knifes, but it is easily hidden and unnoticeable by his jacket.
---
---
| Special Skills |
✔ Knows Everything About the Sky and Stars
✔ Can Read Pretty Fast
✔ Good Painter
✔ 'Can Fix Anything'
| Likes |
♥ Cars
♥ Girls
♥ Stars
♥ Night
♥ Partying
| Dislikes |
✖ Anyone That Hurts Keiko
✖ Being Bossed Around
✖ Messes
✖ Party Poopers
✖ Sadness/Depression
---
---
| Personality |
Ichirou is extremely nice, good-mannered and tasteful. He's somewhat of a perfectionist, take a look at his office and apartment and you will see. He enjoys helping others and is an extremely good companion until someone close crosses him, then look out! He's rather intelligent, always seeking more knowledge, and exclusive. If he's not working in the garage, he is in the park reading and painting during the day, star gazing and 'body guarding' by night. He can make nearly anyone laugh or at least smile. Ichirou looks somewhat like an over confident rich guy from a distance, but if you talk to him, it's nearly impossible not to love him. If you don't like him, he won't spend the time of day at your feet. He moves on, if you love him, good, if you don't, oh well. The only time you see him upset or angry is when someone he truly loves is hurt or betrays him. And when he angry, you might want to start running. Ichirou, when 'body guarding', is very ... serious. If you catch him on a job, you might think he was someone else entirely. He takes his work very seriously and prefers not to mix up his day life with his night life, seeing as the consequences could be severe.

| Theme Song |
Still An Obsession - Unknown
---
---
| History |
Ichirou wasn't the most … controlled child. His parents just gave in to his every whim and let him go where ever, whenever. He partied all he wanted and drank. But when his curse got in the way of letting him get what he wanted with the ladies, he confronted the Head. The previous Head, the one before Akio, was still alive at the time, about to die. But he still gave Ichirou something to think about. After recovery, Ichirou only began seeing woman inside the Sohma estate.
Ichirou fell in love at 18, with a girl that attended his high school. But once she discovered Ichirou's curse, she left him behind. He spiralled into misery and major depression, drinking and smoking all the time, 24/7. He was out on the streets, no where to go. His parents had moved to a different country and he had lost his job and place. Ichirou was begging anyone for money so he could buy more alcohol ... that is, until he met Keiko.
He had known she was one of the other Zodiac Members ... The Rat if he was right. He had happened to run into her one day after a nice long drink. Keiko had become worried about him and his habits, so she took him to the Sohma estate where he was given a place to stay till he was better. Everyday, Keiko came and checked on him to make sure he was okay. One night, Keiko came for a quick visit which turned into a long visit. Ichirou couldn't hold it in any longer, crying on her shoulder, asking why she cared so much from someone like him. "It's because we share an amazing, unbreakable bond," she said. Her kindness had truly touched him and gave him something to live for.
Not to long after that, Ichirou was back on his feet, went to college and had a job in a car garage. Now, he owns his own apartment and often visits Keiko and takes her fun places. The best thing they do together is go to the park at night and go star gazing. But lately, Keiko had been busier than ever, hardly allowing her to do anything with Ichirou.
|Thoughts on Other Characters|
Hisako Sohma
Monkey
"Cheeky little thing! Not just 'cause of the Monkey thing either. But yeah, she's cool. Of course I talk to her, not as much as others, but I do talk to her. Not like I see her a lot anyways."

Haruji
Rabbit
"Cutest kid I know. Yeah, yeah I know he's only three years younger than me, but he certainly doesn't look the part. Anyways, I love his cooking. Waiting for the day he turns 21! Then we an go drinking together and I can see what kind of drunk he is! Hahaha!"

Keiko
Rat
"She is mine and mine alone! No one can have her! If some dude wants to marry her, he's going to go through hell to earn it! Think I'm kidding? I don't kid about my little Keiko."

Yuuto
Goat
"We're almost the same age and we both like to fix stuff. What is there to say? Now, I'm not going to say we are best friends, but if I had to spend my days with a guy, it would probably be him."

Pippa
Tiger
"Pippa is probably one of the less know of the Zodiac, for me anyways. She's absolutely adorable, I must say. I'm sure she is a fun girl to be around. According to Keiko she only talks to one person at their school a lot and it's a boy. Hope that girl knows what she is doing. I don't want her to have to suffer Aiko's wrath."

Aiko
Head
"Aiko ... oh Aiko. He's the Head, so there isn't much to say. I don't mind him, and he is nice to Keiko, so as long as it stays that way I don't think we will have an issue. I guess you could say I'm willing to harbor anyone in the way of his anger."

Miuru
Dog
"She has to be one of the quietest girls I've ever met. It's scary sometimes how void of life she seems to be. I mean, maybe she's still figuring herself out? I don't know. She's only 14. She shouldn't look so … empty. I personally don't have a problem with her. I think she's pretty cute and mature for her age. … And I don't mean that in a perverted way."

Kaida
Dragon
"A year older than me, loves to drink as much as I used to, and can be rather evil sometimes. Hey, I don't really mind, but it does get scary. I think I wouldn't mind hanging out with her more often. All I need is her number though, I can never seem to find her. Quite a beautiful woman."

Hiiro
Snake
"She is just as gorgeous as Kaida. I think they are the prettiest out of the Zodiac girls, except Keiko. Hiiro has more of a womanly appeal to me though. I think what happened to her was terrible. But she got one hell of a surprise out of it. Yeah, I know about … the baby."