"Is it not my job to be deceiving?"
---
---
Age: 17
Gender: Female
Zodiac Animal: Rat
---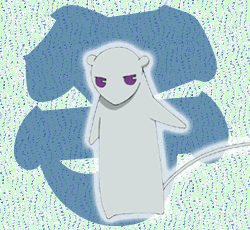 ---
Description: Keiko is about normal height for her age, standing at 5'5" and weighting 118 pounds. She has pale skin, but beneath her eyes is a purplish hue. The only reason for this is, like all the previous Rat's before her, she gets very sick easily and often. Keiko has long silvery-white hair that runs down the length of her back and bangs that stop right before her eyes. Her eyes themselves, are a beautiful honey color that have been known to turn red. Keiko always has a smile on her face when she is around anyone, and I mean anyone. She is very polite and well behaved, something she had learned from her grandmother. She is often despised by the other members of the Zodiac for her 'perfection' and 'position' among the rest of them. All in all, Keiko is a very attractive young lady, like most the other Juunishi.
---
---
---
Personality: Keiko, like the previous Rat's, is quick-witted, clever, charming, sharp and funny. She has excellent taste, is a good friend and is generous and loyal to others considered part of her 'pack'. Keiko is ever curious, seeks knowledge and welcomes challenges of any sort. Some are even intimidated by her presence and spunk, but she never turns down a person in need and will do anything to help. But around the other members of the Zodiac, Keiko tends to be apathetic, keeps her distance, and never makes eye contact. This is mainly in front of the Head of the Family, whom she wishes to never disappoint or anger. When she does, she spirals into depression until the 'kind' words of the Head bring her back up. When she is around the other Juunishi at school though, if they are willing to speak to her, she's darn well going to speak back.
---
Special Skills:
- Plays piano

- Can eat a horse and gain no weight

- Very smart

Likes:
- Food

- Warm weather

- Cats (is a secret)

- Studying

- Playing piano

- Sushi

- White

- The Sound of Music

Dislikes:
- Being cold

- Small spaces

- Head being cross with her

- Thunder

- Being sick/missing school
---
---
History: Keiko grew up in a household where everything was perfect. She was forced to walk a thin line by her parents, but she didn't know that. Keiko felt as though she was the luckiest person in the world to have a beautiful house, a loving family and an unbreakable bond. She was always confused by the concept of sadness and hatred. Until she felt sadness first hand. When Keiko was 6, her mother and father wanted to have another child, make a sibling for Keiko to play and bond with. But when they went to the Head, the Head took it out on Keiko, accusing her of wanting someone else to bond with. Keiko took the beating, and worse, believed it was all her fault. It took several weeks for her to recover fully, and even longer mentally. Once Keiko started up school, she was having issues, not only at home, but in classes to. Her parents had forced her to start learning everything out there, all the musical instruments, all the words in the dictionary and more. It wasn't till about Keiko's last year of elementary school that they found out she was slightly dyslexic. Her parents blamed it all on her, which she believed, but pushed for her to over come it. Keiko still has troubles with it, but keeps it to herself and deals with it the best she can. Keiko had a grandmother whom she was very close to, but died when Keiko started middle school. It was a very hard time for her, but that was when she started being more like her grandmother, polite and caring. In both middle school and high school, Keiko was elected Class Rep., giving her even more work and less time to relax. During middle school, she formed a case of Insomnia, making it impossible to sleep or sleep only for short periods of time. This only made her physically weaker and she got sick more often. When you look at her from a glance, she looks like the strongest person in the world, but underneath it, even unknown to herself, Keiko is at her limits. Because Keiko is the Rat, she appears to ahve the closest bond with the Head. She loves this because she just may be the only member of the Juunishi that doesn't want the curse lifted. Becasue of what the first Rat did, she feels obligated to make the others hate her, as punishment for 'her' cruel and selfish act.
---
Anything Else:
- Insomnia

- Dyslexic

- Secretly likes cats

-Has a super secret crush

(Everyone: Who does she like!!! Tell us!!!
Me: It's a SECRET! XD)
---
---