Name:
Kohaku Sohma
Age:
18
Gender:
Female
'Considered male by birth certificate.'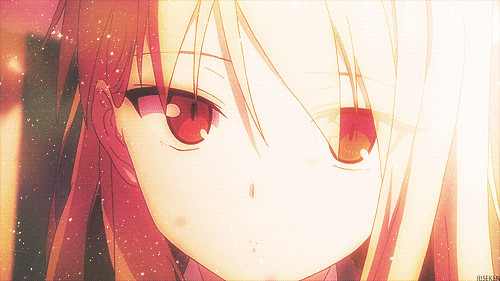 Zodiac Animal:
The rooster.
Deeper Description:
Sporting long fire blonde hair and red eyes, she was surely the persona of the rooster, which is a common joke told to her by the sohmas. However she grieves and hates the appearance she holds, for when she looks in the mirror she sees someone else. Though that is to be told in history, so lets continue.
Being the fighter and athletic person she is, her body is obvious toned in result. But dispite this, her body is still rather feminine, however she is a late bloomer in this category of growth, which is okay since she is disguised as a male half of the time.
Yes she mask herself as a male and its easy to do so. All she does is pin up her hair with a little "magic" and slips on some loose clothing that was given to her by the obvilous. With this outfit on, no one really can tell, and surprisingly some of the sohmas dont even know she is a girl being how distant she is.
Personality:
Kohaku is a quiet girl, who is seen meditating more then chit chating with girls her age. But dont get her wrong, she would love to associate with other females, but as much as she wants to, she cant, maintaining a boy stature is her responsiblity, for she was told that way her entire life past. But besides that, Kohaku is actually very gentle and holds a calm air, not like the head, but a calming air. Her presense is said to soothe others, which is highly ridicolous in her belief. But she is also said to be as loyal as a dog, which is true. Kohaku was taught with honor, and she learned many wise things, especially things about loyalty.
In result of her teachings and past, she became practical, resourceful, observant, analytical, perfectionists, neat and conservative. So she is always seen watching in the distance, her every step is caculated, and all her fighting styles are almost perfect. Plus her room is a proof of her neatness. She is matching for the rooster, and the most known trait, is her bluntness which she keeps in both her male persona and female. She is super straight foreward and very honest around anyone, including strangers. But she knows what not to lash out or not.
Special Skills:
- Fighting. Any Style.
- Sports, anything athletic.
Likes:
The Family.
Being outside.
Flying.
Femininie things.
Sweets.
Dislikes:
Being confined.
Caged.
Waking up late.
Sour Foods.
Being called a male.
History:
Kohaku was born under a couple, who enjoyed the norm and hated the unusual, and weak. So as anyone can predict, Kohaku was treated differently because of her curse. However, her older brother was the one who loved her the most, and taught her how to be strong dispite their parents dislike for it. Without her brother, she would have been absolutly useless, so she loved him in turn with all her heart. She wanted the two of them to be together forever...
And so it was naive dream she realised, for At the age of 13, the sohmas finally decided to give her off to the head, who she heard terrible things about. Scared. She turned to the only one she could trust. Her brother. Crying and sobbing the day before her departure, she asked her brother if they're was anything they could do.
With a painful smile, her brother then decieded to take place of his little sister as the rooster. This worked well fortunatly, for they were almost idenitcal in appearance wise. Blonde, red eyes so surely everyone would believe him? How were they going to find out anyways?
So sending Kohaku off to a training area, secluding in the mounts, he was given to the sohma head with ease.
Now for years this fraud act worked, but he grew weak from stress and burden of the secret. And then one day, he died. Quickly news reached her ears, and for dear god she ran to the sohma grounds. Her tears ran, and she begged him not to go. but she knew it was all in vain, so slowly she recovered, and took it to herself to take her role as the rooster once again. IT was her responsiblity...
So disguised as a male, she remained at the sohma house, looking into mirrors and grieving. all she saw was her brother in the mirror..
Anything Else:
- When she is disguised as a boy, she steps into character, and her eyes narrow unconsciously, completing her male look.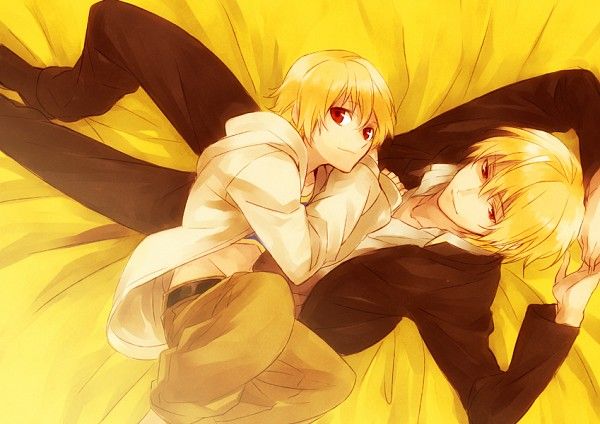 Her Brother and Her