Name: Ryoko Mizu Sohma
Age: 17
Gender: Male
Zodiac Animal: Cow/Ox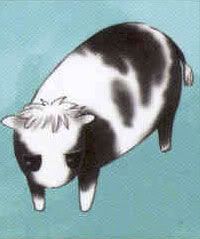 ---
Picture: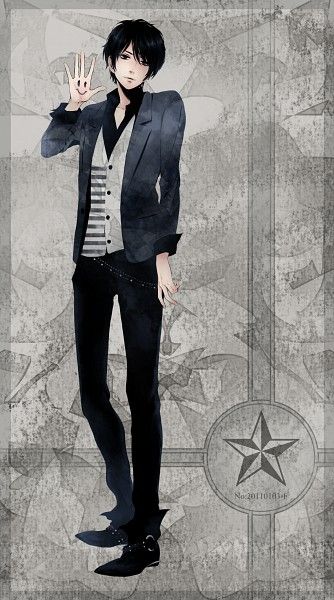 Deeper Description: Ryo stands at a height of 5'3 and with lean athletic build. His skin is a rather pale complexion, but he has sunburns hear and there, as well as a few scars from the Head of the Zodiac. His hair is medium length and a dark black, with murky redish brown eyes which always seem lonely. His mouth is the exact opposite it's always turned into a slight smirk. He never seems to laugh though. Clothing consists of blazers, vests, a button-down shirt, and black slacks. His boots are rather interesting as they have buckles and studs on it, so does his belt.
Example outfits:
---
Personality: As stated by his zodiac sign he is steadfast, hardworking, and stubborn. He isn't the most serious person out there though and can act quiet like a rash kid at times. He tends to laugh and smile too, but only around the person he truly cares for. As for flaws...he is always feeling lonely and unconfident. He just can't seem to speak his true feelings or problems because he believes its weak or doesn't want to burden others. So he usually displays a blank expression or slight smile.
He is absolutely trustworthy as well. Ryoko's brain is hat wired almost not to lie and many admire/appreciate his honesty and loyalty. He is also a fierce guardian who will do anything to protect the ones he care for. Despite all this, like all Ox/cows, he has dual personalities. The darker side is hot-headed and violent, as well as possessive. He is also quite perverted and lewd in the personality as well. Many who've seen this side of him avoid him after, leaving him lonely and unconfident to reach out to others.
Special Skills:
-Natural ability to fight and use a sword.
-Practically unmoveable
Likes:
-Friends/Family
-Apples
-Black and White things
-Nighttime
-Nature
-Chocolate cheesecake
-The color black
-The Battle of Red Cliff Theatrical Version (Movie)
Dislikes:
-The head
-The ones he cares for hurt
-Alcohol
-Beef
-Hot weather
History:
As a child Ryoko knew he was different, his parents told him so. They treated him with love though and he lived a happy childhood. He learned martial arts during those years as well and excelled at them greatly. His mother encouraged him to be musical as well, but she never hugged him or even touched him. Ryoko felt rather distant because of this and he began to resent his mom. He even went as far as to ask if she loved him. His mother broke down in tears and said she did. Feeling very guilty he hugged her, resulting in him turning into a cow/Ox. From that moment he knew what he was and why his parents had told him he was different, he was cursed to be exact.
Tragedy struck him though in his early teens and his mother lost her battle to leukemia. He went into a period of depression as he mulled over the fact he could never have showed affection to his mother or she the same. This caused Ryoko to despise the curse he had and the Head of the Zodiac. For a period of time Ryoko spent his time finding the head. He finally did and demanded his curse be lifted and accusing the Head of his his and his mother's sad relationship. Because of this the Head beat him badly and scars running along his torso, legs, and one on his cheek are a proof of it.
So far he doesn't know what to do now and is currently living with his dad. His resentment for the curse deep in his heart.
Anything Else:
Ryoko's never had a girlfriend or even given a hug or kiss to one besides his mom.