Name:
Shinjiro Ichirou Sohma
---
---
Age: 23
Gender: Male
Zodiac Animal
Position
: God
---
---
Description: Shinjiro stands at about 5'8" and weighs a mere 120 pounds. His soft black hair reaches to about his chin, occasionally covering up his deep grey eyes. Shinjiro has very pale skin and always looks tired. He is always sickly, so he is rather frail looking, but strong. Though small, he has an athletic build. Shinjiro only wears his amazingly beautiful kimonos around the Sohma estate. When he is out, he often wears suit, unless of course he is sneaking out. When he sneaks out, he wears his favorite disguise: a hat, black trench coat with a turtle neck underneath, gloves, black jeans and boots. Shinjiro looks the same, but different. When he disguises himself, he looks much younger than when he wears his kimonos. As Suoh, he has a warm and inviting presence, but as Shinjiro, he has a cold, mean presence that no one would mess with.
---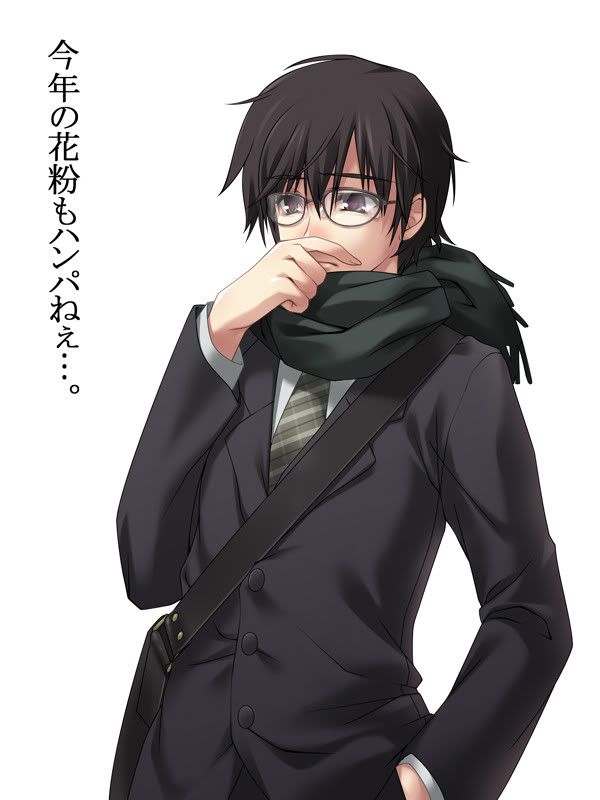 ---
---
Personality: Shinjiro seems, at first glance, like a stuck up jerk that cares only about himself. It is true, but that is only part of who he really is. To the Juunishi, he is cold, unforgiving and a menace. Very few truly respect him, the other only do because of the curse
BOND
makes them. Deeply, he is lonely and like a child, hanging onto the last bit of what he holds dear. As far as he is concerned, the bond will never break and he will have all them to himself, not allowing the dirty and disgusting outside ruin them.
---
Special Skills:
- Reads fast

Likes:
- Quiet
- Flowers
- The Bond
- Books
- Being in control
- Purple
- Lettuce

Dislikes:
- Loudness
- Being looked down on
- Being forgotten
- Outsiders
- The Cat
---
---
History: Once Shinjiro was born, he was treated as a king and a prisoner at the same time. For the first three years of his life, most all the Juunishi were old and on their way to greet Death. Thankfully, once he had the ability to remember better, all the new Juunishi came. One by one, he met them all, whether instantly after birth or years later. He had instantly felt a special bond with all of them. A bond where he controlled their every move. He had never felt better. Shinjiro was weak though and was always getting sick, pushing him further and further. The only way he covered up his weakness was by hiding or lashing out on whoever he could. As he grew older, he figured out who each of them were and how they ticked. Now he feels as though he has complete control, and anyone who tries to get in the way, will be punished.
---
Anything Else:
- Loves to paint flowers in his room
---
---