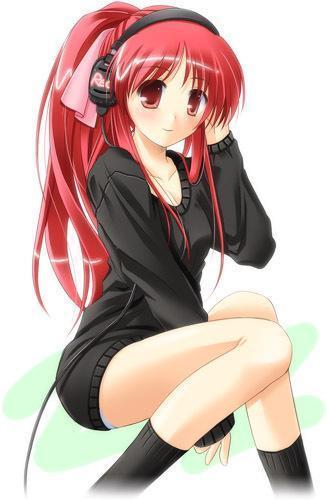 "They say just grow up, well they don't know us! Because we don't really give a f***"
---
---
Name
"My name is Miyako Ren"
Role
"I am a popular girl."
Year and Class
"I am in third year and class A."
Age
"I am seventeen."
Birthday
"My birthday is the 2nd of June and obviously everyone will be there obviously not the nerds though! God!"
Gender
"I am female of course!"
Grade
"I am a senior."
Sexual Orientation
"I am straight sorry to be so average but hey, just being me."
---
---
Likes
"I like....
-Tree Climbing
-Sports and simply being active
-Reading and painting
-Socialising
-The expressive arts"

Dislikes
"I dislike...
- Swimming
- Water especially in the sea
- Spicy food
- Oranges or any orange flavoured produce
People crying or getting stressed out"
Fears
"Um...not many things scare me but spiders freak me out and so do Windmills and Water...Oh god, I hate water..."
Quirks
"I scream over pretty much anything and cheese makes me cringe."
Personality
Miyako tough and steely but has sweet and pure heart if you really get to know her. She won't let you into her life very easily unless she thinks you're loyal and honest to her.
Miyako is very intelligent but she hates libraries and computers...and she's honest...maybe too honest. If you ask if your hair looks nice she'll tell you exactly what she thinks be it be good or bad. She is a clumsy girl however and trips over thin air when she gets the chance but her clumsiness seems to worsen when she is trying to show off to people or do something clever.
She's a very likeable person and is actually quite funny and excitable at times despite trying to keep a responsible civilized reputation. She can be a rebel and she tends to be when she is bored or feeling down. She is known to do crazy stunts and stupid things like sitting on roofs in the dark and setting things on fire but she is very responsible and trustworthy when she needs to be. Obviously doing things like that now are near on impossible because she's consistently being watched.
She can be a snob but she's come from a family of very well off people who are all overly proud of their heritage and family history- so really she has The Oakley family trait of being a snob at times. Compared to most of her family though Miyako isn't a terrible snob.
Miyako is a bit of a rebel. She hates lessons and will make remarks to other students and muck around the whole time until she lands a detention (then the sweet talk starts) She yells at people she doesn't like and she's not afraid to swear and fight and the word 'rule' or 'law' means nothing to her she does what she wants, when she wants with who she wants.
So to sum her up Miyako is fun, mostly friendly and very honest with a bit of crazy living in the moment streak to her.
---
---
Relationships
"My big brother is practically my best friend and he's always there when me and my friends are going Old School out on the town. He's the skater kid that helps me get over hangover and hide it before Mum get's home after a day out with my friends. My brother is amazing and I owe him so much for everything he's always done for me. He protects me from the haters and carries me home drunk I mean come on, Who doesn't want a bro like that?"
History
" I was born into a very wealthy family and live in one of the biggest in town but I never wanted to be that kid until I was about Thirteen and then I became a bit more of a snob and slightly prouder to be from my family line of heritage and have the fortune I have.
I have been trouble since day one. As a baby apparently I was the devil's spawn as you could guess this amuses me greatly to this day. Apparently my mother tried to dump me on my Nan most nights but hey! Tough love right?
I've always had a little flame burning inside me waiting to just spark and light up the rebellion and it did at my fourteenth birthday I stole my mother's booze and me and my friends were off our faces within an hour of their arrival. My mother thankfully didn't come home until the next morning so we played our hangovers of sever tiredness and injuries from cartwheels not injuries from jumping out of windows to try and jump over the trampoline net...Yeah, my friend cracked the skin of her knee and it didn't stop bleeding for hours...
So you get the message, I've been a hardcore party punk princess since I was 14. I'm not your typical 'let's hit the clubs!' girl either though. I'm more of a 'let's grab some jack and a boom-box and a party on the top of the school.' Kind of person and I'll climb on the roofs of buildings and party on top of them with my friends. There was one time where I broke my arm falling off a roof whilst trying to dance to the Macarena...Looking back it was so freakin' funny!"
---
---
Theme Song
http://www.youtube.com/watch?v=iFSaNmZyPQo
Pets
"I am very attached my black kitten Willa, I spoil her a lot because she's absolutely perfect!