Takamaru Kei || Male || 17 || Normal Guy || 3C || Heterosexual
---
---
---
---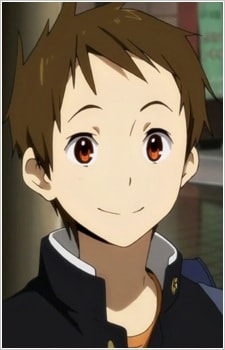 Birthday:
December 1st
Appearance Description:
Kei is a rather average young man, by most standards, and stands at an average (for Japanese men) height of approximately 5'7". He has short brown hair that often seems to be rather unkempt, and caramel eyes that hold the slightest spark of mischief in them at most times. His skin is pale and bears few marks, with the exception, perhaps, of a few freckles here and there, though nothing worth noticing. His body is not buff, but he does have some level of lean muscling, though it is still rather sparse. He is a bit of a string bean thanks to a fast acting metabolism and the tendency to ride his bike around town several times whenever he needs to clear his head or is having trouble sleeping. His expressions are generally quite amicable, though he may often be seen wearing the sort of smile reserved for those who are making plans. His eyebrows are thin and defined, the basis for most of his facial expressions. On that note, his eyelashes are lackluster and slightly below average in thickness and length, though he doesn't really mind. His nose is a bit small, and his ears stick out just the tiniest bit.
---
---
---
---
Personality:
Kei is, in general, just a rather average sort of fellow. While there are days when he is in a cheerful mood and seems to be able to take anything and continue rolling as though nothing happened, there are also moments where his temper may be short or his mood more contemplative. However, one must inquire as to what average really pertains if they are to understand Kei's personality. After all, the word is a rather vague one when applied to people, given that putting all the people in the earth together and creating one single person would likely result in not an average person, but the greatest oddball ever known. Now, that isn't who Kei is, necessarily, but it must be acknowledged that there isn't really such a thing as ordinary, though people try to peg it down as a set and concrete word through popular media and their own flighty definitions of it. While Kei has no real qualms with being called average or normal, he does have the tendency to, quite sincerely, ask the person calling him such a thing what they believe it means. More often than sometimes, the answer is rather unsatisfying, but he will accept it nonetheless with a smile on his face.
A smile which, typically speaking, seems impossible to catch him without, unless his expression is some other dramatic or over-animated one. Kei is a rather jovial guy on most days, though there are exceptions and nothing is really a rule, and is the sort of person who jokes about everything and has troubles taking things seriously. This is not because he lacks the capacity to act seriously, but because the young man dislikes the complications that come along with the prospect. After all, much may be accomplished by being serious, but moments of tension can also grate on a person's brain like a cheese grater on, well, cheese. Kei dislikes tense moments, of course, and is usually the tactless person who makes some bad joke or changes the subject whenever anything is about to get heavy, even though other people may prefer the serious conversation. Some may consider him a pest or irritating for his inability to deal with pressure, or his preference not to.
Contrary to popular belief, he does actually care about what others say, and can be more of a pessimist behind his cheery smiles and corny jokes than one might originally surmise. Kei is somewhat self-conscious, but not in the typical way of caring about the general population's opinion. He tends to latch onto specific people, and doesn't care if other people mock him as long as he has their approval. Unfortunately, the standards for these people are eclectic and, therefore, rather nonexistent. Maybe he thinks that they are cool, or intelligent, or has seen them do something interesting. Whatever the reason, he can become somewhat dependent on these people, going so far as to call himself a leech on more than one occasion. While his lack of regard for the opinions of the majority is somewhat admirable, the weight that he places on the opinions of those select few is a heavy burden to bear, and his emotions are very easily swayed by them. He has little self-confidence, to be honest, though it is hidden behind his grins and jokes.
He does have a hint of mischief, the sort of person who likes to plot trivial schemes and play silly pranks on people, although, much like his personality, it rarely becomes serious. They are usually just stupid jokes for a laugh, or random adventures blown out of proportionate because he thought that it may be fun. He is a very animated guy, after all, and does tend to be a bit dramatic on occasion. This can be both amusing and frustrating, depending on the circumstances.
Dependent || Cheerful || Mischievous || Corny Humor || Pessimistic || Low Self-Esteem || Rarely Serious || Inquisitive || 'Average'
---
---
---
---
Story:
---
---
---
---
Club(s):
He was roped into the napping club by Aya, although mostly because he didn't care enough to say no.
Secret:
He has given up on ambition
Kei's father was killed one year ago (none of his friends know)
His mother hasn't left her room in three months