Role: Normal Girl
Gender: Female
Age: 15
Birthday: March 13th
Measurements: Height - 5' 3" Weight - 119 lbs. Breast size - C-cup. Hip size - 33 inches
Year and class: 1A
Sexuality: Straight for the time being.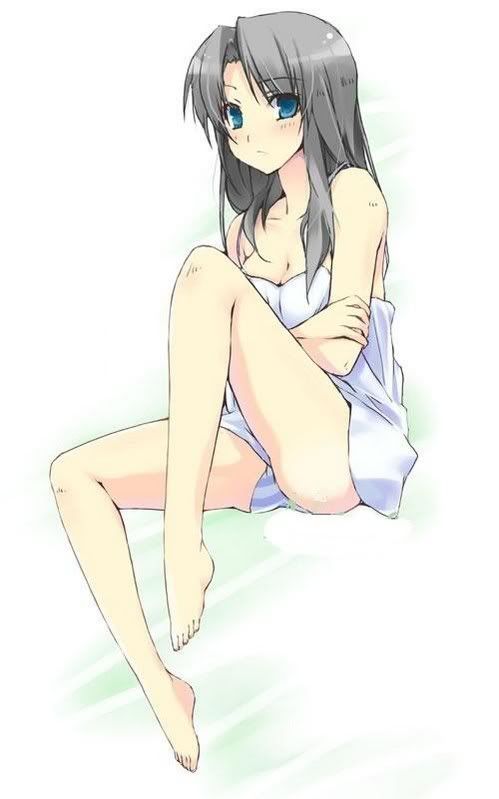 Appearance Description: Yuki has healthy, smooth, medium length silver hair. Her eyes are icy blue and her skin is an elegant creamy pale color her arms and fingers are thin, but not too thin and look very delicate. She usually wears dresses or shorts out of school. She also wears ordinary shirts when not at school. Yuki likes wearing baggy sweaters and cute accessories.
Personality: Yuki is a very determined girl. Once she sets her mind to something, it's hard to get her to give up. She is very hard working when she has to be and tries to be impressive while on the job. But she can also be a little bit lazy at times, therefore, she needs a little boost from time to time. Yuki tries to be as positive as possible no matter how bad the situation is. She is also really forgetful. Yuki usually comes off as cute to strangers or just newly met people but they don't know how strong she can be sometimes. Especially when she is angry. Other than that, Yuki is very sweet, kind and caring most of the time, until someone does something really 'mean'. Then she gets pissed. Yuki is a horrible cook and a terrible cleaner, and she is really, really clumsy. Yuki also always makes an effort to hide her feelings. She knows what it's like to be judged but not known for who you really are, so she absolutely hates when people judge with no reasoning. She also really, really likes video games.
Story: Yuki's mother died in a car crash when she was only 5 years old. That left her and a devastated father. Yuki's dad promised that he wouldn't give up on Yuki and make sure she stayed strong and healthy forever. So to make sure that Yuki was safe whenever her father couldn't protect her, he started teaching her martial arts. But when she took it too far one day and accidentally put her younger cousin in the hospital, she became the black sheep of the family. The only person who cared about her and loved her now was her father. Yuki was often bullied when she was a kid. The kids called her 'delicate' and 'innocent' and they teased her for being too quiet. Yuki grew quiet until she found her group of friends when she turned 14, but then high school came and she was all alone again. Will Yuki get bullied again?
Club(s): Martial Arts Club, Rhythmical Gymnastics Club, Musical Arts Club Leader & The Swim Team.
Crush(es): "I-It's much too soon for that!" N/A
Secret: She was molested by her father's friend when she was 8 and once again by the same man when she was 10.
Extra:
-She looks defenseless and weak, but her father taught her self-defense when she was younger and now practices martial arts.
-She's a really big video game nerd.
-She is very musically talented.
Pets: Has a white cat with the same color eyes as her, a green cheek conure and a snake.
Kiku Satomi -

New Friend

"Satomi-san is very kind. She is also really helpful!~"
Kisa Wataragani -

Acquaintance

"She's an amazing fighter. I hope we can become friends."
Emiho Niita -

Stranger

Kanade Aya -

Stranger

Akane Yamada -

Stranger

Kaiko Ishigawa -

Stranger

Taura Tsukino -

Stranger

Miyako Ren -

Acquaintance

"She's a savior!~"
Rei Haruki -

Stranger

Tei Haruki -

Stranger
Touya Wataragani -

Stranger

"Him and his sister are great at fighting!
Kouta Matsuno -

Stranger

Kain Usui -

Stranger

Izanagi Yukimura -

Stranger

Sewo Owomasu -

Stranger

Hiroshi Fumitaka -

Stranger

Takahiro Fumitaka -

Acquaintance

"He's a really good violinist. And he seems quite sweet!
Takamaru Kei -

Stranger

Kyoya Nakazuki -

Acquaintance

"I feel bad for saying what I said to him. I wish I could just shut my big mouth once in a while..."
Daichi Ogyu -

Acquaintance

[i]"He seems like such a nice person. There's something about him that makes him different than other boys though... Oh, well. He's nice and that's all that counts!
Akita Takeo -

Stranger

Lein Donotello -

Stranger