---
---
╔
╗
"Until you die… It's all life."
― Kurt Vonnegut

Dɪᴀʟᴏɢᴜᴇ Cᴏʟᴏʀ ✦ #107AC4 || Tʜᴏᴜɢʜᴛ Cᴏʟᴏʀ ✧ # 8DC48E
╚
╝
---
---
X
X
X
█
█
█
█
█
█
█
█
█
█
█
█
█
█
█
█
█
█
█
█
█
█
█
█
█
█
█
█
█
█
█
█
█
█
█
█
█
█
█
█
█
█
X
▌
▌
▌
▌
▌
▌
▌
▌
▌
▌
▌
▌
▌
▌
▌
▌
▌
▌
▌
▌
▌
▌
▌
▌
▌
▌
▌
▌
▌
▌
▌
▌
▌
▌
▌
▌
▌
▌
▌
▌
F U L L
X
N A M E
N I C K
X
N A M E S
Riv | Preferred
Mason | Okay
Z O D I A C
X
S I G N
A G E
B I R T H D A Y
N A T I O N A L I T Y
E T H N I C I T Y
S E X U A L I T Y
R E L A T I O N S H I P
X
S T A T U S
O C C U P A T I O N
---
---
---
---
█
█
█
█
█
█
█
█
█
█
█
█
█
█
█
█
█
█
█
█
█
█
█
█
█
█
█
█
X
▌
▌
▌
▌
▌
▌
▌
▌
▌
▌
▌
▌
▌
▌
▌
▌
▌
▌
▌
▌
▌
▌
▌
▌
▌
▌
H E I G H T
W E I G H T
H A I R
X
C O L O R
E Y E
X
C O L O R
S K I N
X
C O L O R
G E N E R A L
X
A P P E A R A N C E
River isn't very tall by nature, but he's got a personality to boost his height and ego. He stands only at about 5'9" – a height for which he blames his mother – but his athletic build makes up for the fact that he is vertically challenged. He's not incredibly well built, but he's been known to be caught in the gym several times a week to put on some muscle. After all, if you're going to be standing under 6-foot, you have to give the ladies something to work with. Girls prefer tall guys, and River knows that, but with an ever-changing athletic figure like his, he knows the girls at school can't resist.

His charm comes from more than just his physical build though. There may not be much there in height, but where his muscles don't make up for, his smile and his eyes do. His eyes tend to draw people in with their sea of baby blue, but they stay for the pearly white smile. He flashes it often, mostly in the form of taunts, but when you get a genuine smile out of River, it's worth sticking around for.
---
---
---
---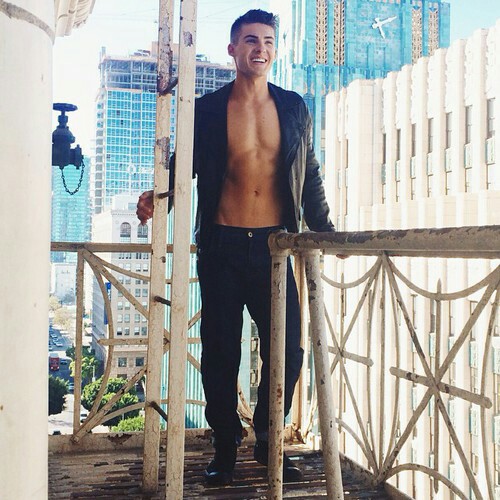 █
█
█
█
█
█
█
█
█
█
█
█
█
█
█
█
█
█
█
█
█
█
█
█
█
█
█
█
█
█
█
█
█
█
█
█
█
█
█
█
█
█
█
█
█
X
▌
▌
▌
▌
▌
▌
▌
▌
▌
▌
▌
▌
▌
▌
▌
▌
▌
▌
▌
▌
▌
▌
▌
▌
▌
▌
▌
▌
▌
▌
▌
▌
▌
▌
▌
▌
▌
▌
▌
▌
▌
▌
▌
P E R S O N A L I T Y
X
T R A I T S
✦ Brute ✧ Wild ✦ Bully ✧ Short Tempered ✦

River is wild – which, by nature, means he his name is quite suitable for him. River has always run with the rough crowd growing up. More than likely because he was typically the run of the group, so naturally, he felt the need to hang out with the bigger and badder kids to make himself look bigger and badder. Even with the friends he had growing up, River got picked on quite a bit. If not for his size, than for his name. He never understood why the fuck his parents decided to go with 'River' as a first name, but for the first couple years that he was in school, River always went by his middle name, Mason. It wasn't until he was older, that he decided that River wasn't all that bad of a name and that he could make it work. However, since he got picked on as a kid, River quickly grew into the type of guy that felt the need to pick on people back. He repressed those emotions from his infancy and his adolescent years, and turned into a bully himself. Perhaps to cope with the fact that he always sort of felt like the odd ball out.

As a result of all these repressed emotions, River can be pretty difficult to work with on occasion. Growing up, he was the youngest of five. He had several siblings always telling him what to do, and it wasn't before long that River just got fed up with it. By the time he had come around, his parents were sick and tired of raising kids, so they just let the older kids take charge. His eldest brother is over twenty years his senior, so there was a lot of shit that River had to take while growing up in the Patton household. The second youngest child, Julian, was the last planned child, leaving River as a surprise to the family. Eric Patton, Rivers father, had supposedly gotten a vasectomy, but when River arrived, there was a certain level of resentment that Eric and wife, Lara, felt. This was by no means Rivers fault, but that resentment stuck around for the first decade or so of his life, and that drew him far from his family as he grew older. River resented himself for being born, and his family for making it feel as though he was somehow to blame for his own birth. River, being that he and his family are in a way estranged from one another, would consider himself to be a lone wolf.

Being the youngest in his family, and sort of the runt of the clan, River got picked on at home, as much as he did away from home. This turned River into a sour kid. There was very little sweet left in him after all these years. One may be able to find it, but it would take a lot of digging. Growing up with three older brothers and one older sister who always bullied him, turned River not only into a bully himself, but a bully with a wild side and a short temper. It doesn't take a lot to get River upset, and when he's mad, he turns into a wildfire of sorts. He becomes the worst time of storm one could imagine.

It'd be nice to think that River isn't all evil, but there's very little good to him that has yet to be seen by the public. River doesn't play the victim card to his life, simply because he doesn't share his life with just anyone. As a matter of fact, there's very little about him that gets out and around because he doesn't really like making friends. Actually, he isn't very good at it. He scares people away with his arrogant and aggressive personality and there are very few that can stand him. Those who do stand him, have a very high tolerance for assholes because River is a Grade A Asshole. He does have a few friends, don't think of him as a complete and utter loser/loner. The guy does have a few people he can fall back to, but very rarely does he get all sentimental about friendships. Maybe, all he needs is someone to break the tough outer shell that he's created for himself.
---
---
---
---
█
█
█
█
█
█
█
█
█
█
█
█
█
█
█
█
█
█
█
█
█
█
█
█
█
█
█
█
X
▌
▌
▌
▌
▌
▌
▌
▌
▌
▌
▌
▌
▌
▌
▌
▌
▌
▌
▌
▌
▌
▌
▌
▌
▌
▌
F A M I L Y
X
&
X
S I G N I F I C A N T
X
F I G U R E S
X


Lara Patton | 63 | Mother | College Professor | Living



X


Eric Patton | 66 | Father | COO of Company| Living



X


Brook Patton | 42 | Brother | Stock Brocker | Living



X


Summer Patton | 37 | Sister | Bridal Company Owner | Living



X


Duke Patton | 28 | Brother | Navy Pilot | Living



X


Julian Patton | 24 | Brother | Student | Living
H I S T O R Y
There's nothing all that special about River's past, at least that's what he'll tell you. He's not entirely too far off from the truth. River was the last child to a successful and semi-happily married couple living in Ventura, California, just a moment's drive from Malibu. This, of course, was before Eric Patton, River's father, made it big with a couple of friends and struck gold when they started up their own company. Patton became a partner at the firm and wealth became part of their name. They moved a little further south from Ventura, into a home just outside of Beverly Hills, where the houses were massive and so were the personalities.

As rewarding as his life may sound, River didn't have all that great of a time growing up. As a matter of fact, it didn't matter how many bedrooms his house had or how big the pool was, there was nothing home-y about his home at all. River was the youngest of five, and the fact that River was conceived at all was a surprise to both Eric and Lara Patton because as far as they were aware, Eric had gotten an otherwise successful vasectomy. Lara was done taking care of children, although her youngest before River was only just a toddler, she had done a pretty fine job of pushing off her kids to the older siblings or to a nanny. She didn't want one more, she denies it but River knows that there was a certain level of resentment she felt since River was born. River's father especially was angered by the birth of his fourth and final son. He ended up suing his doctor and winning the case, resulting in a half a million-dollar payout. River felt as though his birth was jipped and that he was obviously born into the wrong family, because why would anyone feel such anger and resentment towards a child who is at no fault of their own for being born?

Eric was never around much for River, which quickly brought on a hatred for his father. Their relationship was always rocky and he never quite got along with him. Julian was his father's favorite and for that, River didn't get along with his brother either. There was a lot of pent up anger that River held onto over the years and it wasn't until he was roughly 15 that his father finally started showing some interest in his life. By then, River didn't care for his father at all. Due to his father's absence in his life, River got mixed in with a crowd that he shouldn't. He started drinking and smoking from a young age, and even got mixed in with a gang for a while. When River was about 15 or 16, his father decided that enough was enough and put River in rehab for a year. Once River checked out of rehab, the family moved to San Diego where Eric could start up another company location and hopefully square away his family.
---
---
---
---
█
█
█
█
█
█
█
█
█
█
█
█
█
█
█
█
X
▌
▌
▌
▌
▌
▌
▌
▌
▌
▌
▌
▌
▌
▌
G R E E K
X
L I F E
X
T H O U G H T S
"Shit's alright. Parties are alright, but they need to step it up."



River doesn't care much about college. He only went because his father damn near made him. For him, it's all about just getting away from wherever he came from, so falling into a 'clique' doesn't really matter to River. He's just happy to be with other screw ups similar to him.
A F T E R
X
C O L L E G E
X
P L A N S
"I don't even fucking know what I want to do here now, you really expect me to know what I want to do in a few years? Shit… I don't know, probably join the military and get the fuck away."
M A J O R
X
A N D
X
M I N O R
Business
---
---
O T H E R
Fᴀᴄᴇ Cʟᴀɪᴍ ✦ Cody Christian
Pᴏʀᴛʀᴀʏᴇᴅ Bʏ ✧ Chandz

ⒸⓄⓅⓎⓇⒾⒼⒽⓉ ⓌⒶⓇⓃⒾⓃⒼ

character basic form © aurei
modified form ઽ૮૨Α
modified form for this roleplay : Chandz
---
---