---
Nicknames
Imo (E-mo), Lots of people call her Zara, Imogen, and Gene (Long story)
Age
21
Major
Cosmetology
Sexual Orientation
Pansexual
House
Zeta Nu Delta
Thoughts on beinga Zeta
"Hmmm, how do I feel about being in the best fucking house on campus?! How do you think, I love it. It's a party every freaking day!"
---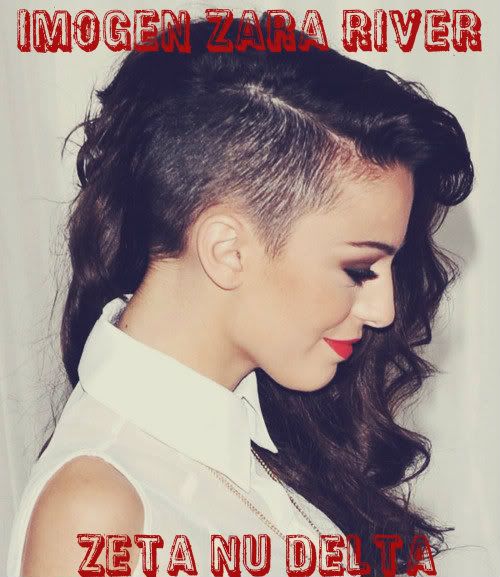 Likes
Drinking
Patrying
Sex....duh
Blogging
Teasing
Boys and Girls
"Experimenting"
Pole Dancing "It keeps my stomach flat....damn don't judge."
Singing
Dancing
Rolling Her Eyes
Make Up
Fashion
Doing Make Up
Comedy Movies
Animal Planet's Lost Tapes (Gulity Pleasure)
Rap Music
Cher Lloyd "People say I look like her. I don't see it."
Shopping
Her Accent
Coffee
Diet Coke
Smoking
Skinny Jeans
High Heels "My best friend!"
Snooki and Jwoww
Edgy Style
Doing People's Hair
Her Friends
Indian Food
England
Cats....I just love them
The Union Jack Flag
Flirting
Rapping
Her Sisters
X-Factor
People With Style
Nutella
Vintage.....Anything
Her Many....Many Tattoos
SOUR GUMMY WORMS! "These are the way to win me over no matter who the hell you are."
Fulton University Parties
---
Dislikes
Most Alphas
Religon "Unlike most, I need proof first. Sorry."
Eye Rolling From Others
Studying
Young Childern! "They are so annoying I just want to thump them in their ear."
Fake Accents
Bad Flirting
Homophobic People
Overly Religous People Who shove it down people's throats
People Who Can't Take A Hint
Beer
Her Real Parents For Getting Rid Of Her
Moving Across The Pond (The Ocean)
People Making Fun Of England
Small Towns
Being From A Small Town
Bullies
People Making Fun of Her Motto
People Making Fun Of Her Name
Assholes repeating How She Saids Darling "I call everyone that. You're not different."
Greedy People
Paramore "Too many people are listening to them now. And they changed."
Hipsters
Small Dogs
Nerds
Dorks
Cotton Candy
Peanuts (Allergic)
Did I say nerds already?"
People Saying She's a Bitch
Country & Bluegrass Music
---
Fears

Getting Pregnant
Being Date Raped
Puppets and Old Glass Dolls
One Direction Fans "If you don't like One Direction, you might as well enroll into the witness protection program. Because they will come a find you."

Dreams
To Become A Successful Hairstylist
To Get Her Own show about her salon
Having Her Own Salon, Riv3r by Zara
---
Personality
How do one discribe Zara? Imogen or Zara to most people is a sarcastic,daring girl who knows exactly what she wants in her life. She is all about taking chances and experimenting new things from strange food to well, everything else. And I do mean anything else. With that said she is a crazy girl that really is well known on campus for many different things. But, most because of how much she likes to party and how she does party. Flirty and charismatic, guys have fallen head over heels for her , and despite the imminent warnings, almost always end up getting dumped some way or another. Just barely treading the line that would define her as "promiscuous," she's a bit of a risk-taker on more levels than one. She has a lot of different tattoos, some with a meaning and some because she was drunk and it was a dare. She takes care to maintain her body and, despite her tattoos, has no piercings to speak of. She does smoke once in a while, but she does do a lot of drinking.

She is honest and blunt, and will speak her mind whenever she feels like, which doesn't necessarily mean all the time. Despite her forthrightness, she isn't exactly what one would call 'ambitious'. Sure, she loves being a cometologist but honestly is she couldmake money for do absolutly nothing, she would drop out and do it. But, before you think she's a complete bum, she is rather intelligent but only wen she choses to be and sometimes just acts so.....high that you wonder howshe even got into Fulton when really she's jsut high on life or hairspray. With that said she may care a bit t much about how she looks and would di with out her make up and hair equipment around her.
Theme Song
Playa Boi-Cher Lloyd
Bio
Raised in the small town of Richmondshire, England with nothing more than a population of 52,000 people, it was rather a small town to grow up in. She was born to a teenage couple that did love her but, being so young they could not provide the life they wanted for her. To this day, she still doesn't know anything about her birth family but, to move on. Imogen who was really given the name Florence at birth was rasied by her foster parents named Tallulah and Alistair River who were a rather high class family in their town. Growing up, Imogen was the middle child of two other foster childern, Jenson and Ollie who were just like they were born to the same family. But,being the only girl she did have to toughen up a bit just to keep up with her brothers and so that she didn't get treated differentlyjust because she was female.

At the age of 15 her family moved to Chicago for her father's job and from there on it kind of went down the....edgy road. There she started hanging out with different types of people like lesbians, gay guys, transgendered men and women, you name it and she has at least one friend that way. But, her parents being an art teacher and her dad being a therapist they knew how important it was for a girl around her age to find who she was on her own. At the age of 16 she found out her love of hair, make up, and just making women feel beautiful just the way they are with out surgery. From then on the rest was history, she knew that was what she wated to do in her life and to own her own salon so she could make the rules. That all almot got derailed by the age of 17, she was aready a freshmen at Fulton and wanted a house. The Alphas were nothing like her and she only had a 3.5 GPA, soooooo the Thetas were out in her book. That left the house of Zeta but she never knew really how to party before she joined. She started to loosen, drinking, smoking, and having sex. Forgetting all about her grade and all that bullshit but, hey she didn't care. Until she was almost expelled because of her grades. She started to focus on her work.....but just like her motto it's "Work hard, Party Harder." Take it or leave, she couldn't care less what you or anyone else thinks of her.
---
"Did you get all of that, Darling? Good."