---
---
'Craziness is like heaven'.
---
---
Name:
Kellin Jane D'Amato
Nicknames:
Lin, it's literally just short for her full name but she prefers not to shorten it.
Age:
19
Gender:
Female
Date:
13-6-1995
Sign:
Gemini
Sexuality:
Bisexual
Ethnicity:
White English
Major:
Psychology and Economics
---
---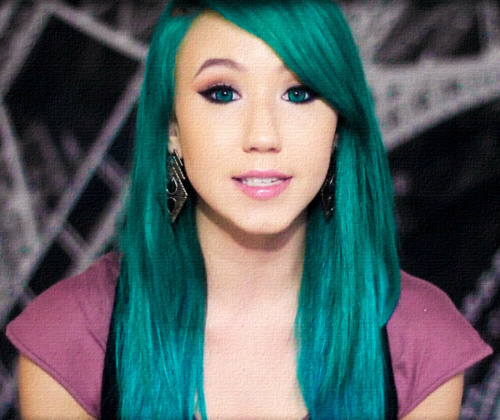 Childhood/Family Life: Up and till the age of ten, Kellin lived with her single mother but due to financial reasons and her mother's sudden emotional instability Kellin was made to move in with her Grandparents in an attempt to relieve Kellin of the stress of having to move from place to place all the time and being shipped around. Kellin from that point in her life, never really saw much of her Mother after that and even to do this day, she's only seen her three or four times and they only ever communicate via an email or a letter- apart from that Kellin has no regard for their relationship since her Grandmother had always been more of a Mum to her. Kellin's grandparents never had high expectations for her not due to anything that was Kellin's fault but due to how her Mother had turned out and they were easy on her simply aiming for happiness rather than A*'s but Kellin did perform well in school and kept this up when she continued to advance her education and her grandparents were incredibly proud of her, leaving Kellin broken-hearted and slightly mangled minded, her grandparents passed away when she was 17. This was the point in her life where Kellin started developing anxiety which was diagnosed with GAD- generalised anxiety disorder in the summer of last year. She lived with a couple of friends for a short while before as she started to get back on track she applied for University and managed to pay her attendance out of her inheritance with some remaining, so that's how she got to Fulton and where she is now.
Kellin has lived in many different places, when she was still with her Mother, they never stayed in one place for very long and they were always quick to leave homes, never really staying in one town longer than 6 months. In this period of her life, she lived in England, Wales, France and Italy but at this point her Grandparents put a stop to this and she moved to live with them in Canada for a long while, she lived there till she was 17 then she moved further north to live with her friends after her Grandparents died. She know lives on campus in Florida but she plans to move back to her Grandparent's home in Canada after she's been travelling around the world.
---
---
Quirks//Habits//Oddities: She's really bad for biting her nails and little things like sticking her tongue out when she's concentrating. She feels naked if she hasn't got an armful of wrist bands on. She loves wearing galaxy themed items of clothing and has tendencies to talk to herself or sing when she thinks no one is paying attention.
Good personality traits:
Intelligent
Empathetic
Open Minded
Energetic
Humorous
Compassionate
Bad personality traits:
Pessimist
Anxious
Dyslexic
Erratic
Clumsy
Nervous
Lack of focus
Personality: Kellin is rather quirky and has an outgoing side amongst her small collection of friends but outside of that circle, she's far more quiet and impressionable. Kellin is what could be stereotypically described as 'geeky', she wears glasses quite a lot of the time but avoids it if she can since her eye sight isn't too awful and she thinks she looks awful in them but she also is totally obsessed by video games and comic books. She's always babbling about one or the other and if she isn't talking about it, it's quite likely it's being advertised on her clothing. Although she's quite shy and withdrawn from socialising, she isn't actually that in confident and she'll talk to anyone, she'll just be incredibly awkward about it. She has a habit of judging hair a lot since she adores people with randomly coloured hair or who do something crazy with it and she also likes tattoos and piercings. There's no better feeling as far as she is concerned than the excitement and build up to dying your hair.
Kellin despite usually being friendly, civil and likeable, she does have an incredibly short temper and has tendencies to jump up in defence of other people and be snappy when she disagrees with something. She's incredibly argumentative and finds her confidence through debating with people but she doesn't like arguing with people as she's anti-conflict but she will stick up for people when they can't stick up for themselves because that's what she thinks is the right thing to do. Kellin has a tendency to swearing and cursing because the way she sees it is; Why would you make words you're not supposed to say? She doesn't get what the point of it, so she swears like a sailor because she thinks if the word was made then it should be used. She doesn't swear to be hurtful at the end of the day, it's part of her sense of humour and the way she's it, a twat is no more offensive than being called an idiot.
Greatest joys in life:
Friends
Gaming
French Toast
Reading
Photography
Greatest fears:
Gerascophobia
Pediophobia
Thantaphobia
Life philosophy:
'Life isn't about finding yourself, it's about creating yourself.'
---
---
❤ Nintendo Games
❤ Socialising (With certain people)
❤ Relaxing and being Lazy
❤ Anime
❤ Coffee
❤ Hair Dye
❤ Photography
❤ Seeing Friends
❤ Coffee Shops
❤ Sugary Foods
❤ Denim Jackets
❤ Band T-Shirts
❤ Gigs
❤ Studying
❤ Comic Conventions
❤ Gaming Conventions
❤ Zelda Games
❤ Kirby
❤ Youtube
❤ Shakespeare
❤ Poetry
❤ Coronas
✘ Overly optimistic people
✘ People who find her swearing offensive
✘ People who think stereotypically or judgementally
✘ Feeling dizzy
✘ Blood
✘ Pubic Speaking
✘ Bullies- people who are rude, disrespectful or intimidating
✘ Cheese and Tomatoes.
✘ Meat (She's a Veggie)
✘ Butchers or anyone associable with killing animals
✘ Nosey people
✘ Being shouted out or spoken to loudly.
✘ People who mock mental health or disabilities
✘ Snobbery
✘ People who are 'two-faced'
✘ People in general most of the time
✘ When dying her hair goes horrifically wrong
✘ Birthdays
✘ Getting Older
✘ Wasting Time
✘ Sexism
✘ Arguing
---
---
Thoughts on Greek Life: Kellin really likes being in a frat and the concept of frat houses, she thinks it makes Uni more interesting than simply getting a degree but she doesn't like the whole superiority for those who are in one specific frat house and how much they're looked as a definition of who somebody is but she likes the idea of putting people in a house together, to party, to hang out, to build up friendships and competing against other Frats for fun- she loves that part of it really.
Plans for after college: She wants to travel, possibly go abroad to help out in companies where animals don't have their full rights and help charities like PETA and so on fight for them. She has a bit of an ambition to work in a Monkey or Gorilla sanctuary somewhere- she hasn't got any definitive plans but that's the road she wants to go down. She's not bothered about earning money or settling down somewhere, she has inheritance from her Grandparents so she wants to go around the world and help animals whilst she still has the chance.
After college, she's always thought she'd do her travelling then go home to where she lived in Canada with her Grandparents, hopefully set out on a career in Psychology and she wanted to set up her own small therapy branch in association with local hospitals around her home town so she could see patients with more attention and focus than they'd get from others or larger associations. Other than that, she has no idea what she wants to do with her life. She doesn't really want to plan out her whole life day by day, she'd rather just live in the moment and see where that takes her, chances are she could make every plan in the world and fail them all, so she's going to see where life takes her and if life ends up being hard, well she'll find a way to escape and start again.
---
---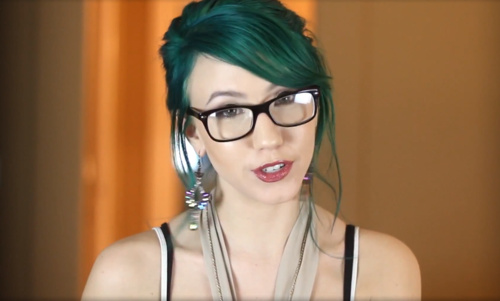 Build: She's 5 ft 9 inches and weighs probably around 115 pounds. She's got a tall, skinny build and there isn't really an once of muscle or fat on her.
Hair Colour: Bright blue- slightly teal.
Eye Colour: Blue
Distinguishing Marks: She has a Zelda 'triforce' tattoo on her shoulder blades and a 'Ying and Yang' tattoo on her forearm. She also multiple piercings including, most of her ears, she has up to her thirds, her helix, inner lobe and on her left ear she has an industrial piercing. She also has a nose piercing which she got down when she was 16- it was her first piercing, all the others she has had since then and she plans to get more but she doesn't know what she wants to get done yet.
Style: She isn't really that much of fashion concious person- a typically outfit would include a t-shirt associable to a video game or one of the bands she likes and skinny ripped jeans but she is totally obsessed with wearing converse and Doc Martens- she basically doesn't wear anything other than her knee converse and her eight eyelet green Doc Martens. She's also rather prone to wearing dresses with cardigans on those rare occasions where it's decided a little bit more effort is required. She likes wearing eye-make up and has mastered using liquid eye-liner which she'd boast is her greatest talent occasionally and there's nothing more she loves than when she can get her hair perfectly straightened and neat but due to her laziness and lack of focus, it doesn't happen very often since she often get's bored and only does half a job. She often dresses in a very 'indie' fashion with aztec patterns and weird but wonderful things but really, it's hard to define Kellin's style because there's so many aspects to it. She's weird and wears weird things, that's the simplest way of describing it.