---
---
---
---
Name




"It's still a bit surreal that people are starting to recognize me. So, yes, I am the one and the same Olivia Grace Escuyos from YouTube."


Olivia Grace Escuyos



Nicknames


"Most people tend to call me Liv or Livvy. A few might get away with Ollie and the only reason people call me O is because they say my laugh sounds like an orgasm. I know, corny, but what can you do? My family are the only ones who call me by my middle name. My mum literally calls me Gracie Poo and now my sister thinks it's cute to do it too, which is just not okay. My Dad just calls me Gracie."
Liv or Livvy|| Ollie|| O|| Grace or Gracie



Age


"Yes, I am young enough to get some of you pervs in jail. No, I'm not eighteen or twenty-one. I am very much still a minor."
16



Date of Birth


"Despite my mum liking to remind me every year on my birthday that she had to deal with fourteen hours of labor to bring me into this world, there is no day better than my birthday, in my eyes. I like thinking of myself as humble, but my birthday is literally all about me and you'd understand if you had to live with being the middle child."
April 25th



Zodiac Sign


"I honestly have no idea who came up with the figures for these signs. I mean, who wants to be associated with a bull?"
Taurus
Ethnicity


"You've obviously heard my accent, so you know that I'm Australian born. There's a bit of African somewhere in the mix, but I honestly don't feel like tracing it."
Filipino, Spanish, Chinese



Sexual Orientation


"I think I'm old enough to say that I am a sexual being. Even if I haven't had sex yet, I already know that I'm the lady in the sheets, but a freak in the sheets type. Which is why I won't say that I haven't experimented. I've kissed girls and guys, and I've been on dates with both just to see. And I'm definitely more attracted to guys. I think I'm allowed to acknowledge when girls are really pretty and one might catch my eye, but I'm definitely here for, well, guys. Not to say that I'm easy either. Just because you're male doesn't mean you're getting in these jeans. You have to work for it and not be a total tool."
Heteroflexible



Relationship Status


"My last relationship didn't end so well. It was when we were moving to Atlanta for those three months and I just thought a long distance relationship when I wasn't planning on coming back to Australia wasn't going to work. Let's just say he didn't take it that well."
TBA



Grade Level


Junior



Clique


"It's still a surprise how easily I fit in here when the school has so many assholes."
Performers



Occupation


"It still feels a little weird being able to say that now."
Recording Artist
---
---
---
---
How old does she appear?


"Honestly, if you leave it up to my subcribers, they'd tell you I was in my twenties. Make-up does wonders, but I honestly didn't think I looked that old."
Late Teens to Early Twenties



Height


"I know my legs look long, but I'm definitely not that tall."
5'4



Weight


120 lbs



Body Build


Spoon Shape



Skin Tone


Golden Brown



Face Shape


Diamond



Eye Color


Brown



Glasses or Contacts


"Actually, I wear both. You will only ever see me wearing my glasses at home or when my eyes are tired from wearing contacts."
Both



Distinguishing Marks


"If I get a tattoo, I want it to actually mean something and a butterfly does not mean anything."
None



Hair Color


"Last year, when I got used to being at Hollywood High, I wanted a little change. My hair's naturally brown, but I thought that it was time to do something different since I was taking different steps in my life. So, I caught on to the somber trend, which is almost like having ombre hair except it's a bit more natural looking. Not that different, but I like the look."
Natural Hair|| Highlighted



Hair Type


"My hair's naturally wavy, that kind of loose look. It's definitely easier to manage than my sister's."
Wavy



Favorite Hairstyle(s)


"It's honestly whatever I'm in the mood for."
Curled|| Straightened|| Ponytail||Updo|| Braided



Physical Disabilities


None



Clothing Style


"Honestly, it's just like with my hair. I like what I like and I like to think that I can be pretty fashionable at times. My closet isn't filled with just name brand things. I like something easy and something I'm comfortable with, even a little something sexy. It honestly is whatever I decide to put on."
Urban chic



Favorite Outfit


School Outfit



Accessories or Jewelry


"Honestly, I love both. I'm not the type to carry the hugest, most expensive bag out there, but I'm also not against having a purse."
Both



Overall Attractiveness


"I'm not even going to lie. If there was one thing other than my voice that I felt confident in, it's my appearance. My grandparents called me their pretty girl for years. So, I definitely think I'm an 8 on my bad days and a 9 on my best."
You would never have to take Olivia's words for it when it comes to her attractiveness. All of her subscribers and every person who has commented on her covers will be the first to tell you that the up-and-coming recording artist is one hell of a looker and it's not that hard to see why. Though her height has her falling under a more petite category, Olivia's long legs make up for it and they seemingly extend for days from upper portion of her body. She has what some would deem a spoon or pear shape, with her hips flaring out slightly wider than her bust though she remains fit and shapely for a girl her age. Make-up makes it impossible to believe her age, but there's no mistake in the innocence of her brown eyes that sit on a diamond-shaped face that also holds high cheekbones, slanted almond shaped eyes, and naturally full lips. With long hair that falls to the middle of her back typically in soft curls, it is no doubt why Olivia would be deemed an 8 or 9 on the scale.
---
---
---
---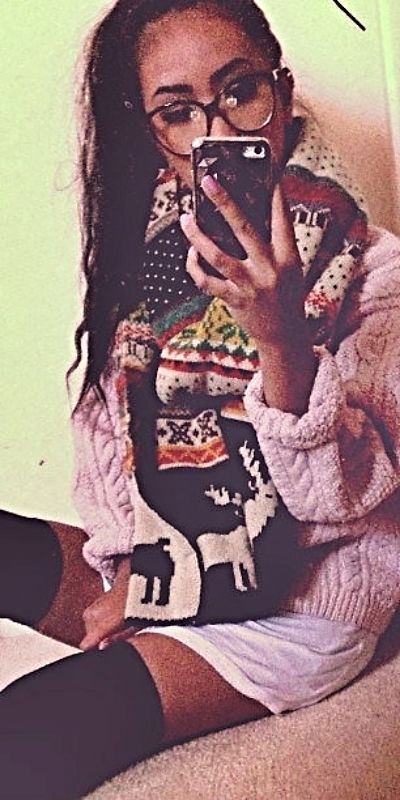 Favorite Color(s)


Black|| White|| Fuschia|| Crimson



Least Favorite Colors(s)


Lemon|| Mustard



Favorite Music


"I listen to a lot of genres, but I mostly sing R&B, soul ballads and my favorites don't always end up being mainstream."
Beyonce|| R&B|| Soul Ballads|| Tinashe|| The Weeknd|| Her voice|| Hip Hop|| Drake|| Lauren Hill|| Aaliyah



Favorite Food


"Before we got to Atlanta, my mum wanted to stop in Washington, D.C. And we had these sausages in hot dog rolls called half-smokes. I have a lot of loves, but if there's one thing you can get me that will make you the love of my life, it's one of these."
Half-Smokes



Favorite Book(s)


The Bluest Eye by Toni Morrison



Form(s) of Entertainment


"To be completely honest, I spend a lot of time working with songwriters and being in the studio, and so on my down time, if I'm not just playing on the piano, I'm really just trying to relax."
Singing|| Social Media (ie. Tumblr, Instagram, Twitter, etc)|| Listening to music|| Watching TV or movies



Most Prized Possessions


"She hates it now because she's ten and thinks it's embarrassing, but I still think it's the sweetest thing anyone has ever given me."
A drawing her baby sister made of her for school when they asked her who her idol was




Hobbies


"Like I said, a good portion of my time is spent recording or working on lyrics, so those other times are dedicated to friends and family, or just relaxing."
Singing|| Computer|| Spending time w/ friends and/or family|| Watching TV|| Listening to music



Does she play a musical instrument?


Piano & vocals



Does she play any sports?


"I used to play soccer when I was younger, but stopped when I was around eleven."
None
Greatest Joys in Life





Greatest Fears





Priorities


"My main priority in life is always my friends and family, but in this sense, it's definitely accomplishing my goals. Which are mainly to pass all my classes and get this album done. We've been working really hard in the last year, especially when it comes to staying true to my sound, and I can't wait to see that finished. Also, I've never gotten anything below a B+ and I refuse to ever allow that to stop happening, so I'm here for putting in that work. But, you know, I don't want to be the all work and no play type. I want to enjoy my year and for everyone to stop seeing me as some really sweet girl, but as, well, a girl."
Working on her first album|| Passing all of her classes (preferably with As)|| Enjoying her second year at HHS



Life Philosophy





How would she spend a rainy day?


"I'm probably asleep, posting a cover on YouTube, or just relaxing. You won't catch me out there."
Above



Spending Habits


"We may live in a nice home and my father's considered the richest man in Australia, but there's nothing flashy about the way my mum runs things. While Dad gives us credit cards and unlimited cash, mum likes to give us a $3000/month limit. So, we try to make it last. I think I'm doing better than either of my siblings."
Humble



Drinks?


"Only occasionally, like at a party or something. If it's not fruity, then I'm probably not drinking it. My mum lets me drink red wine with her every now and then, but I'm not a heavy drinker."
Social drinker



Smokes? Any other drugs?


"The only thing I need to be sucking into my lungs is oxygen and you won't ever catch me with any other drugs unless prescribed."
None
---
---
---
---
Good Personality Traits
Bad Personality Traits