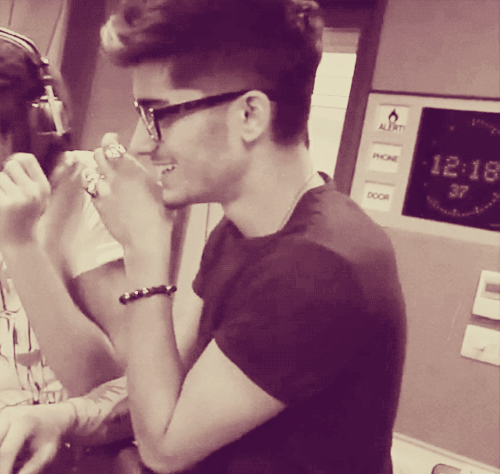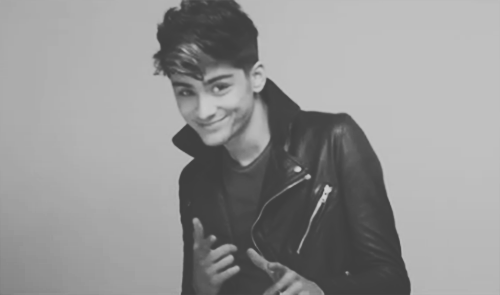 Name
: Mario Gabriel Santiago
Nickname
: He doesn't really go by nicknames, but he'll accept any reasonable ones.
Age
: 19
Major
: Music and Performing Arts
Sexuality
: Homosexual
House
: Beta Gamma Omega
Thoughts on being a Beta
: "I was honestly surprised that Beta wanted me. I guess I sorta picked myself out to be more of a Kappa, even though I'm not the smartest person on Earth. But Beta's still great. We get loads of attention around campass and we get invited to all the parties. It's kinda like being a celebrity!"
Likes
:
-Acting
-Singing
-Writing lyrics
-Guys that work out
-Going to parties
-Cussing in Spanish
-Friendly people
-Long jogs
-Fashion (though he hates to admit it)
Dislikes
:
-Being judged
-Sour candy
-Guys who feel uncomfortable around him
-Hairy guys
-Bad movies
-Math
-Science
Fears
:
-Drowning
-Going mute
Personality
:
The most noticable thing about Mario is that he's proud of who he is and he doesn't care about what other's think. If you like him, great, he'll hang out with you, but if you hate him, you can get lost. He doesn't want to waste his time with people that he doesn't enjoy. If you don't like his personality, that's your fault. He hates when people assume things about him because he's gay. No, he doesn't know what color goes with your skin tone, and frankly, he doesn't really care. He does allow himself to indulge in a few stereotypes though, including going to the mall and helping girl's with their outfits. He hates being so typical, but he can't help it.
When it comes to relationships, Mario tends to flirt with guys he's interested in, which results in some awkward situations when he likes a straight guy. He plays around with his straight friends, playfully flirting with them, but it's all in good fun. He understands boundries and respects them. If someone tells him that something makes them uncomfortable, he'll stop right away and he'll never do it around them again. He loves to work out and does some of his best thinking on a good jog. He's a fairly nice guy, with a sarcastic sense of humor and a genuine love of people. He loves singing and doing things in front of people. It makes him feel so alive. He's also looking for love, but he doubts he'll find any here.
History
:
Mario was born in southern California to a Mexican woman and her American husband. They weren't very wealthy, but they got the bills paid and they were happy with their family. His parents taught him to love himself, no matter what happened and to surround himself with good friends. He became aware of his attraction to boys in the 6th grade, when he started to change out for P.E. with the other boys in his class. No one else noticed it, but Mario had an inkling of what it meant. He told his parents that he was gay when he entered 7th grade and they accepted him still, telling him that they loved him no matter what. By the 8th grade, everyone knew that Mario was gay and he honestly perferred that way. He rather hang out with people that liked him for who he really was anyways.
When he entered highschool, he discovered his love for being in front of a crowd and his talents. He started singing and acting, becoming quite the performer. He met two people during these years that would change his life forever. Mario met and became best friends with a girl named Lacey. She loved music as much as he did and they fed each other's dream of someday playing all over the world. He also met a boy named Jason, whom Mario became very close to. He eventually came out to Mario and told him that he had been crushing on him for a while. The two began dating, but were forced to keep it a secret due to Jason's homophobic parents. The only other person that knew about them was Lacey, whom Mario confided in for most things. The two quickly became serious and Mario fell in love.
Several weeks before their school prom, Mario asked his boyfriend when he'd be ready to come out to his parents. Jason didn't take it well and the two got into an argument. Eventually, things cooled down between them and they made up. They went to prom, both of them "solo" but they met up during the dance. At the end of the night, Jason told Mario that he realized that he couldn't have both him and his family. He broke it off with Mario, telling him that he couldn't risk losing his parents. Though Mario understood his ex-lover's reasons, he couldn't help how he was feeling. He was heartbroken and must've been crying on Lacey's shoulder for hours before he could even touch the pint of icecream she assured would make him feel better.
He eventually was able to pull himself together (with Lacey's help) and he tried to focus on school and getting into a good college. He decided to try for Fulton and was accepted.
Anything else
: