Inside Identity || Maaya Uchida
"It's not that hard to piss me off so you better watch yourself."
---
---
Name:
Aki Sohma (Jun Nakamura)

Age:
Seventeen

Grade:
Third year

Gender:
Female (Male)

Role:
The Cat

Oddities:
Aki occasionally cross-dresses and as a boy and goes by the name of Jun Nakamura.

Sexuality:
Homosexual

Romantic Interest:
Currently none

Nationality:
Japanese

Job:
High School Student

Ethnicity:
Japanese
---
---
---
---
Eye Color:
Red
Hair Color/Length:
Dark blue, kept cut short and simple
Height & Weight:
5'9" & 138 lbs.
Scars:
None of particular note, just a couple of small ones here and there
Tattoos:
Currently none
Birthmarks:
A mole under her right eye
Piercings:
Currently none
---
---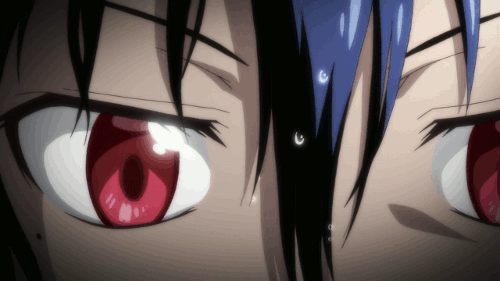 ---
---
Danger Level:
6/10 - While Aki isn't trained in any sort of real combat she is surprisingly strong and agile and her temper makes her potentially dangerous.
Dominant Emotion:
Boredom
Personality:
Emotional might be the first word that comes to mind when one thinks about Aki. This girl is always expressive and wears her heart on her sleeve, she feels her emotions powerfully and is generally unable to hide them. When she's around strangers or feels pressured she can quickly clam up and become rather quiet in an attempt to diminish her presence, preferring to be left alone most of the time. She easily becomes preoccupied with her books and becomes so absorbed that she seems emotionless or distant, like she's off in her own little world and can't be bothered to look away. Perhaps the most noticeable aspect of her personality however is her short temper, she gets angered easily and has even been known to be provoked into physical violence. When she's cross-dressing as Jun she is able to put on a much more confident act, feeling more comfortable being someone else than being herself.
Likes:
Acting & theater | Books | Cats | Music | One on one talks | High quality hard liquors | Baked sweets | An occasional cigarette | Cafes | Painting | The color blue | Rain
Dislikes:
Herself | Being bored | Most of her family | Being the center of attention | Crowds | Her privacy being invaded | People who are always nice | The heat
Talents:
Acting | Agile | Strong sense of smell | Not easily frightened | Can do a handstand
Flaws:
Short-tempered & emotional | Socially awkward | Unmotivated
Weaknesses:
Kittens | Crying girls | Emotional stories & music | Her ribbon
Hobbies:
Acting | Painting | Cross dressing | Taking long walks | Reading
---
---
---
---
Typical Attire:
Though she typically sticks to her school uniform and a jacket her casual attire doesn't have much more variety to it either. It consists largely of loose clothing like hoodies and coats, darker colors and hues, and nothing at all very showy. She has a small collection of boy's clothing and unless she's cross-dressing she always wears her light blue ribbon in her hair.
Keepsakes:
A light blue ribbon she always wears in her hair she received from a friend back in elementary school.
History:
Other:
---
---
[img]Gif/Picture%20Here[/img]