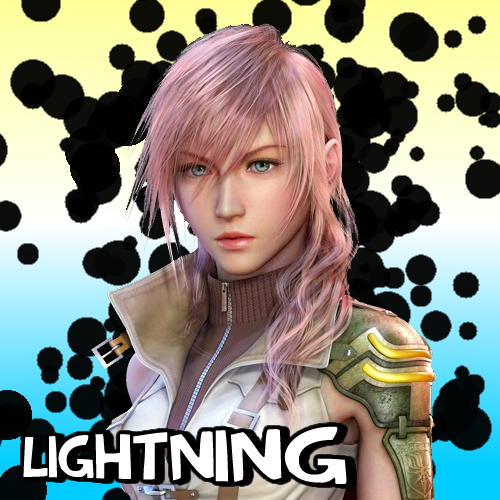 Once a highly-talented soldier in Cocoon's Guardian Corps, well on her way to promotion. However, when a Vestige containing a Pulse fal'Cie was uncovered, everything changed - her sister Serah had been turned into a l'Cie, and mostly everyone in the area was to undergo the Purge (execution disguised as exile). Lightning willingly went on the Purge train to save Serah, encountering Sazh, Snow, Hope, and Vanille in the process. They confronted the fal'Cie Anima together, only to be turned into l'Cie moments before PSICOM destroyed it.
Now branded an enemy of Cocoon, Lightning tries to cope with the new reality - her sister is crystallized, practically the whole world was against her, and on top of that she was given a Focus that seems to relate to Pulse's greatest force, Ragnarok. Strong as she was, she couldn't accept it. In time, though, she came to accept what happened, and strove to defy fate and save Cocoon.
She comes armed with a Blazefire Saber gunblade, which can switch modes on the fly for melee and ranged combat. She also carries a Grav-Con unit, which absorbs impact with solid structures, nullifying harm from momentum.
As a l'Cie, Lightning is very adept in magic and physical combat. She mostly uses Thunder-based spells, and is also adept with curative spells. At times, she can tap into the power of her Eidolon, Odin, wielding his giant twin blades.