Name:
THE RED RIDING HOOD -Crimson Hood-
Royal Capital Rabanastre - Final Fantasy XII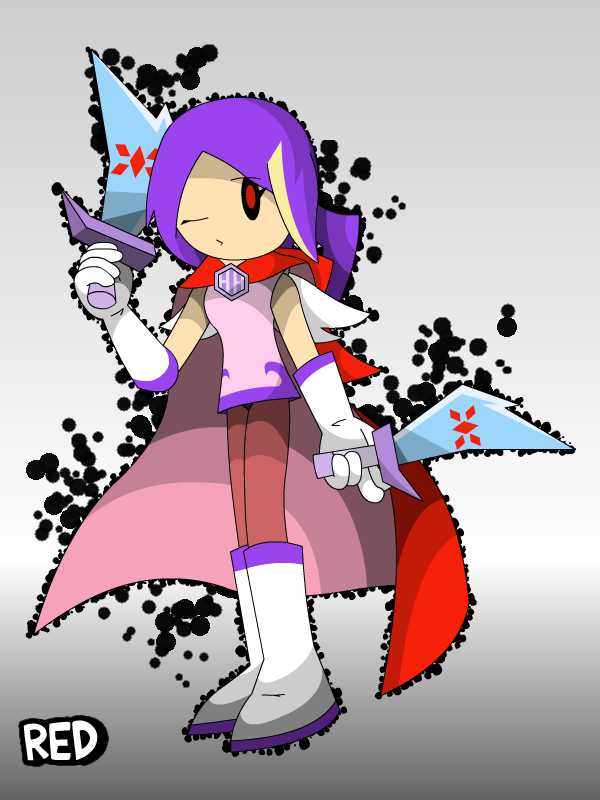 ---
---
Age:
24
Gender:
Female
Specie:
Magus
---
---
Physical Description:
Somewhat on the pale side, with sleek purple hair (with a blond highlight) ending in a ponytail. Her typical attire consists of a sleeveless pink tunic, pinkish-brown tights, and white gloves and boots. Her feathered wings are shrunken to hide under her Cloak of Secrets better.
Personality:
Rather coquette and cunning, she generally gives her enemies a brash treatment, even commenting on their lack of skill. However, she does care about those that need help, especially those that have nowhere else to turn for it. She's also a solid leader, coordinating her allies in accordance to the oncoming attack.
History:
As a magus, a human with fairy-like traits and thus a stronger connection to magic, she has received a lot of scorn and discrimination from others. When it got really bad, she went out to train under her uncle, Corset Hood. When a crazed wolf-like anima (beast-human) delivered a fatal injury to Corset, he put the Hood Heroes team under her leadership. Now leading the Hood Heroes under the alias "Red Riding Hood", she sets out to aid those in need and to root out the source of the oncoming war campaign. Her real name is among many secrets.
Equipment:
Comes armed with twin blades, mainly the Fairy Wing model. Besides general swordplay, she can also manipulate them through magic (e.g. hurling them like a boomerang). Also, she wears the Cloak of Secrets, a hooded cloak that can wrap around her body and veil it in transparency, or even let her mimic another's appearance and voice if she's memorized them.
Abilities:
Skilled at pickpocketing. Also knows magic of fire, water, and lightning. She can also sprint through the air within her Cloak of Secrets.
Other:
Building drive throughout battle can allow her to take on a higher form (called a Surge for magi). This magic energy form allows her to fly and attack over a wide area with her magic.
Specific Moves
Buer Strike: Links her two blades together and hurls them forth like a windmill shuriken. Their path can be curved.
Cloak Dash: Slips within the Cloak of Secrets, rushing in a given direction. The cloak is resistant to most attacks.
Plunder: Essentially a swift pickpocketing move. Works best if the target is distracted.
Napalm Flame: Fire spell. Tosses a flame that explodes on contact.
Firecracker: Fire spell. Summons a flame that appears above a foe and falls down.
White Blaze: Fire spell. Creates a streak of fire forth, lingering for a while.
Hot Wheel: Fire spell. Somersaults forth with blades held out and cloaked in flames.
Dragon Bite: Fire spell. Basically a fiery uppercut going far up.
Big Bubble: Water spell. Creates a water bomb that floats through the air. Explodes on contact.
Wave Rush: Water spell. Dashes forth, cloaked in a wake of water.
Hydro Cannon: Water spell. Blasts forth a beam of water of intense pressure. Can cut through defenses easily.
River Dance: Water spell. Pirouettes while surrounded by water. Deflects projectiles.
Ocean Falcon: Water spell. Sends forth a large bird of water. Directs self toward foes.
Thunderbolt: Lightning spell. Summons a bolt of lightning into a designated spot.
Static Zone: Lightning spell. Creates a paralyzing ring of electricity on the ground for a while.
Spark Drones: Lightning spell. Casts a few electric orbs that float in the air, moving toward any foes coming within their midst.
Thundercloud: Lightning spell. Creates a storm cloud above. Can be pushed forth by attacks, and explodes on foes.
Tiger Fang: Lightning spell. Clashes her blades together, creating a mighty shockwave forth.
Inspirations
Red Riding Hood fairy tale
Dante (Devil May Cry series, a bit of both)
The Spy (Team Fortress 2)
Rikku (Final Fantasy 10)
Zidane Tribal (Final Fantasy 9)
Terra Branford (Final Fantasy 6)
Red Mage class (Final Fantasy series)
Ezio Auditore (Assassin's Creed 2)
Trivia
Her hot-blooded attitude compared to Derecho could be a play on the "Red Oni, Blue Oni" trope, in which Red is the more lively "Red Oni".
Red's personality is surprisingly close to that of Dante of Devil May Cry - both versions, actually. Like the original Dante, she's a smart-aleck and is quite coy with her foes. Like the reboot Dante, she's also aggressive in combat and a natural rebel.
The Cloak of Secrets's ability to disguise her is similar to how the Disguise Kit (of Team Fortress 2's Spy) or the Octo-Camo and Face-Camo (from Metal Gear Solid 4) operate.
Buer Strike, her charged attack, is named after the Buer, a demon with legs around its head in a wheel-like fashion.
Dragon Bite is uncannily similar to Ken Masters's fiery Shoryuken (or "Dragon Punch"), but with a blade instead of a fist.