Copyright Holder
Gakuen Alice Academy
a school for children with abnormal powers, called "Alices" There unlimited spots in this school, and as many Children can come. If your an adult who has an alice and needs a job, Teacher spots are avalible, but there limited amount of space. If you consider to join please fill up this form~ but again if you dont fill it out..we will fill it out for you..Thank you~
(This is when all the orignal students left and when the old principal and ESP was taken down)
(info
http://en.wikipedia.org/wiki/Gakuen_Alice
)
Form
(Aka character Skelly)
Apperance: (detail or anime)
Name:
Age:
Gender:
Personality:
S/O:
Dislikes:
Likes:
Hobbies:
Family:
Relationships with others: (may be edited later)
Goals in life:
Grade: (this does not count teachers)
Teacher?If so what type:
Alice: (dont make so many)
Alice Type:
Are you good at controling your alice?:
Star Ranking: (your rank will go up in the RP also i will like people to start with single or maybe double star at first)
Any control devices,if so where?:
Were you forced to this school?:
History:
Secrets:
Other:
Principal:
Played by Me (Luna Star)
(only the principal has the alice Mark of Death and Mark of Life, but others may have it too PM first)
assistant:
Teacher Spots
+Latent Type Teacher
+Tech Type Teacher
+Somatic Type Teacher
+Special Type Teacher
+Dangerous Type Teacher
Extra
(if you have an idea for an extra character ask me)
Evil Characters
(add it to your form if you are evil, and place in whats your intentions)
Student council, festivals, and extra curriculum will be discussed in OOC
Alice type
Latent Type (潜在能力, Senzai-nōryoku?): Latent Alices are the most common in the school, and involve powers connected to ESP abilities. This is the most well-documented class. Examples: Teleportation and Telekinesis.

Technical Type (技術, Gijutsu?): Technical Alice types appear when the individual performs a certain activity, such as cooking, drawing, etc. The Alices in this type are based on technology and research fields. Examples: Plant Manipulation, Invention and Cooking.

Somatic Type (体質 Taishitsu?): Unlike other classes, this type manifests itself physically. The Somatic Alices are based on the bodies of humans, animals, and other living things, and appear in the form of a pheromone or physical ability. Examples: Super Speed and Human Pheromone.

Special Ability (特力 Toku-ryoku?): This class is for students with Alices that don't fit easily into any of the other three classes. Their powers are different and the class is mixed. Some of the rarest Alices belong to this class. Examples: Amplification Alice, Doppelganger Alice, Nullification Alice and Shadow Manipulation Alice.

Dangerous Ability (危険能 Kiken-nōryoku?): This is considered to be an extra type; the Alices in this class are so strong that they are a threat to the school. This class is very different from the others and could also be described as an occult. They are used by the elementary principal and Persona, and are used to perform secret missions for the school. There are also only six students in this class (not including Persona). Examples include the Mark of Death Alice, Ice Alice, Possession of Evil Spirits Alice, Insect-controlling Alice, Wind Alice, Curse Alice, and Fire Alice.
Map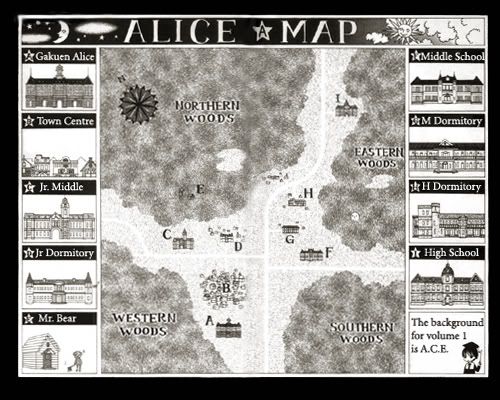 Extra Info
Ideas are welcomed, PM if you have any
Need help PM me also
This RP is based off the real anime/Manga series called Gakuen Alice by Hakusensha, i own nothing)+Rules+
+No god modding
+Romance is allowed
+dont cuss too much
+make your activity post a decent length, enough for people to work with (maybe at least 5 sentences or more)
+Interact with people, i don't want people to fill left out in this RP
+some people may be NPCs like shop owners
+Reservation for teachers are 4 days
+Check OOC as often as possible
+try to be active, if you have to leave for some time tell us in OOC
+More rules may be added later so check this area often
+have fun
Arcs are bundles of posts that you can organize on your own. They're useful for telling a story that might span long periods of time or space.
There are no arcs in this roleplay.
There are no quests in this roleplay.
Here's the current leaderboard.
There are no groups in this roleplay!
Welcome home, Promethean. Here, you can manage your universe.
Arcs are bundles of posts from any location, allowing you to easily capture sub-plots which might be spread out across multiple locations.
You can create Quests with various rewards, encouraging your players to engage with specific plot lines.
Settings are the backdrop for the characters in your universe, giving meaning and context to their existence. By creating a number of well-written locations, you can organize your universe into areas and regions.
Navigation
While not required, locations can be organized onto a map. More information soon!
There are no groups in this roleplay!
By creating Collectibles, you can reward your players with unique items that accentuate their character sheets.
Once an Item has been created, it can be spawned in the IC using /spawn Item Name (case-sensitive, as usual) — this can be followed with /take Item Name to retrieve the item into the current character's inventory.
Give your Universe life by adding a Mob, which are auto-replenishing NPCs your players can interact with. Useful for some quick hack-and-slash fun!
Mobs can be automated spawns, like rats and bats, or full-on NPCs complete with conversation menus. Use them to enhance your player experience!
Current Mobs
No mobs have been created yet.
Locations where Mobs and Items might appear.
You can schedule events for your players to create notifications and schedule times for everyone to plan around.
Add and remove other people from your Universe.
Orphanage
By marking a character as abandoned, you can offer them to your players as pre-made character sheets.
The Forge
Use your INK to craft new artifacts in Gakuen Alice Academy. Once created, Items cannot be changed, but they can be bought and sold in the marketplace.
Notable Items
No items have been created yet!
The Market
Buy, sell, and even craft your own items in this universe.
Market Data

Market conditions are unknown. Use caution when trading.

Quick Buy (Items Most Recently Listed for Sale)
None
Where the students are not leave from
Where the teachers and princpal usually are
Middle school for middle schoolers
Where Middle schoolers sleep and stay
Where the large chick stays.
Creatures of all kinds stay here
The smallest forest
The place where students are to shop and have fun~
High School
High Schoolers Stay and sleep here
Be careful Kids, this bears aren't cute and snugly
Lalala
Little kids~
Where Junior kids sleep and stay
Discussions
Most recent OOC posts in Gakuen Alice Academy