Plot
After 60 years of reigning over island kingdom of Renova, King Artorius Perov has passed away. During his long rule, Artorius led Renova into a new golden age. Never before had trade of goods both Renovan and foreign flowed so free, and the fields produced so much wheat. Nor was there ever a monarch been so popular among both the peasantry and the nobility. Unfortunately, his death has left not clear line for succession. During the latter part of his reign, most had believed that Prince Gherlen would succeed his father, but unfortunately, a plague took the life of both the boy and his young mother. With the death of the king, succession is in flux and there are those among the nobility who secretly welcome the chaos to further their own power.
Meanwhile other tensions divide the people of Renova. Just over 100 years ago, the Northmen were given the snowy north of the land to dwell in and no one is sure whose side they are on, if any. Furthermore, King Artorius had recently granted autonomy to the traveling people, called Koli, a separate ethnic group with its own culture and religion which consists mostly of fortunetellers, entertainers, performers, fire-masters, and the like, led by the mysterious Koli Queen. This decision to not only tolerate, but grant these people self-rule has been viewed as a mistake among many of the nobility.
The Perovian Dynasty has ruled Renova for 300 years and in that time, almost every noble family has intermarried with the Royal Family, brooking many claims to the throne through marriage or blood whiles others claim prestige or closeness to the late king and still others claim the right to rule based upon their competence and practicability. One thing is true among all of the nobility: they would rather die than allow a hated rival take the throne. There are even some who wish for war. Knights long to prove themselves in battle and mercenaries eagerly covet the gold and renown a war would gran them. The Golden Age of King Artorius Perov has come to an end.
Places of Note
Aurora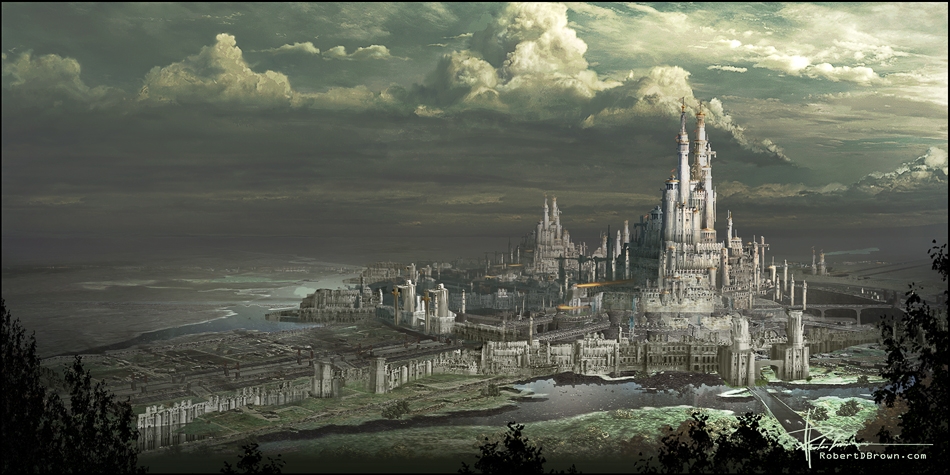 The jewel of the Kingdom, located just thirty miles upriver and surrounded by the River Danu on one side and Moin, Aurora has great white walls and gleaming towers with the outer wall enclosing the farmland just outside the city. A trade center and formidable fortress, this city has never fallen to an attacker. It is rumored to be impossible to take by force of arms. It is here the nobility gather for a
Witan
to elect a new king or queen.
(more may be added)
Key Roles
(Pictures may be replaced at the roleplayer's discretion; gender is also not set in stone)
(NOTE: CHARACTERS ARE NOT LIMITED TO THESE ROLES. MORE ARE WELCOME AND
ENCOURAGED
)
Lady ________________
Chancellor to the old King, Lady ________________ was the queen's older sister and is adept at the intrigues and motivations of Court. She has been charged with arbitrating the Witan as the nobles select a new King or Queen.
[Taken by Bonjour51]
Lady Antoinette Marlane
An officially minor noble with no blood ties to the former King or notable prestige, Lady Antoinette Marlane holds the influential position as the Castellan or caretaker of the capital city of Aurora. She runs the day-to-day management of Aurora and has been since the mysterious death of her older brother two years ago. With the King's death, however, Lady Antoinette Marlane sees his chance to ascend the throne in a city he controls filled with men loyal to him alone. The squabbling nobles will do well to recognize her at the Witan.
[Taken by Natzalia]
Grand Cleric Titus Aurel
Officially the head of the most prevalent religion in Renova, Grand Cleric Titus Aurel is a spiritual man, but a pragmatic one. He is a well-meaning man whose chief concern is for the common man that lives in Aurora, rejecting the noble privilege that was his as one who was born in a noble family. He believes that a King or Queen, whoever he or she is should not be opposed as it would disrupt the extensive services provided by the Church to the peasants and poor of the land. Tyrants, he believes, will die as sure as everyone must.
[Taken by almostinsane]
Brother ________________
A saintly man by all accounts, admired by the common people, Brother ________________ travels and preaches throughout the countryside taking no more than anyone is willing to give him and refusing gifts and luxuries. It is rumored he can perform miracles and see the future while others say he is merely talented at herbalism and reading the winds of change. Idealistic and uncompromising, he settles for nothing less than the greatest good in people and will denounce cruelty and complacency even from the nobility and his superiors.
[Open]
Duke Grym Jorvaldof Jorvik
Descended from the Sea Raiders of old, Duke Grym Jorvald is proud of his people and their unique culture. He was loyal to King Artorius without question and knew him well. The Northmen swore an oath of fealty to the Perovs and with the last Perov King dead, no one is sure how they'd act or who they would support for kingship. One thing is certain. He does not support cowards and would die rather than see his people threatened.
[Taken by Binsetsu]
___________, Queen of Kolis
Beautiful, clever, and as quick with the sword as she is with her tongue, the Queen of the Koli people is comitted to the protection of her people and maintaining their autonomy and holds no interest for the nobles or their quarrels. If they seek to threaten her or her people, however, she will fight.
[Taken by MaliceInWonderland]
Character Sheet
Code: Select all

[b]Name:[/b]

[b]Nickname:[/b]

[b]Age:[/b]
[b]
Appearance:[/b] (Please include a realistic image such as a photo or realistic illustration)

[b]Skin tone:[/b]

[b]Height:[/b]

[b]Build:[/b]

[b]Other aspects of your appearance:[/b] (anything else really)

[b]Likes:[/b]

[b]Dislikes:[/b]

[b]Fears:[/b]
[b]
Skills/Talents:[/b]

[b]Weaknesses:[/b]

[b]Personality:[/b]

[b]Religion:[/b] (your personal views; does he worship the God of mainstream society or does he worship another god or gods?
[b]
Loyalty: [/b](Themselves, another character, just Renova, etc.)

[b]Short-Term Goal:[/b] (what is your immediate goal/concern?)

[b]Long-Term Goal:[/b] (what do you want in the long run?

[b]Relationship/Martial Status:[/b] (Do you have romantic relationships? If you are nobility, what connections does this give you and how is it viewed by others?)
[b]
History:[/b]
1. Be respectful of your fellow roleplayers.
2. This is a literate roleplay. That means that you should post at least two paragraphs per post, though more is encouraged.
3. This is rated M for sex, violence, gore, and language, but please follow Roleplaygateway rules. I do not want this being shut down.
4. No god-modding. That means, in battle with another player, there should be no auto-hits and definitely no auto-kills. That also means you are not invincible. That means you should take hits. This also means no convoluted posts to avoid harm or inflict harm on another player. Those get tiresome.
5. For appearances, real life photographs are preferred but good illustrations are acceptable.
6. I have a set plan for the beginning of this roleplay. If you take a key role, listen to me.
7. Have fun.
Taking place in...
0 posts here • Page 1 of 1
0 posts here • Page 1 of 1
Arcs are bundles of posts that you can organize on your own. They're useful for telling a story that might span long periods of time or space.
There are no arcs in this roleplay.
There are no quests in this roleplay.
Here's the current leaderboard.
There are no groups in this roleplay!
Welcome home, Promethean. Here, you can manage your universe.
Arcs are bundles of posts from any location, allowing you to easily capture sub-plots which might be spread out across multiple locations.
You can create Quests with various rewards, encouraging your players to engage with specific plot lines.
Settings are the backdrop for the characters in your universe, giving meaning and context to their existence. By creating a number of well-written locations, you can organize your universe into areas and regions.
Navigation
While not required, locations can be organized onto a map. More information soon!
There are no groups in this roleplay!
By creating Collectibles, you can reward your players with unique items that accentuate their character sheets.
Once an Item has been created, it can be spawned in the IC using /spawn Item Name (case-sensitive, as usual) — this can be followed with /take Item Name to retrieve the item into the current character's inventory.
Give your Universe life by adding a Mob, which are auto-replenishing NPCs your players can interact with. Useful for some quick hack-and-slash fun!
Mobs can be automated spawns, like rats and bats, or full-on NPCs complete with conversation menus. Use them to enhance your player experience!
Current Mobs
No mobs have been created yet.
Locations where Mobs and Items might appear.
You can schedule events for your players to create notifications and schedule times for everyone to plan around.
Add and remove other people from your Universe.
Orphanage
By marking a character as abandoned, you can offer them to your players as pre-made character sheets.
The Forge
Use your INK to craft new artifacts in Game of Kings: Succession. Once created, Items cannot be changed, but they can be bought and sold in the marketplace.
Notable Items
No items have been created yet!
The Market
Buy, sell, and even craft your own items in this universe.
Market Data

Market conditions are unknown. Use caution when trading.

Quick Buy (Items Most Recently Listed for Sale)
None
Discussions
Topics

Replies
Views

Last post
Most recent OOC posts in Game of Kings: Succession
There have been no posts in the OOC topic for this roleplay!