---
---
Under the rule of King Robert Baratheon, the Lord of the Seven Kingdoms, the Protector of the Realm and the first of his name. Westeros remained forever peaceful, apart from the odd bandit and rapist here and there, and the occasional trouble in some Lords holdings. Still there was peace, even though it was a fragile peace as it was, with the Martells for killing Princess Elia and her children in cold blood. And with the Greyjoys for six years ago they started a little rebellion and old Balon Greyjoy paid for it with his sons lives! Either way, peace is peace. Then Jon Arryn died, some say a fever took him, others say he was searching into things which were very secret. So, with the Hand of the King dead, King Robert starts his journey to Winterfell. Is he going to ask his old friend Eddard Stark to be the Hand? What plans will be unravelled there, devious plans to kill the King, start a war?
---
---
The Starks, very loyal and brave. Their Ancestral Seat is Winterfell, in the North, a cold and icy castle, in their godswood lies a weirwood tree, a sacred symbol of their Old God Faith. It was Brandon Stark who built the mighty colossal wall in the North, which protects the Southern lands from the dangers beyond the wall.
Name: Eddard Stark | FC: Sean Bean |
Open
|
Alive
(Warden of the North and Head of the Stark Family, Married to Catelyn Stark)
Name: Catelyn Stark | FC: Michelle Fairley |
Open
|
Alive
(Wife to Eddard Stark, Daughter of Lord Hoster Tully, Mother of the Stark Children)
Name: Robb Stark | FC: Richard Madden |
Open
|
Alive
(Eldest Son of Eddard and Catelyn Stark)
Name: Sansa Stark | FC: Sophie Turner |
Reserved
|
Alive
(Eldest Daughter of Eddard and Catelyn Stark)
Name: Arya Stark | FC: Maisie Williams |
Open
|
Alive
(Youngest Daughter of Eddard and Catelyn Stark)
Name: Brandon (Bran) Stark | FC: Isaac Hempstead Wright |
Open
|
Alive
(Youngest Son of Eddard and Catelyn Stark)
Name: Jon Snow | FC: Kit Harrington |
Open
|
Alive
(Bastard Son of Eddard Stark, hated by Catelyn but considered family amongst the Stark children)
---
The Baratheons, the King is currently one. Their Ancestral Seat is Storms End, the castle on a cliff with the raging sea below it. During the war of the Usurper the castle was being sieged by the Tyrells. Stannis Baratheon was holding the castle at the time, and his men were starving, but under the cover of night Davos Seaworth snuck through the barricade in a boat and gave the men food until Eddard could lift the siege which led the Tyrells surrender.
Name: Robert Baratheon | FC: Mark Addy |
Open
|
Alive
(King of Westeros, Father of Joffrey, Tommen and Myrcella and Husband to Cersei)
Name: Stannis Baratheon | FC: Stephen Dillane |
Open
|
Alive
(Lord of Dragonstone, Eldest son of the Baratheon brothers, Master of Ships on the Small Council)
Name: Renly Baratheon | FC: Gethin Anthony|
Open
|
Alive
(Master of Laws on King Roberts Small Council, secretly a homosexual having a secret relationship with Loras Tyrell)
Name: Joffrey Baratheon | FC: Jack Gleeson |
Open
|
Alive
(Son of Robert Baratheon, but really the incest born of Jaime and Cersei Lannister)
---
The Targaryens, original rulers of Westeros. For they were the ones who united Westeros in the first place, Aegon and his sisters...And their dragons. The Targaryens thought that by marrying their siblings they would keep the blood line pure. Their ancestral seat is Dragonstone which is now under the lordship of Stannis Baratheon. Viserys and his sister Daenerys are now in Pentos under the care and protection of Illyrio Mopatis.
Name: Viserys Targaryen | FC: Harry Lloyd |
Open
|
Alive
(Viserys vows to return to Westeros and take back the Iron Throne, he is the big brother of Daenerys)
Name: Daenerys Targaryen | FC: Emilia Clarke |
Reserved
|
Alive
(Sister of Viserys, killed her mother when she was born)
Name: Khal Drogo | FC: Jason Momoa |
Open
|
Alive
(A Khal who commands an army of Dothraki)
---
The Lannisters, a very rich and powerful family, their ancestral seat is Casterly Rock, a castle shadowing Lannisport. The Lannister's are a proud house, they have money, power, and respect. But some of that respect dwindled when Jaime Lannister speared Aerys Targaryen in the back when he was supposed to be protecting him.
Name: Tywin Lannister | FC: Charles Dance |
Open
|
Alive
(Head of House Lannister, father to Cersei, Jaime and Tyrion)
Name: Cersei Lannister | FC: Lena Headey|
Open
|
Alive
(Married to King Robert Baratheon, mother of Joffrey, Myrcella and Tommen, had the children through incest with her brother Jaime)
Name: Jaime Lannister | FC: Nikolaj Coster-Waldau |
Open
|
Alive
(Known as the 'Kingslayer' for stabbing Aerys II in the back near the end of the War of the Usurper. Incest with his sister Cersei)
Name: Tyrion Lannister | FC: Peter Dinklage |
Open
|
Alive
(Tyrion is known as the 'Imp' due to his stature. He killed his mother during birth, and is brother to Jaime and Cersei)
---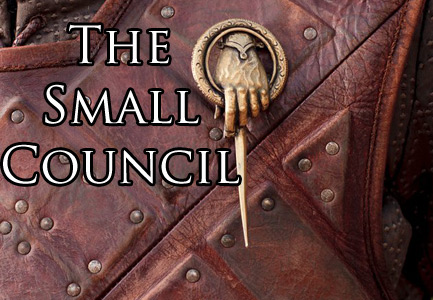 The Small Council, these people advise and help run the affairs of Westeros.
Name: Petyr Baelish 'Littlefinger' | FC: Aidan Gillen |
Open
|
Alive
(Petyr is the Master of Coin on the Small Council)
Name: Grand Maester Pycelle | FC: Julian Glover |
[NPC]
|
Alive
(Pycelle is the Grand Maester of the Small Council)
Name: Varys the Spider | FC: Conleth Hill |
Open
|
Alive
\
(Varys is the Master of Whispers, bringing news of events all around Westeros)
Code: Select all

[center][img]go to fontmeme for a title[/img]
[img]Pic or GIF here[/img]
[i][size=150]Character quote goes here[/size][/i]

[hr][/hr][hr][/hr]

[left][img]Another Gif/pic[/img]
[img]another one please[/img][/left]

[b]Name:[/b] First& Last
[b]Age:[/b] Keep it 'legit' to the character. E.G Dont make Bran 5 or 15, make him around 8-10
[b]Gender:[/b]
[b]Sexuality:[/b]
[b]House:[/b]


[b]Likes:[/b] At least five
[b]Dislikes:[/b] At least five
[b]Fears:[/b] At least three
[hr][/hr][hr][/hr]
[right][img]Another gif or image[/img]
[img]Gif or Image[/img] [/right]

[b]Weaknesses:[/b] Is there a weakness behind that armour?

[b]Strengths:[/b] What is this character good at? Swordsmanship? Persuasion?

[b]Thoughts:[/b] On the other Houses (or even their own)

[hr][/hr][hr][/hr]
[left][img]Gif or Image[/img]
[img]Gif or Image[/img] [/left]
[b]Personality:[/b] At least a few decent paragraphs please. Try to keep it 'legit'
[b]Other:[/b] Anything else you want to add.[/center]
-Okay peoples, respect the rules or I will sic a white walker onto you for eternity.
-This is a mature roleplay so expect: Gore, Swearing and Sexual interactions (Keeping with the sites Rules)
-Characters will die, because THIS IS A GAME OF THRONES!
-As the RP gets going I will add more characters, I am open to opinions of characters.
-Now, NO one liners. Atleast
two
paragraphs.
-Well...I guess thats it, get GAMING OF THE THRONING
Taking place in...
There are no characters in this universe yet!
2 posts here • Page 1 of 1
Setting
post is empty, should likely be deleted

by Anonymous
Setting
1 Characters Present
Tag Characters »
Add to Arc »
2 posts here • Page 1 of 1
Arcs are bundles of posts that you can organize on your own. They're useful for telling a story that might span long periods of time or space.
There are no arcs in this roleplay.
There are no quests in this roleplay.
Here's the current leaderboard.
There are no groups in this roleplay!
Welcome home, Promethean. Here, you can manage your universe.
Arcs are bundles of posts from any location, allowing you to easily capture sub-plots which might be spread out across multiple locations.
You can create Quests with various rewards, encouraging your players to engage with specific plot lines.
Settings are the backdrop for the characters in your universe, giving meaning and context to their existence. By creating a number of well-written locations, you can organize your universe into areas and regions.
Navigation
While not required, locations can be organized onto a map. More information soon!
There are no groups in this roleplay!
There are no characters in this universe yet!
By creating Collectibles, you can reward your players with unique items that accentuate their character sheets.
Once an Item has been created, it can be spawned in the IC using /spawn Item Name (case-sensitive, as usual) — this can be followed with /take Item Name to retrieve the item into the current character's inventory.
Give your Universe life by adding a Mob, which are auto-replenishing NPCs your players can interact with. Useful for some quick hack-and-slash fun!
Mobs can be automated spawns, like rats and bats, or full-on NPCs complete with conversation menus. Use them to enhance your player experience!
Current Mobs
No mobs have been created yet.
Locations where Mobs and Items might appear.
You can schedule events for your players to create notifications and schedule times for everyone to plan around.
Add and remove other people from your Universe.
The Forge
Use your INK to craft new artifacts in Game of Thrones. Once created, Items cannot be changed, but they can be bought and sold in the marketplace.
Notable Items
No items have been created yet!
The Market
Buy, sell, and even craft your own items in this universe.
Market Data

Market conditions are unknown. Use caution when trading.

Quick Buy (Items Most Recently Listed for Sale)
There are no characters in this universe yet!
None
Discussions
Topics

Replies
Views

Last post
Most recent OOC posts in Game of Thrones
edit: changed mind, no activity for over a month
Are you still up for doing this, because I'd very much like to join you. I was wondering if I could play as Robert Baratheon or if he is reserved?
Everything (except for the characters) will be free form. So Eddard may or may not die, Sansa won't be beaten by the cruel Joffrey, Viserys MIGHT EVEN LIVE!

The worlds on oyster and your the pearl, make your dreams of Game of Thrones come true!

I may be persuaded of making, completely original characters like, A Sellsword or EVEN another house!
This is the auto-generated OOC topic for the roleplay "
Game of Thrones
"
You may edit this first post as you see fit.