----------------------------------------------------------===========Gatewatcher Database Profile===========--------------------------------------------------------------------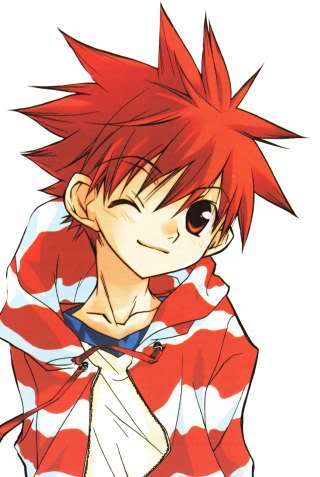 Name: Zane Bell
Age: 10
Nicknames: Kid, Young One, Red, Zay
Mana Color: Red
Preferred Magic Styles: Electricity/Lightning, Fire, Metallurgy, Transmorphic, Alteration,
Energy Projection, Illusion
Height: 4'8
Weight: 70 Lbs. Soaking Wet
Eye Color: Amber to normal people, red to Mana Users
Hair Color: Brown to normal people, red to Mana Users
Unique Trait: Foresight: Zane can see flashes or has dreams/nightmares of things before they
happen, though its always unclear.
Strengths: Strong Willed, Prodigy Magical User, Naturally High Mana Potential and Pool.
Weaknesses: Young, not that physically strong, gets headaches, can be hot headed.
Background: Zane never knew his birth parents, all he knew is that they died in an accident shortly after he was born and they could never identify them for various reasons. As a result, Zane has been an orphan his whole life. But deep down, he knew that something was amiss. He didn't know how, but he knew it was no normal accident.

His powers developed disturbingly early, at age five, and due to the deteriorating conditions of the Social Welfare system with all these unexplained accidents and disasters, was able to easily hide them and practice them on his own. Of course, as a result, he was never trained to accept one unified style like most Mana Users would be, instead adopting an array of Magic Styles he used instead of a specific few. He used his Mana to excel in learning as well, although he rarely went to school since he soon vastly outclassed them all. To him, Mana was something that scared him for all of about five minutes, before he got curious and decided to learn as much about it as possible.

He learned to use his Mana to live on his own, and certainly not in discomfort either. Instead, he used it to thrive. But it was soon after he discovered the Gateways. He had been sensing them all this time, but after seeing one, he realized two things. One was that they were dangerous, and he needed to help stop this danger. The second was that they were the ones behind all the disasters and accidents, and he realized this same feeling was also the feeling he had about his parents accident. And so, he decided to make sure they would stop causing so much pain.

Despite his personality seeming like Blue Mana, its the fact he can still have fun and enjoy life despite all that happened to him and all that he knows that proves he is Red Mana, because he still has his spirit.