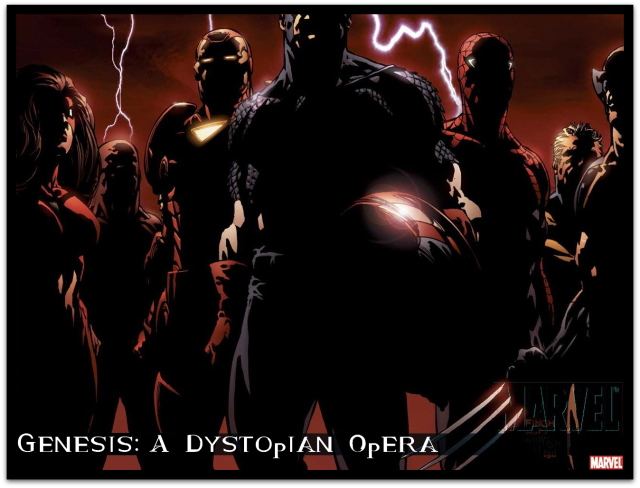 In a dark, dystopian future, the world is in peril. Mankind is stuck in a dreamlike state: blinded by what they think is a thriving utopian society and forever oblivious to the problems that surround them. In truth, humans have become pampered pets cared for by their Machine Overlords. Leaving Mutants to suffer alone, they are trapped in Containment Camps as prisoners and slaves from a war lost long ago. Now, as the rest of the world watches idly; a rebellion, once thought silenced, is gathering a strong following and threatening to disrupt the peace and save the world from inedible nuclear war.
[ THEME SONG ]
Still Accepting Characters
NOTE: To help you navigate the page better, press CTRL+F, then type in the key next to each topic in the content listing.


Ex: Press CTRL+F, then enter A4 to take you directly to the ? ? ? ? topic.
---
CONTENTS
LINKS
---
Intro - A1

Plot/History - A2

About - A3

Character Creation - A4

Rules - A5
A1
---
INTRO
---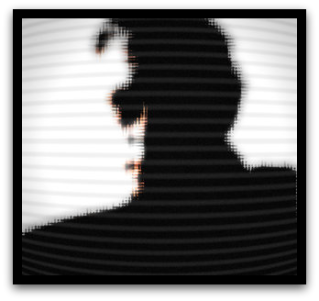 It was the middle of summer in New York City, New York. The date was July 4th, 2450 and all was normal on this warm evening as pedestrians went about their day. When suddenly, there was a soft hum as screens and speakers all everywhere came to life. Former images began to disappear, as a new one took their place. The picture was fuzzy, depicting the silhouette of a man's face, illuminated by a single bright light so that facial recognition was barely possible. A few seconds of silence passed by before there was sound.

"I imagine that right now, you're feeling a bit like Alice. Hmm? Tumbling down the rabbit hole? Well, let me to help you find your way...

Only centuries ago

we

mutants shared the world with you humans. Now? We are no better than the animals you keep as pets: trapped in cages and forced to wear collars -- the only difference is, they have your respect. But do not be fooled humans, you are just as much slaves as we are. You built these... machines, to protect you from the supposed mutant menace, but who shall protect you from them?

Its a shame, really -- Big Brother has dug their claws into you so deep; brainwashing the masses and molding you, but not to perfection... but into the perfect pets. Since birth, they tell you to follow the rules, to... stick to the program and will be ok. But, is security worth trading your freedom? Unfortunately, your answer does not matter as you no longer have the freedom of choice. You believe what they want you to believe: think, feel, and even what they say is right and wrong; true and false. You have become oblivious to the truth, your vision clouded by dreams of utopia...

Do you believe in fate?

There are no accidents. We have not come here by chance; I do not believe in chance. I do not see coincidence, I see providence -- I see purpose. I believe it our fate to be here. It is our destiny. I believe this night holds for each and every one of us, the very meaning of our lives. Today, marks the day we break free of our shackles and the dawn of new era. Mutants will be free once more and you nor your machines can stop us!

Tomorrow, we may all be dead, but how is that is that different from any other day? This is a war and we are soldiers. Death can come for us at any time, in any place. This is your last chance. After this, there is no turning back. Do nothing, and the story ends here -- you wake up in your bed and believe whatever you want to believe. Take action, and you stay in Wonderland and I show you how deep the rabbit-hole goes.

*Long Pause*

Do you hear that, Big Brother? ... That is the sound of inevitability... It is the sound of your death... Goodbye, Big Brother..."

The camera zooms out to reveal the full form of the shadowy figure of a man. His arm slowly raises, until his palm is pointed at the camera. "Goodbye Big Brother." There is bright flash of red light and explosion as the beam meets the camera and destroys it. As the screen fades to black, the symbol for anarchy appears.
A2
---
PLOT/HISTORY
---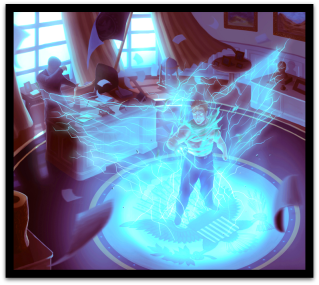 On Earth-2450, Sentinels rule North America. Most mutants have been hunted down and exterminated, and those that survive are kept in concentration camps. The beginning of this dark future can ironically be traced back to both joyous and unfortunate events.

When the mutant known as Jean Grey was possessed by the Dark Phoenix, she returned to the home of her parents, and driven by Dark Phoenix's rage, she demonstrated her powers in front of them. This led her father to the realization that, as a telepath, Jean could feel the subconscious fear that her parents and sister felt in her presence. Realizing that this was causing her pain that she could not block out, he chose not to cast her out. As a result, Jean Grey got married to Scott Summers and had a single child, whom they named Rachel and who inherited Jean's psychic powers.

The second point of origence occurred on Halloween 2417. On this date, Senator Robert Kelly, Charles Xavier, and Moira MacTaggert were attacked and killed by the Brotherhood of Evil Mutants in Washington, D.C. The death of Senator Kelly made mutants the objects of fear and hatred among baseline humans. At around this time, there were violent anti-mutant riots. In one such riot, John and Elaine Grey, Jean Grey's parents, were killed. In 2421, a "rabid anti-mutant candidate" was elected President of the United States. Within a year, the first Mutant Registration Act|Mutant Control Act was passed, although the Supreme Court had it struck down as unconstitutional. Nevertheless, a second Mutant Control Act was passed in 2425 and upheld.

The US administration reactivated the Sentinels, programming them to eliminate the mutant threat once and for all. The robots concluded that the best way to accomplish this would be to take over the whole country. During the takeover, they killed not only mutants, but other beings with super powers, including the Avengers and the Fantastic Four. Survivors were sent to concentration camps. By the year 2437, Sentinels ruled the entire North American continent. The rest of the world became more frightened of the Sentinels than of mutants, and threatened war if the Sentinels ever moved outside of North America. The Sentinels operated out of their main headquarters in Staten Island, New York City.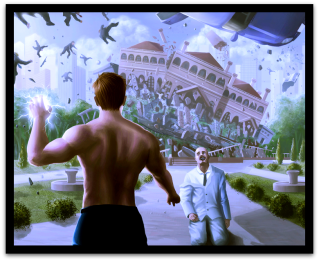 By the year 2450, people were in one of three classes and marked with a certain letter:


(H) - Baseline humans who have no mutant genes and are permitted to breed.


(A) - Anomalous humans who are not mutants themselves, but possess mutant genetic potential, and are forbidden to breed.


(M) - Mutants who are forced to live in Ghettos and serve the Sentinels, and are shunned and hated by other humans.
At this time, the only surviving X-Men were Kate Pryde, Storm, Colossus, and Wolverine. Wolverine managed to escape Sentinel capture and became a Colonel in the Canadian Resistance Army, although the other three had been captured and lived in the South Bronx Mutant Internment Center, where they formed another Anti-Sentinel Resistance along with Franklin Richards, Rachel Summers, and a paraplegic Magneto.

Recently, the Anti-Sentinel Resistance discovered that the Sentinels, driven by their prime directive, were planning to move out of North America and invade other countries. Knowing that this would automatically trigger a full-scale nuclear strike from the other great powers, and thus destroy the world in a nuclear holocaust, a plan is in motion to stop this and prevent the Sentinels from taking power.
A3
---
ABOUT
---
Welcome to the roleplay, Genesis: A Dystopian Opera. At its core, Genesis is a Marvel Comics Fan-Fic integrated with the unique futuristic dystopian world of my own creation. This Earth has all the features of our reality: same countries, same personalities (politicians, movie stars, etc.), same historical events (World War II, 9/11, etc.), and so on. However, it also contains new ones, such as countries like Wakanda or Genosha. The RP follows the plotline of the alternate Marvel Earth-811, with key differences in the characters and environment, however.

But in this world, Sentinels, which are robots made to hunt down mutants, rule North America. Most mutants, which exist in this world as beings with abnormal abilities and characteristics, have been hunted down and exterminated; those that survive are kept in concentration camps. Years have gone by and the mutant rebels are still fighting to take their freedom back. In the grand scheme of things, robots rule the world and have tricked humanity into believing they are their humble servants and protectors. Mutants have been made to look like the real life bogeyman, but they could very well be humanity's only hope of saving the planet.

The story will revolve around the rebels in a three-part story and their plan to stop the sentinels and free mutant-kind from oppression. Your character can be a mutant, human, robot, or unique fusion of any of the two; I will even allow a few to play the opposition. Your character does not have to be a mutant rebel or even an imprisoned one. I encourage you all to think outside of the box and be civilians or anything else. Either way, most of you will end up being rebels, as the story is centered on them and their actions. I won't be allowing complete canon characters, but I will let players borrow powers and abilities, so long as they are not cheap copies of the originals. As always, originality is highly valued and expected.

There is no limit on players accepted or the characters they create, your own skills and creativity will be your only limitation. I will accept players and characters based upon their character sheet, previous work, and a written example of their writing if needed. If this seems interesting to you, submit a character or PM me if you have any questions. I am a very helpful and hands-on GM and am willing to help you in any way I can.

This RP will likely start a week or two from now, after character have been accepted and I have been allowed time to finish whatever else may need to be done. In the meantime, do not hesitate to communicate with other RPers and create history with your characters and the world.

Fair Warning: this RP is information heavy and I will be picky in who I eventually accept. But, I am always fair and judge based on talent and writing abilities.
A4
---
CHARACTER CREATION
---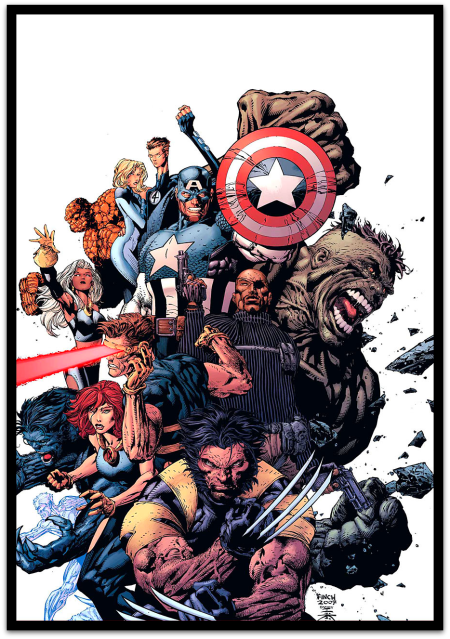 Character creation for this RP is a bit complex or maybe the better word(s) is intricate and overly detailed. There are character races, tremendous amounts of info, powers & abilities, varying equipment, and other choices. To help you, I have created multiple info pages (which there are links to, that can be found in the Links section above or in the OOC Tab) if those pages do not help, you can PM me and I will do my best to explain and aid your confusion.

Although I do prefer pictures in the app, do try to make them a manageable size. I also appreciate good use of coding because it makes for an easier read, plus it looks nice. This is why I advise everyone to use the application I provide: it brings organization to the sheet as well list all the info I request. I have said this before and I will say it again: be creative. There are too many options available for characters to be similar.

I would also like to discuss character balance for a brief moment.

Think of a character as a six sided die. If we use a typical human as the average norm, their stats would fall into line as 3's across the board, with a 1 & 2 = Below Average, 4's = Above Average (but nothing spectacular), and 5 & 6 = Well Above Average & Really Good.

So where does exceptional or perfect fit in?

Well this takes us well past typical human greatness and the exponentially harder to achieve 7 & 8 = Exceptional; 9 = Near Perfect; 10 = Perfect.

How do you get there?

Natural talent, training, and heritage. For instance, if you are studying a single subject to become exceptional, you will probably falter in another after devoting time and resources to the former and not the other. You are also more likely to be skilled in this subject if your ancestors were.

Now, unless your character is a God or some other extraordinary race or species, one should consider a more mediocre approach to character creation. The upper levels are just that, the exception to the rule.

Just a Note: though I have made a character application, you do not have to use it. Although I require the same information to be present somewhere within your sheet. So you might be better off using it anyway. Also please try to restrain from listing personality traits as weaknesses. If you really must make it so, then at least list a good one.
Code: Select all

[justify][center][size=200]CHARACTER NAME : CHARACTER TITLE[/size]
[ PASTE CHARACTER IMAGE HERE ]
[size=150]"SYNOPSIS"[/size][/center]
[hr][/hr][size=150][b]THE PROFILE[/b][/size][hr][/hr]
[b]Name:[/b]

[b]Nickname:[/b]

[b]Alias:[/b]

[b]Citizenship:[/b]

[b]Identity:[/b]

[b]Species:[/b]

[b]Race:[/b]

[b]Visual Age:[/b]

[b]Factual Age:[/b]

[b]Gender:[/b]

[b]Sexual Orientation:[/b]

[b]Theme Song:[/b]

[hr][/hr][size=150][b]THE DIAGNOSTICS[/b][/size][hr][/hr]
[b]Hair:[/b]

[b]Facial Hair:[/b]

[b]Eyes:[/b]

[b]Build:[/b]

[b]Skin Tone:[/b]

[b]Height:[/b]

[b]Weight:[/b]

[b]Voice:[/b]

[b]Handed:[/b]

[b]Body Markings:[/b]

[b]Scar Tissue:[/b]

[b]Unique Body Features:[/b]

[b]Body Modifications:[/b]

[hr][/hr][size=150][b]THE DOSSIER[/b][/size][hr][/hr]
[b]Quirks:[/b]

[b]Virtue/Creed:[/b]

[b]Motivation:[/b]

[b]Opinion:[/b] Feelings towards mutants and their situation.

[b]Goal:[/b]

[b]Fear:[/b]

[b][u]Likes[/u][/b]
[list]
[*]

[*]

[*]

[*]

[*]
[/list]

[b][u]Dislikes[/u][/b]
[list]
[*]

[*]

[*]

[*]

[*]
[/list]

[b]Strengths:[/b]

[b]Weaknesses:[/b]

[b]Personality Description:[/b]

[hr][/hr][size=150][b]THE TALENTS[/b][/size][hr][/hr]
[center]Rating System
[b][Perfect] - [Excellent] - [Good] - [Above Average] - [Average] - [Below Average] - [Poor] - [Very Poor][/b][/center][hr][/hr]
[b][u]Power Source[/u][/b]
[b][color=#FF0000]Rating[/color] Power Source Name:[/b] Description

[b][u]Combat Prowess[/u][/b]
[b][color=#FF0000]Rating[/color] Hand-to-Hand Combat:[/b] bare hands

[b][color=#FF0000]Rating[/color] Melee Combat:[/b] swords and staffs

[b][color=#FF0000]Rating[/color] Armed Combat:[/b] ranged weapons

[b][u]Mutant Powers[/u][/b]
[b][color=#FF0000]Rating[/color] Power Name:[/b] Description

[b]Tier 1 - Ability Name:[/b] Description

[b]Tier 2 - Ability Name:[/b] Description

[b]Tier 3 - Ability Name:[/b] Description

[b]Tier 4 - Ability Name:[/b] Description

[b]Tier 5 - Ability Name:[/b] Description

[b][u]Skills[/u][/b]
[b][color=#FF0000]Rating[/color] Skill 1:[/b] Description

[b][color=#FF0000]Rating[/color] Skill 2:[/b] Description

[b][color=#FF0000]Rating[/color] Skill 3:[/b] Description

[b][color=#FF0000]Rating[/color] Skill 4:[/b] Description

[b][color=#FF0000]Rating[/color] Skill 5:[/b] Description

[hr][/hr][size=150][b]MENTAL FACILITIES[/b][/size][hr][/hr]
[center]Rating System
[b][Perfect] - [Excellent] - [Good] - [Above Average] - [Average] - [Below Average] - [Poor] - [Very Poor][/b][/center][hr][/hr]
[b][color=#FF0000]Rating[/color] Will:[/b] Description

[b][color=#FF0000]Rating[/color] Leadership:[/b] Description

[b][color=#FF0000]Rating[/color] Tact:[/b] Description

[b][color=#FF0000]Rating[/color] Courage:[/b] Description

[b][color=#FF0000]Rating[/color] Bloodthirst:[/b] Description

[b][color=#FF0000]Rating[/color] Humanity:[/b] Description

[b][color=#FF0000]Rating[/color] Wealth:[/b] Description

[hr][/hr][size=150][b]POWER GRID[/b][/size][hr][/hr]

[quote][center][b][u]Attribute Scale[/u][/b][/center]
[hr][/hr]INTELLIGENCE: █ █ █ █ █ █ █ :7/10
[hr][/hr]STRENGTH: █ █ █ █ █ █ █ :7/10
[hr][/hr]SPEED: █ █ █ █ █ █ █ :7/10
[hr][/hr]DURABILITY: █ █ █ █ █ █ █ :7/10
[hr][/hr]ENERGY PROJECTION: █ █ █ █ █ █ █ :7/10
[hr][/hr]FIGHTING SKILLS: █ █ █ █ █ █ █ :7/10[hr][/hr][/quote]

[hr][/hr][size=150][b]CLOTHING & ARMOR[/b][/size][hr][/hr]
[b][u]Head[/u][/b]


[b][u]Neck[/u][/b]


[b][u]Chest[/u][/b]


[b][u]Back[/u][/b]


[b][u]Arm/Shoulder[/u][/b]


[b][u]Right Hand[/u][/b]


[b][u]Left Hand[/u][/b]


[b][u]Right Accessory[/u][/b]


[b][u]Left Accessory[/u][/b]


[b][u]Waist[/u][/b]


[b][u]Legs[/u][/b]


[b][u]Feet[/u][/b]

[hr][/hr][size=150][b]ARMAMENT[/b][/size][hr][/hr]
[b][u]Primary Weapon[/u][/b]
[b]Weapon Name:[/b]

[b]Weapon Type:[/b]

[b]Ammo:[/b]

[b]Clip Size:[/b]

[b]Spare Ammo:[/b]

[b]Attachment 1:[/b]

[b]Attachment 2:[/b]

[b]Weapon Description/Info:[/b]

[b][u]Secondary Weapon[/u][/b]
[b]Weapon Name:[/b]

[b]Weapon Type:[/b]

[b]Material:[/b]

[b]Length:[/b]

[b]Weight:[/b]

[b]Weapon Description/Info:[/b]

[hr][/hr][size=150][b]PARAPHERNALIA[/b][/size][hr][/hr]
[b][u]Equipment[/u][/b]
[list]
[*]

[*]

[*]

[*]

[*]
[/list]

[b][u]Technological Devices[/u][/b]
[list]
[*]

[*]

[*]

[*]

[*]
[/list]

[b][u]Weapons[/u][/b]
[list]
[*]

[*]

[*]

[*]

[*]
[/list]

[hr][/hr][size=150][b]BACKGROUND[/b][/size][hr][/hr]
[u]Mutant Rank:[/u]


[u]Alignment:[/u]
Anti-Hero, Hero, Villain, Civilian, Vigilante, Rogue, Crusader, Warden

[u]Marital Status[/u]


[u]Relatives[/u]


[u]Birthplace[/u]


[u]Group Affiliation[/u]


[u]Occupation[/u]


[u]Education[/u]


[u]Recruitment[/u]


[u]Bio/History[/u]

.[/justify]
A5
This RP is about as Adult as it can get while staying within RPG rules, be sure to remember this.




Quality over quantity.



Be creative. Don't be afraid to let your imagination run away.





I want only serious, dedicated, and experienced RPers only. I feel like I have those qualities, so it is only right I ask for the people of this RP to have the same.





Your character can and might die, so keep that in mind.





You are allowed to have multiple characters, as long as you can roleplay them effectively and efficiently.





Be familiar with text fighting. It isn't necessary for you know how to text fight, but it will be appreciated in fight scenes.





While this is a realistic RP, a bit of fantasy and imagination is encouraged.




A tad bit of common sense is required here. Not to be a jerk, just saying...



Once your character has died, they are forever gone from the RP. Unless, they are brought back to life, by which the method will have to be discussed first.




Also please DO NOT POST anywhere EXCEPT the OOC, until I say otherwise.



Acceptance is not given on a first come-first serve basis, as GM I have the final say. I will make decisions that I think will benefit the rp the best and base this off of writing examples, the submitted character, and your history on the site.
3 posts here • Page 1 of 1
This area will be used for announcements concerning the RP. Anytime I have something important you all need to know, I will post it here and the same goes for you. If you are dropping out of the roleplay or leaving for a short period of time, post that information here. So make sure to check this regularly.
---

I previously stated that mutants were forced into Concentration Camps, which were like prisons were mutants were to await their death, worked for sentinels as slaves, and were experimented on. But, I have now made a change to this and decided they will instead live in Ghettos. These were set up by the sentinels in order to confine mutants and sometimes humans into tightly packed areas of cities. They are similar to prisons as there were numerous restrictions and rules, and had walls built around the housing to keep them in.

Mutants were not allowed to leave unless they were given a pass, which was bulky tracking bracelet. They then had to 10 PM to return or else face punishment, which usually resulted in some sort of isolated imprisonment or worse depending on the circumstances. The situation in these ghettos were brutal, with unconformable living conditions, and terrible diets. In addition to this, mutants were often abducted and the victims of cruel experiments or harsher treatment by human guards.
---


The roleplay begins as Mutant Anarchy hacks the entire Zone 3*, broadcasting a message warning of a revolution. The message is actually a delivery system for a virus that prevents activity for the duration of the video. This virus was used to mask MA's activities as they began phase two.

After the message ends, everyone assumes things will go back to normal. Instead, screens go white as the symbol for anarchy fades in, followed by a low humming. Simultaneously, all over zone 3, the global network* and other computer systems begin failing. People are unable to interact with anything: traffic systems and other transportation systems go hay-wire, Guardian Vision is disconnected, the stock market simulates a faux crashing, and other minor and easily fixed problems. The point of the attack is to demonstrate just how serious MA is and what they are capable of.

While the city scrambles to fix these problems, MA moves on to the final stage of their plan. By way of portal, they plan to evacuate the Ghetto and Testing Facility on Rykers Island. MA is well aware of what goes there and the sub-standard, living condition and unfair restrictions mutants are forced to endure. They plan to liberate every mutant there and then destroy it. From there, the mutants will be lead to their new, temporary homes and those willing to fight, will be inducted into MA.

MA will enter the facility in the middle of the day while the chaos still has the city in a panic. With the help of Toran, a mutant with the ability to form gateways that link two locations that can span great distances. The portal will take everyone to a rally point where they will then be filtered into two groups: refugee and rebels. The refugees will be taken to a far away morlock community that has recently become part of the rebellion by housing refugees. The rebels will then be lead back to the HQ in the Undercity. Both groups will have to pass through a series of check points to ensure they are not being followed.

Whilst everyone is escaping, members of MA are planting a bomb powerful enough to level the entire island. Insurgents have been planted in strategic locations for the past few months as well as minor explosives that will put a dent in security. They will try to carry out the mission as quietly as possible, but are prepared for the alternative.


Zones: The Sentinels have divided USA into five zones, each containing ten of the fifty states near a primary base of operations. For Zone 3, this is New York and its capital New York City. New York is also the central base where orders are handed down to the other locations. The mission will be considered a success if the island is destoryed and a majority of the mutants rescued.

The story will follow the rebels and MA as they destroy the facility and flee to safety. It will conclude the moment they make it back to Rebel HQ.

Global Network: Name for the world wide web that connects to anything and everything hardwired or wirelessly connect to the grid that can be accessed by gloves and similar products.
In this part I would have liked for there to be five characters: three of them would be members of the Mutant Anarchy and the other two mutants in the Ghetto. Of the three MA members, one of them would have been among the moles planted inside the Ghetto to make the operation go smoother by striking from the inside first.
---


While the events of above transpire, this will be happening congruently. Those involved will be characters who have not become members of MA, but are currently being recruited and any other civilian characters that are not on Rykers Isalnd. The scene will start in some public place (Central Park or Times Square) where a mutant hate rally is taking place. The rally is actually a celebration held by a politician running for office who has annually held a celebration in the name of mutant enslavement. MA has planned to crash this event as a trust exercise for new recruits. However, what they do not know is that there is an OZT is providing security along with a sentinel squad.

The scene will be about the group handling the threat and fleeing for their life as they are not only mutant anarchist, but the authorities assume they are there to assassinate the politician.


Here the roles would be reversed. I would like for the majority to belong to non MA members and at least one MA member who would act as supervisor for the training exercise/mission.
---
3 posts here • Page 1 of 1
Arcs are bundles of posts that you can organize on your own. They're useful for telling a story that might span long periods of time or space.
There are no arcs in this roleplay.
There are no quests in this roleplay.
Here's the current leaderboard.
There are no groups in this roleplay!
Welcome home, Promethean. Here, you can manage your universe.
Arcs are bundles of posts from any location, allowing you to easily capture sub-plots which might be spread out across multiple locations.
You can create Quests with various rewards, encouraging your players to engage with specific plot lines.
Settings are the backdrop for the characters in your universe, giving meaning and context to their existence. By creating a number of well-written locations, you can organize your universe into areas and regions.
Navigation
While not required, locations can be organized onto a map. More information soon!
There are no groups in this roleplay!
By creating Collectibles, you can reward your players with unique items that accentuate their character sheets.
Once an Item has been created, it can be spawned in the IC using /spawn Item Name (case-sensitive, as usual) — this can be followed with /take Item Name to retrieve the item into the current character's inventory.
Give your Universe life by adding a Mob, which are auto-replenishing NPCs your players can interact with. Useful for some quick hack-and-slash fun!
Mobs can be automated spawns, like rats and bats, or full-on NPCs complete with conversation menus. Use them to enhance your player experience!
Current Mobs
No mobs have been created yet.
Locations where Mobs and Items might appear.
You can schedule events for your players to create notifications and schedule times for everyone to plan around.
Add and remove other people from your Universe.
The Forge
Use your INK to craft new artifacts in Genesis: A Dystopian Opera. Once created, Items cannot be changed, but they can be bought and sold in the marketplace.
Notable Items
No items have been created yet!
The Market
Buy, sell, and even craft your own items in this universe.
Market Data

Market conditions are unknown. Use caution when trading.

Quick Buy (Items Most Recently Listed for Sale)
The Big Apple or The City That Never Sleeps, by any name, this is New York City.
No royalty here.
New York's Mutant Concentration Camp.
An ancient, outdated sewer complex and underground transportation system.
Welcome to the Zoo.
The Mean Machine.
The Fast Lane.
Here lies Old New York.
The seclusive lair of Mutant Anarchy.
Crooklyn: where the criminals live and the bad guy wins.
Discussions
Topics

Replies
Views

Last post
Most recent OOC posts in Genesis: A Dystopian Opera
There have been no posts in the OOC topic for this roleplay!