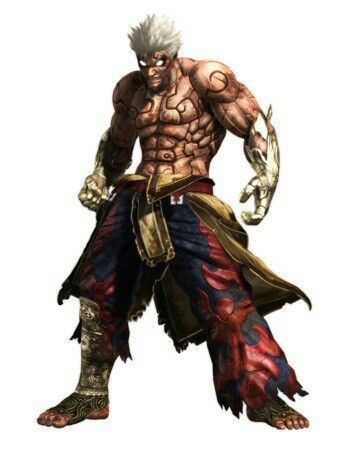 "What good is strength and power if not used with purpose?"
Name:
Derek Thatch
Age:
19.
Genesis:
Earth
The embodiment of land, dirt, stone, soil, sand, minerals, and rock.
Known by the title "the mountain king".
Height:
6.11 ft almost 7ft
The guys huge with a capital H. Towering over most normal men and his fellow Genesis.
Tends to forget how big he is and how small most people are to him.
Weight:
210.lbs
Derek is HEAVY. most likely due to all of the huge amounts of muscle he has on his body.
Surprisingly he is still able to move about with exceptional speed and agility.
Personality:
Derek is a laid-back yet dedicated person. calm and steadfast, all the while jolly, fun loving, warm-hearted and kind. Well respected by his fellows, they see him as a fiercely loyal and protective friend. Putting their lives before his. Derek thinks things through in a rather straightforward matter that usually involves taking things "head on". Even when faced with obvious hostility. Derek is famous for his "volcanic" temper that tends to even put the fire Genesis's wrath to shame. Due to this volatile anger, Derek's fights will occasionally end with widespread destruction. He is able to rain in his anger quite well except when he or his friends are either in danger, insulted or something violates his moral beliefs. Derek's continuous desire to train, spare and fight causes him to develop great wit in battle, quickly identifying his opponent's weakness and forms strategies to block his enemies plans. He is also stubborn as he hardly ever admits defeat. A powerful combatant, Derek displays both a strong will and an absence of fear in less-than-positive situations and will fight his adversaries relentlessly until he is victorious. a good-hearted warrior with a strong moral code and gets angered when he sees an act that goes against his morals. values the lives of the innocent and doesn't believe in sacrificing the innocent for ANY reason, good or evil. Strongly hates those who value themselves over others, and believes it's the duty of the strong to protect the weak.
Armour:
The only visible armor on Derek is his gilded steel gauntlets and graves. But in actuality he's covered in a layer of granite that is commonly mistaken for his skin. The stone layer is sectioned to cover each muscle separately, rough dirt and sand fill in between and around the stone plating like similar to the functions of chain mail. A secondary layer of soft soil lays underneath and is what is in contact with his skin, this acts as a cushion so the "armor" doesn't harm it wearer in any way. It's held together perfectly with Derek's powerful earth magic, he is able to shed and reform the armor at any given time taking only less then a minute. Without a proper name, the "armor" is commonly referred to stone skin.
weapon:
Derek's number one weapon is his body. Trained in self taught martial arts, he strikes using punches and kicks along with elbows and knees. Derek did pick up other fighting styles in his years before discovering himself being the genesis of earth. He tends to create weapons out of stone, rock, sand and dirt. Mostly forming ads and hammers.
Likes:
- strength
- simple pleasures. But still will enjoy luxury.
- dirt and earth. Likes feeling connected with nature, which take into why he wears no shoes among other things.
- training, sparing, and fighting. (Not without reason.)
- food. He can eat a ton and is never picky.
- the great outdoors
- animals
- order
- fun
- His friends
Dislikes:
- closed spaces
- senseless fighting. (Unless it's just playing around)
- the ocean and any other large bodies of water
- getting to much attention
- people who exploit others.
- negative people
- discord and chaos
- arrogant people
History/Bio:
Claims to have grown up alone in the mountains. Other then that he says very little of his past and gets a sad and depressed look when people try and bring it up.
Other:
when angered, Derek's eyes go white as his hair. When fighting. He will sometimes make extra arms out of earth when more power is needed or when fighting multiple opponents. Derek is the strongest of the all the Genesis when it comes to strength and brute force, being able to throw boulders with little to no effort at all.
Theme:
The Offspring - You're Gonna Go Far, Kid