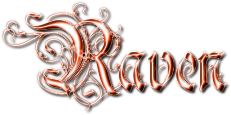 Name:
Raven Umbra
Sex:
Female
Age:
19
Physical Description:
Raven has a deep gothic look about her. Her stature and clothing really tell of strength and darkness. Raven has long, pitch black hair that reaches just to her waist. It is layered slightly, and dead straight, hanging with seemingly no life. Her hair also frames her face, with a quite a large front fringe, which helps give her a dark, rather intimidating look. Her facial features are actually quite delicate, with only slight lips and a small, soft nose. While they are delicate, Raven manages to distract from the seemingly "weaker" elements in her face by highlighting and darkening her eyes. Her eyes are also quite small, yet intense and with the help of darkened make-up, Raven manages to make them successfully intimidating. They are a deep, dark brown, however in most lights appear black and cold, much like the rest of her appearance. Both eyes also have a sort of depth to them which is enhanced by her ability.
Standing in stark contrast to her dark hair and eyes, Raven's skin is a white, porcelain colour, which if it ever saw the sun would burn quite effectively. While her skin appears flawless (just as she likes you to think), it's unnatural white colour actually has a lot to do with being underground for so long. Depending on the treatment, Raven also has a few blemishes taking the forms of large cuts and dark bruises which mar her skin. This used to be rare, as Raven is (was) usually silent and brooding, not so much rebellious as calculating and also is usually mistreated with mental torture rather than the physical, however now she has begun to be restless and has now gained the attention of the Higher Order. Raven has a very slim figure, which probably would have been an hour-glass if not for her lack of food which only helps reveal her ribs and other bones. This only adds to her rather frightening appearance.
Raven also dresses to impress. When she was first introduced to the facility, she wore jeans like any other girl. However the longer she remained in the lab, the more she nurtured her dark appetite and eventually resorted to the more gothic styles. She continuously destroyed her clothing until, finally was given the style she wanted. She did not seem to have much trouble gaining these articles of clothing in exchange for "good" behaviour. Now she prefers tight black corsets that manage to work with her thin figure and also hide her ribs effectively in the boning of the corset panels. Depending on her mood, Raven has an assortment of skirts. Most are long and reach to the floor, with thick volumous black fabrics which mask the thinness of her legs. The others are short, poufy skirts which reveal her knees, and then the rest of her legs are covered in lace stockings or striped socks. Almost all her clothing is black with small strips of red or white. The only other colour found on her body is her dark red nail polish, which she likes as she claims blood red or scarlet is the colour of revenge.
Supernatural Talents:
Raven has unique telepathic powers. She has the ability to speak into others minds as well as searching through a few of their more recent memories. These are the easier to use of her talents, but she also has a few more dangerous, yet also more difficult abilities. Raven can also create illusions and project feelings. She can worm her way into the deeper part of a person's mind and allow them to see things she wants them too while also projecting feelings she wants to use to manipulate them. This however takes more effort, and if her concentration slips she can lose them, and have to start all over again.