A B E L
The full picture is very explicit so I kinda cropped out the bad junk. If you're alright with it, here's the link!
N I C K N A M E
Abe
A G E
Nineteen
R O L E
Male Four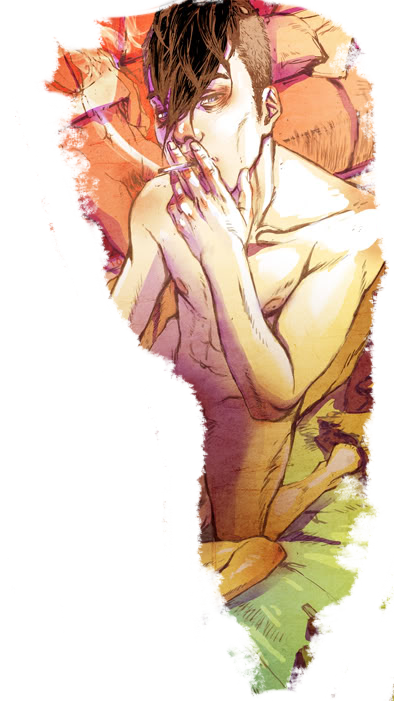 L I K E S
✷
Food: His one true love! He's known to be quite the fatass. If he's not working, he's probably eating. There might be a combination there, too. If you want leverage over him, or maybe some incentive, just wag a steak in front of his face and he's all yours, baby.
✷
Keeping himself busy: He just feels weird doing nothing. He's usually doubled or tripled up on jobs. Everyone bets that he's sure to burn out sometime soon if he keeps working the way he does.
✷
Athletics: There's just something about the feel of tired muscles that makes him feel like he's been productive that day.
✷
Sex: It's simple enough, really.
✷
GTM: He may be impossible and butting heads with everyone constantly, but, really, he'd die for any one of them without hesitation.
D I S L I K E S
☂
The Government: It's less of dislike and more of hate. If you took away all of the loathing he has for the government, Abel would be 1/5 of the person he is now. Nearly his entire constitution is based on rebelling against them - fighting against them. In a way, they are his driving force and without them, he'd be nothing. Strange to think about, isn't it?
☂
Thunder: If you comment on it, he's sure to punch you. It's probably his only fear and he despises it. During a thunderstorm, he'll spend most of it pacing around inside, mentally berating himself for being such a coward. At one point, he's likely to run outside in the rain in attempts to "cure himself" of this phobia, but it's yet to work. He just comes back inside dripping wet and in a foul mood for the rest of the night.
☂
Just Surviving: Unlike the others in GTM, Abel has grown tired of just scraping by in life. He wants to live, to flourish. He's tired of running away and is willing to sacrifice antyhing for it. "What's the use of being here if we do nothing but cower?"
☂
Lazy Bums: He could go on and on with this one. If he ever feels for some reason that you're not carrying your weight, he'll go off on you until you do.
☂
Insomnia: It's harrowing at times, but he's not one to complain. If you ever wake up in the middle of the night and need someone to talk to, more than likely, Abel will be up. He sleeps about nine hours a week on average.
☂
Losing: So much so that he's able to warp everything in his brain so that he never loses.. "I was just goin' easy on 'im."
☂
Love: It evades him. You'll never hear him say it and he's actually quite scared of the thing. Imagine- caring about someone so much that they could destroy you in a second if they wanted. He couldn't possibly trust so much in someone else.
☂
Being deceived: If Abel's decided to trust you - and, trust me, it takes a lot for him to do that - and he finds that you've been dishonest, he'll go ballistic.
W E A K N E S S E S
☂
Passion: Abel is such a hot headed guy, so firm in his convictions and wrapped in his emotions, that it often gets the best of him and forces him to blow up when he needn't and act brashly. That said, it also makes him rather predictable. Just backhand a weak lookin' person (say, a woman or frail boy) and he'll be snapping at your ankles in no time. In that sense, he's pretty manipulatible.
☂
Loudmouth: Frankly, the kid doesn't know when to quit yapping. He's got a terrible potty mouth and he's rather critical of other people, and doesn't seem to mind voicing his observations aloud. He hurts people's feelings constantly.
☂
Empathy: He's runnin' a little low here. He's the worst when it comes to comforting people - always has been. He's a force of rebellion, not a shoulder to cry on. Even if it's someone he cares very deeply about, he'll often get so frustrated with his own inability to make things better that he'll yell at said person.
☂
Intimacy: This is not to be confused with the ability to screw around (as he seems to excell at this) but rather communicating tender feelings of love and fondness to other people, plantonic or romantic. Motions like hand holding fly right past the guy.
☂
Arrogance: Abel's pretty sure it's his way or the high way and there's not much anyone can say to change that. He's entirely too cocky. Sometimes he can't even fathom how other people have different opinions than him.
S K I L L S
✷
Passion: Yup, his passion is also one of his biggest strengths as a person, too. The fire that burns in him makes him a fierce fighter and a good person to depend on when in such harsh conditions.
✷
Bravery: He doesn't seem to be afraid of anything. He'd easily sacrifice himself for a cause he believes in.
✷
Fighting: Be it verbal or physical, he always seems to prevail as the victor. When his adrenaline starts pumping, he goes in for the kill. Winning is something he prides himself in. When he gets into this mode (which can be very frightening, mind you) he won't stop until he's either beaten the crap out of the other person or is snapped out of it by something very surprising. He doesn't even flinch when punched or sliced while all amped up like this.
✷
Charisma: Hey, you weren't thinking he was always in a rage, were you? It's not the case. If nothing's really bothering him, he's actually a pretty silly guy, if not a bit doggish and perverse. Your first inclination will probably still be to dislike him, as he's rather fond of taunting and making others embarrassed, but it truly does rub off on you once you realize he doesn't mean any harm by his cruel ways. He's got a dashing sloppy grin, if he does say so himself.
✷
Good-heartedness: Abel might do some bad things - he's killed and robbed, etc, etc - but he does them for explicitly good reasons. His sense of morality might be different from the normal kid his age, but it's still unwaveringly strong. He will help those in need and fight oppressors fiercely.
W E A P O N S
You won't ever see him far from his metal bat. He's more for close-combat fighting, and would rather throw punches, smack around with blunt objects, or slice with a blade than to shoot them down from far away. It feels dishonest. Plus, then you don't feel any of the reward afterward. But, sometimes you do what you gotta do. He carries a pistol in his back pocket for this reason.
P O I S O N O A K
(( This song greatly alludes to his past/history! You can get little sneak peaks of it if you're clever enough. >:> ))

Poison oak; some boyhood bravery,
When the telephone was a tin can on a string,
And I fell asleep with you still talking to me.
You said you weren't afraid to die.

In polaroids, you were dressed in women's clothes.
Were you made ashamed?
Why'd you lock them in a drawer?
Well, I don't think that I ever loved you more

than when you turned away,
when you slammed the door,
when you stole the car,
and drove towards Mexico,
and you wrote bad checks,
just to fill your arm.
I was young enough;
I still believed in war.

Well let the poets cry themselves to sleep
and all their tearful words will turn back into steam.

But me, I'm a single cell on the serpent's tongue.
There's a muddy field where a garden was.
And I'm glad you got away, but I'm still stuck out here.
My clothes are soaking wet from your brother's tears.

And I never thought this life was possible.
You're the yellow bird that I've been waiting for.

The end of paralysis, I was a statuette.
Now I'm drunk as hell on a piano bench.
And when I press the keys, it all gets reversed.
The sound of loneliness makes me happier.
My favorite food are avacados. Mmmm.