DEVAN KOHAKU MIYAMOTO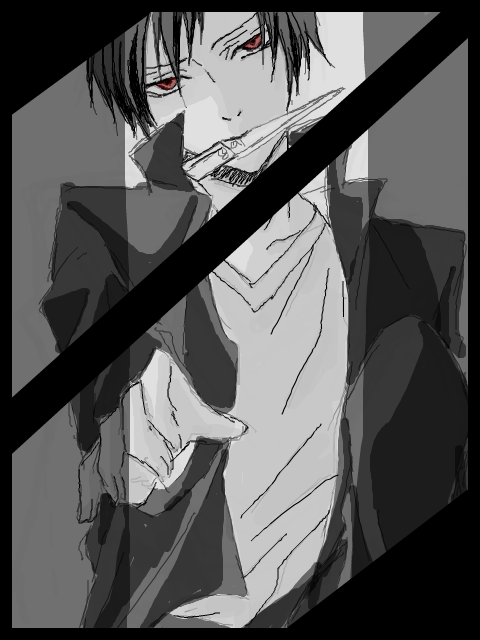 Nickname
N/A
Age
18
Role
Male Two(Demisexual)
Likes
- Blood
- Dress clothes
- Chewy foods like gum and gummy worms/bears
- Scaring people
- Weapons
Dislikes
- Authority figures
- Cats
- Fire
- Crowds
- Loud-mouths
Weaknesses
He has a phobia of cats; upon sighting one his immediate reaction is to kill it at all costs, but if it seems too aggressive or if it simply unnerves him he'll be just as likely to run away from it rather than after it. Though perhaps not on the level of a phobia, he shows a certain discomfort in the presence of fire. Devan is also dyslexic enough that although reading is not impossible, it's often not worth the trouble for him. He has some mild social insecurities and gets anxious around crowds or sometimes even small groups of unfamiliar people.
Skills
Devan specializes in robberies and assassinations. His fascination with blood and his rather eerie lack of hesitation to kill puts him at a little bit more of a distance from the rest of GTM, but he is vehemently protective of the group. Devan has an unusually high pain tolerance to the point where some might suspect he doesn't feel pain at all. He is very fast and very stealthy, capable of moving like a ghost in the right environment. He has developed a fighting style something akin to Jeet Kune Do, involving flowing movements based on adapting to the opponent. He is incredibly resourceful, known for being able to make just about anything into a weapon.
Weapons
Devan keeps a military-like duffel bag filled mostly with snacks and miscellaneous supplies. His weapons include an Uzi 9mm submachine gun, a crowbar, a wooden bat, a switchblade, a hunting knife, and a larger kitchen knife.
Cavalettas - The Mars Volta
A salty ring of night fatigue
When I get get get the sweats from you listening
Primordial cymatics giving birth into reverse
Serated mure ephemera undo her mother's curse

So if you break
Break me a mirror
Hang the broken pieces of a place that isn't here
Don't hide that guilty smile
Condolences won't go away

The coins you bring left footprints
Blind thirst and braille liquor
My bed is stained with fractures year after vitiated year
Four corners you are touching
They will liberate my need
Bite marks in the menagerie with infidelic teeth

So if you break
Break me a mirror
Hang the broken pieces of a place that isn't here
Don't hide that guilty smile
Condolences won't go away

Is there something out there
Waiting to take hold?
When that whore won't answer
Who is in control?
And the names you planted
Drop the seed into a hole

And the names you planted
Drop the seed into a hole
If you force me often
I might jump off the board

[Chorus:]
I am a deaf con angora goats
Warning you all who pass this mote
It's only a matter of folding time and space
Before I become your epidemic
Is this your first time at my conventicle?
You better not talk if you came here for semantics
It's only a matter of folding time and space
Before I become your epidemic

Don't ignore my presence
Hidden reads the scroll
By the time I asked her
The earth fell off the tongue
What once was laughter
Corrosive I became

What once was laughter
Corrosive I became
Where a scarlet bruise grows
Sprout the fault we own

[Chorus]

Don't hide your guilty fright
Condolences won't go away
You've got that guilty smile that culminates in Bedlam
[x4]

[Chorus]
My favorite food is strawberry cheesecake~