---
Theme Song 1|| N/A ||
Theme Song 2|| N/A ||
Love Theme ||
https://www.youtube.com/watch?v=qJDpj-HRQu4
||
Emotional theme|| N/A ||
Serious Theme|| N/A ||
---
---
Full Name:
Nathan Alshane
Nicknames:
Nate (naturally)
Age:
17
Gender:
Male
Sign:
Virgo
Role:
The Moon
Romantic Interest:
???
Sexuality:
Heterosexual
Nationality:
Fully American
Alignment:
Neutral Good...?
Face Claim:
Akama Yuto
(Mikagura School Suite)
---
Physical Description/Clothing Preference:
Body type|| Stands at (a not so impressive) 161 cm, or roughly 5'3". He's actually pretty thin, though. So thin, in fact, that when bare-chested, he looks more muscular than he actually is.
Skin Tone|| Pretty pale, since he coops himself up indoors so much these days.
Hair|| Light brown, and very messy. Usually hangs over his left eye.
Eye Color|| Some bizarre cross between gray and brown.
Clothing/Attire|| Wears a dark gray T-shirt, and black pants with a white strip running down the outside of each leg. On top of that, he wears a white hooded jacket with a black interior and tan sleeves, and dark brown boots. The most bizarre part of his ensemble is his leopard-inspired hat.
Birthmark/Piercing/Tattoo/Scar/Noticeable Features:
There isn't really anything that unusual about him, at least that he himself can tell.
Gift:
Skilled at doing parkour, able to maneuver around places through leaps, vaults, and the like. It almost seems like the moment he sees a place and starts moving, he's already figured out how to get through it in the quickest (and flashiest) manner possible. No matter what new obstacles lay ahead of him, he can get around them all fluidly, without making it even seem like he's trying...or at least, he used to. He's horribly out of practice now.
Hobbies/Skills:
Playing video games (always of a Nintendo variety).
Parkour, of course!
Walking outdoors, usually in evening or nighttime hours. But never running, except when doing parkour.
Listening to music.
Drawing...?
Cracking bad jokes. Puns especially.
Personality:
Nathan...is honestly really weird, to say the least. He almost never misses an opportunity to insert some joke, no matter how distasteful or stupid, into a conversation. (He will apologize almost immediately for it, though.) While he does take things seriously most of the time, the jokes still manage to come out, and it feels a little hard to make heads or tails of how much he actually cares.
But despite how much it'd seem like he'd try to make himself the center of attention...when in a big crowd, Nathan falls almost completely silent. And in fact, no matter who he's talking to, whether he's in a joking mood or a serious one, Nathan always seems to comment on flaws he thinks he has. The sheer number of times he calls himself "immature" is pretty surprising.
When alone, he frequently does a character re-assessment of himself, just to assure himself that he's not getting on anyone's bad side. It's almost as though to him, there is no middle ground between selfishness and self-disregard, or any of those flaws...
---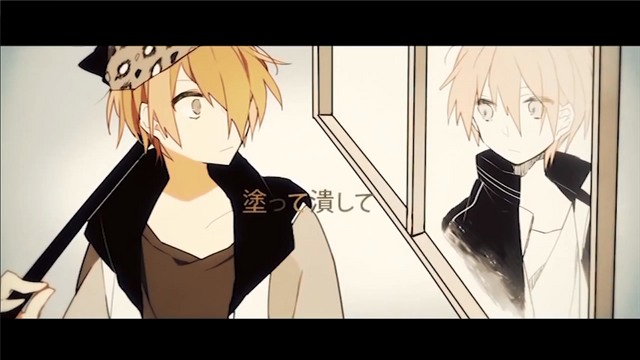 Likes:
Lame jokes
Being outdoors
Video games, particularly Nintendo ones
Hanging out with friends, but preferably one-on-one
Anime-style art
Listening to music
Simply being accepted...
Dislikes:
Sports (Surprising? While Nathan likes being outdoors, he's still more of a "my pace" kind of guy. He doesn't like how much sports force him to work.)
Having his flaws pointed out by other people
Public speaking
Social events
His old classmates
Remembering things he did in the past, because the first few he thinks of had him acting "immaturely."
Being made fun of by...or worse, rejected by...others
Flaws:
Really, even if one flaw isn't in this section, Nathan will probably accuse himself of having that flaw.
Way too self-critical
Socially awkward
Doesn't really understand himself
Can't really think of his own ideas
Cripplingly perfectionist
Lazy and unmotivated
Uses the cold shoulder way too much on anyone he hates...to the point where he can't even tell them he hates them.
Fears:
Being rejected by others
Screwing up...anything, really.
His own "immaturity"
Large crowds
Secrets:
Used to write fanfictions online, but doesn't anymore. He considers his writing trash now.
Sometimes puts his art online as well. Constantly envious of other peoples' cleaner computer-generated drawings, compared to his hand-drawn ones.
If put in the "Number 1" position for something, he usually asks that he be demoted to "Number 2."
A case sits in a corner of his room, but it has remained unopened for over a year. Inside is...a clarinet...?
He actually fakes a lot of smiles these days. The person he's trying hardest to deceive, though, might just be himself.
---
Bio:
Growing up, Nathan had quite an average, unremarkable childhood. There wasn't really much to say...
But when high school came around, things started going wrong. Nathan started finding himself having more and more problems with one of his friends...that friend asked to be in his stories, and then complained when Nathan didn't give his character special powers...he complained when Nathan became the first chair clarinetist in band...he complained when Nathan managed to win in video games...and more often than not, if Nate tried to get on his bad side, he could expect a punch to the face or a threat that their friendship would end. Not even one year had passed before the two had a falling out.
After ignoring each other for the whole of sophomore year, Nathan finally decided to give that friend a chance again. However, everything just got that much worse. Once again, Nathan became the first chair clarinetist in his band, which should have meant that he would be asked to play all solo parts. However, his friend, who became second chair, argued about this once again. The band director claimed their skill levels were nearly equal, and thus, they should share those solo parts. Though Nathan didn't like it, he was worried about what the other clarinetist might do, and gave him the majority of the solo parts.
It didn't go as planned at all. When Nathan claimed he felt he would be better at one of the solos, the other clarinetist demanded to play that one--but Nathan didn't even give his consent before the other clarinetist played every last one of the solos. At the end of it, he even claimed Nathan should give him more solo parts. Enraged, Nathan started arguing once again, prompting the band director to start assigning them solos from then on.
But it only got worse...both clarinetists were far too loud, and Nathan kept blaming himself for any mistakes they made, believing that the other clarinetist would never try and fix those mistakes if he outright told that boy what he was doing wrong. And in the last concert, the other clarinetist, once again, played Nathan's solos, ignoring what the band director had told him. It was too much for Nathan, and he dropped out of the band for his senior year.
From that point on, Nathan tried to ignore the other boy while he walked through the halls and attended classes, but he soon found something big had changed--as if his mind urged him to, he started bringing up his own flaws more and more. And whenever that other clarinetist was around, he would throw a snide remark in Nathan's direction, as though his opinion was all that mattered. How selfish Nate was, how bad Nathan's writing was, how jealous Nathan should be of his girlfriend's drawings and how he should just quit trying to draw...
...and no matter how hard Nathan tried to ignore that boy, those constant insults worked. Gradually, Nathan distanced himself further and further away from people, quietly commenting that they probably thought he was "too immature for them." As his social circles kept shrinking, he found himself constantly getting distracted with wondering if he wasn't good enough. The constant self-doubt affected his parkour, too, and he found himself getting hurt frequently. They were only scrapes and bruises at best, lucky for him, but it was enough for him to stop doing it as well eventually.
Then, one day, Nathan found a strange letter in his mailbox...
Hospital Mental Evaluation:
It's clear that Nathan suffers from some sort of depression--he even has admitted a few times that he was contemplating suicide. There were people to pull him back before, but since he's been trying to isolate himself from everyone he used to know, there's no telling what he might do next...
---
Other:
Nathan keeps a dark blue 3DS with him. He has downloaded
Kid Icarus Uprising
,
Luigi's Mansion: Dark Moon
,
Animal Crossing: New Leaf
, and
Fire Emblem Awakening
, and it also holds a physical copy of
Pokemon Y
. He actually has completed the games several times over (bar
Animal Crossing
, because it's a life simulator), and switches constantly to whichever game he feels like playing.
Lack of clarity — Tension — Doubt — Fantasy
Deception — Psychological conflict — Obscured vision
Confusion — Illusion — Fear — Imagination — Worry
Romanticism — Anxiety — Apprehension — Unrealistic ideas