---
---
---
---
"Wait… huh?"
Wraith Pinned to the Mist and Other Games
| Of Montreal ||
That Time
| Regina Spektor
---
---
---
---
NAME
Dylan Ashe
NICKNAMES
Asshole –
Mother Only; only half-lovingly
AGE
22
DATE OF BIRTH
February 2nd
NATIONALITY
American
ETHNICTY
Canadian-American
SEXUALITY
Homosexual
DIALOGUE COLOUR
Dialogue:
#252830
Thoughts:
#868686
---
---
---
---
ABILITIES
Shapeshifting:
Dylan's ability grants him the power to alter his mass at will, rearranging himself into a stunning variety of people and objects. His transformation is a sight to behold if you're looking closely enough to catch it; his skin and clothes ripple and flip in on themselves, limbs contort, stretch, or shrink in seconds, and where a lanky, goofy man-child once stood, instead stands a beautiful young woman, or perhaps a Pomeranian, or a tuna fish sandwich – because hey, why not? The world is Dylan's oyster… or he's an oyster. Whatever. As he would say, "I turn into stuff."
While his powers are impressive, they do have their limits. The more extreme the difference in size, the more difficult and longer the transformation will take, as Dylan has to compress or expand his actual cellular structure in addition to completely reconfiguring it into a new material. He's also unable to change states of matter, and must stick to solid objects. In terms of replicating the appearance of other people, if Dylan lacks intimate knowledge of the person, he's unable to make a perfect copy; the careful eye of a loved one or close friend will fairly easily discern the ruse. The shape of their eyes, a little bump on the bridge of their nose, the little curve of their smile – one often doesn't realize how incredibly complex the human face is until they try to recreate it. For the most part Dylan doesn't shift into real people, but rather takes bits and pieces he's seen and creates an amalgamation of parts to create a random, generic face that doesn't run the risk of being found out by someone who knows the copied face well. Plus, it's just flat out more fun to create a brand new person and identity on the spot, which the kind of trouble Dylan gets into frequently demands.
When Dylan becomes an inanimate object, such as a garden gnome or a picture of a kitten, destroying that object will revert him back into his human form and temporarily disable his ability to transform. However, when taking on an organic life, such as a person or an actual kitten, Dylan commits to that creature's life force, and any pain or harm that comes to it affects him just the same. Every part of Dylan's transformation exists solely due to his actual body. When he whips out a badge when disguised as a cop, that badge is made up of his body altered at a cellular level. It is thus imperative that Dylan keeps all parts of himself within a relatively close radius and transforms back should the pieces start to get dangerously far away.
---
---
---
---
APPEARANCE
Weight:
157 lbs
Height:
6 feet
Hair Color:
Brunette
Eye Color:
Brown
STYLE
With how often Dylan finds himself shapeshifting, he has come to love and cherish the simplicity of his own body and style. Brown hair, brown eyes, no particularly striking features – he almost blends in better as himself than anyone he could imitate. He keeps his hair messy, his outfits plain – why spend time getting all dressed up when odds are it's not how he's going to look a few hours later? Besides, dressing his tall, gaunt body feels more like trying to drape clothes over a broomstick. Best to just keep things simple. A simple t-shirt and jeans will do it, perhaps an old jacket if it's chilly out. Despite the massive wardrobe at his disposal due to his power, rarely can one find Dylan particularly dressed up. He's sure to avoid the kinds of people and places that'd make a stink over appearance anyway. The city is full of enough people trying to stand out; as Dylan would put it, "If I really wanted to be a special snowflake, I'd turn into a fucking snowflake."
His facial hair still grows in a bit patchy for his age, perhaps the only thing that truly annoys him about his true form. Perhaps also how thin he is, which seems to stretch his height and make him border on gangly. Other than that, average suits him well. He fancies himself a blank canvas on which to project his "art", if you will, so he feels tattoos and piercings are out of the question. Not that his mother would let her handsome young man "mutilate the body I spent 20 hours pushing out" anyway.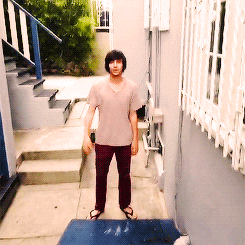 ---
---
---
---
PERSONALITY
Describing someone who spends so much time not being himself proves to be quite the challenge for anyone outside of Dylan's small, immediate social circle. His chameleonic ways make for a difficult man to truly get to know. Meeting the "man behind the mask", so to speak, reveals a quintessential wit. Even drunk he's unmistakably clever, a quality that follows him through his transformations more often than not. Using his humor and silver tongue, he manages to talk his way out of a lot of sticky situations, put people at ease, and more or less keep others at arm's length – a necessity for someone who's greatest strength revolves around deception. If you engage him in a battle of wits, you'd better not pull any punches; he takes on other smart-asses as a game, and he plays to win.

Having so few relationships and not allowing people in has made Dylan almost callous at first, for lack of a better word. At the superficial level he's a time and half, but the walls shoot up at the first sign of potential intimacy. He's quick to deflect serious discussion with a lewd quip. Friendships remain fleeting and subject to change based on convenience. Looking out for number one, an inherited talent no doubt, comes as second nature; shit like honor and self-sacrifice is outdated anyway, right?

Perhaps Dylan's just redirected his passion for others into more satisfying things like art, and more importantly at the moment, alcohol. Since dropping out of college the previously aspiring art major has become quite the lush. He could likely talk your ear off about any of his favorite Renaissance painters, he just might mix up some dates and names… And hey, get him drunk enough he might even show you some of his own work, which so far hasn't done much for him but decorate (read: clutter) his small apartment. Hyperaware of the potential to come off as pretentious or snooty, he's also well-versed in just about everything pop culture, so hit him up about anything from celeb feuds to obscure memes to that business about other Gifted showing up dead. Anything topical and distracting is great conversation fuel and though he couldn't care less, the less he has to reveal about himself the better.

Dylan's aversion to intimacy and his general disregard for others (and at times himself) don't exactly make him the poster boy for commitment, but sometimes he can play up the sad, starving artist cliché to at least get laid every once in awhile. He's self-aware enough to not take himself too seriously… or anything too seriously for that matter.
---
---
---
---
LIKES
✤
Alcohol:
Not so much a like as it is a need at this point.
✤
Weed:
Because why not spend the weekend cross-faded?
✤
Alone Time:
With all the time he spends at bars and drunkenly wandering the crowded city streets, it's rare he catches a minute to himself. He takes advantage when he can.
✤
Art and Music:
When he's sober enough to create or appreciate any of it – he was an art major before he dropped out of school. Sings terribly but shamelessly.
✤
Offensive Humor and Foul Language:
"What's the difference between jelly and jam?"
✤
Nihilism:
Why waste energy caring so much anyway?
DISLIKES
✤
Prudes:
The more uncomfortable you are, the worse he's going to get.
✤
Arrogance/Pretentiousness:
Because who the hell do you think you are?
✤
Hard Drugs:
And sometimes his mother by association.
✤
Italian Food:
Fuck spaghetti.
---
---
---
---
QUIRKS | HABITS
✤
Drunk Shifting:
When he's really trashed he might hiccup and suddenly be a different person… or item.
✤
Punching:
Maybe a bit of a nervous habit, he's often punching his fist into his other hand, occasionally throwing a few out into the air in front of him. If he had the muscle to be even mildly capable of doing any damage, it might be unsettling.
✤
Origami:
Just a little something he picked up, quite a few napkins at local bars have idly been transformed into little birds, frogs, and other creations.
TALENTS | STRENGTHS
✤
Artist:
As a (former) art major, Dylan possesses immense artistic talent. His main medium was paint and canvas, but he's fairly skilled in a variety of forms. He has an eye for what looks good and what doesn't, and to a certain extent it helps make his shapeshifting a bit more convincing, or at least prettier.
✤
Conversationalist:
Charming his own goofy way, Dylan can be quite the smooth talker and has weaseled his way out of many a bad situation, as well as make more temporary friends than he could conceivably remember, even if he weren't drunk when he made the majority of them.
✤
Camouflage:
A pretty obvious talent considering his special ability, but even beyond his appearance, Dylan knows how to read a room and make himself fit in. The ability to shapeshift is useless if you don't know the right thing to become after all.
✤
Observant:
Dylan watches others carefully, a forced habit to help better his imitations. He can pick up on the subtler details, be it in facial expressions and nervous habits or little designs and insignias on inanimate objects.
FLAWS | WEAKNESSES
✤
(Mostly) Functional Alcoholic:
Since around 17 years old Dylan has been drinking, but since turning 21 and having much easier access in conjunction with his untimely departure from university, his consumption has increased significantly enough that it can certainly be considered a problem.
✤
Self-Serving/Disloyal:
Dylan's lack of intimate connections and unwillingness to create them make him more or less a fair-weather friend. His loyalties are certainly malleable when it comes to his own personal gain.
✤
Shift Disruption:
Having an alternate form disrupted completely disables his powers for a period of time, and he is susceptible to the same pain of any organic life he takes the shape of, making transformations into small or fragile things quite dangerous.
FEARS
✤
Intimacy:
Shocker, huh? Even times when he might want to let someone else in, Dylan tends to find a way to demolish any prospect of real closeness. Better to push them away than to lose them.
✤
Being Trapped:
Playing into the fear of intimacy, he hates the idea of being stuck anywhere, be it physically captured or feeling an obligation to stay somewhere.
---
---
---
---
FAMILY
Charles Ashe: Father, Non-Gifted, Deceased
Belinda Wade Ashe: Mother, Gifted, 45
HISTORY
Spawned from well-to-do CEO of a booming insurance company Charles Ashe and his trophy wife and aspiring socialite Belinda, only child Dylan Ashe grew up privileged in picturesque Greenwich, Connecticut. Always a precocious child, he quickly developed the impeccable social skills he has today and finding himself closer with adults and much older children than his peers. Always the good, smart little boy, things went smoothly through his early years; Daddy would go to work, and Mommy would stay home and stare out the window. Sure she was a little out of it sometimes, dinner wasn't always on time, and she might've yelled at Daddy, but he was barely home anyway! But the older he got, the more he noticed his mother always had a glass in her hand and the less she seemed to leave the house. Sometimes she would scream at him and he couldn't figure out why. Sometimes she'd buy him a toy he wanted and break it in a rage a few days later, only to have another one delivered. She wasn't like his friends' mothers, who seemed much more docile, maybe less fun, but at least predictable.

It wasn't until he was about twelve that his mother's alcoholism and depression progressed into a cocaine addiction. She grew small and flighty, always running about, her hair a disheveled blonde halo, makeup rare. Dylan didn't know who this woman was, but she was wild and interesting at best, and utterly terrifying and dangerous at worst. But it was this woman that would show him his gift.

"Hey! Come here… yeah you asshole!" She called at the then 12-year-old, as though his name was on the tip of her tongue, but she lacked the interest to find it. "Check this shit out." She half-dragged him over to their kitchen sink and turned on the water. She closed her eyes and stood there for a long while, the mess of a woman and her pre-teen son in complete silence save for sound of the stream from the faucet. Dylan began to worry she'd fallen asleep standing again and reached out to her, but she slapped his hand down and quieted him. "Let me fucking concentrate." The next moment wavering balls of water were floating in circles around the young boy's head. They began to waver more quickly and suddenly splashed to the ground. The two stared blankly at each other to the tune of running water for what felt like a small eternity. Then Dylan ran up to his room and slammed the door.

It would be a few days before they'd acknowledge it. There wasn't ever a real conversation, just a silent knowing. And she began to explain to him how, what it felt like to tap into that power, that somewhere deep inside him he might have something like it. And thus, his cracked out mother taught him to unlock his own ability. And he slowly but surely saw her come back to life.

Belinda managed to get clean and the help she so desperately needed, and Dylan suddenly seemed to have a mother again, along with a secret that connected them. They practiced together, testing the limits of what they could do. Dylan's interest in art blossomed and by the time he was off to college at NYU he could fool himself like he came from a semi-normal home, be it without a very present father. However, at the end of his first year his father passed away unexpectedly from a heart attack. In the wake of his death, his mother relapsed and drained a massive portion of the money he left them in just a little over a year and a half, leaving Dylan unable to continue his degree, his relationship with his mother strained at best, and him following in his mother's footsteps as an alcoholic.

Now, when he's sober enough, Dylan manages to work a couple of part time jobs to keep up his drinking habits, pick up a few art supplies here and there, and pay the rent in his shitty apartment. He's let any real relationships pretty much fall off, and only occasionally checks in with his mother to make sure she's still alive or whatever she wants to call it. He gets solid practice with his ability avoiding paying his tab at bars and anyone he might've pissed off while drunk. Lacking in purpose and funds, Dylan lives one day (and rum and coke) at a time.
---
---
---
---