❝Alexandra Ackroyd❞
---
---
Name:

Alexandra Ackroyd

Nickname:
Alex

Gender:
Female

Age:
23

Sexuality:
Heterosexual (though this does not stop her teasing the girls)

Role:
Female Hunter 1

Race:
Human
---
❝What I See In The Mirror❞
---
Eye Color: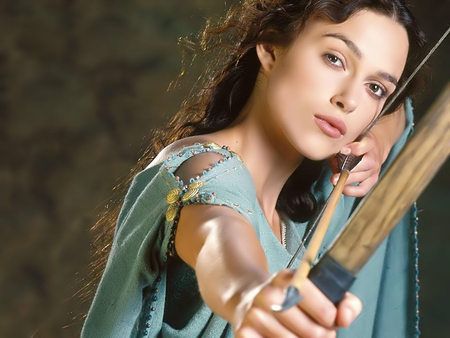 Brown

Hair Color:
Brown

Height:
5'7

Weight:
123Ibs

Body Markings:
Battle scars along her arm but not too serious. Have been healed and to an extent removed, but insisted to keep them there to remind her, as well as prove her prowess to others.

Physical Description:

Deception is a key component to any battle. Alex cannot change the fact that she is a woman, so instead she makes it clear instead. Many underestimate her abilities but growing up in a family of hunters, she understands that she needs to be equipped for every occasion and this includes her clothing and what she wears which varies. Despite not being a boy which her father wanted, Alex has grown into a fully grown woman and a pretty, slender one at that, with dark brunette hair which falls past her shoulders and a soft visage where her sharp brown eyes are, which are quite effective when it comes to grabbing a man's attention
---
---
Likes:
Hunting
Flirting (Both in the giving and the recieving)
Strength
Handsome guys
To be loved
Dislikes:
Weakness
Hesitation
Rejection
Killers
Death
Personality:

Her father wanted a son to take over the business and continue the family line, instead, he had a girl. At once there was a major disadvantage between her and her father and other guys by this fact, but Alex aimed to prove them all wrong, in adopting a 'tom-boy' sort of attitude while wearing two hats', one for the woman that she was and using whatever means necessary to get what she wants and the second for her tough side and showing who was boss. Men loved to be in charge and disliked being stood against, but further humiliation was caused by the fact that it was a woman overstepping their authority. However, being ruled over a woman wasn't so bad, but it is safe to say that Alex is not just a pretty face.
---
---
Background:
For many years, vampires and werewolves had taken the human's weakness for granted, but now they were fighting back. As a result, the Hunters' Society was set up in order to push back this threat and collating all data. Vincent Ackroyd led Hunters in his region, responding to any signs of attack as the entire human race still believed all of this was make-belief, leaving the Hunters to defend the humans that were not aware of such a thread. Before Vincent, his father Gerard led the resistance. It was hard at first from what had been told to be able to learn their weakness which as a result caused loss of life on both sides, the numbers only increased by the fighting with the vampires and werewolves determined to stop the aggressors before they came in force.

Vincent Ackroyd however felt that a new strategem was needed, but he felt his power was diminishing as each year passed without a male heir and only young Alex by his side. All he had was hope, but such a hope was loss when his wife, Alex's mother was attacked, which caused them to relocate their Headquarters and launch another attack against the Supernaturals. Despite her fathers' absent blessings, Alex continued to train both with the sword, close range combat with daggers, and archery which became her speciality. She had done much reading in the background of the Hunters' Society and detested how vampires and werewolves operated.

However, when Vincent returned wounded from an attack, Alex stood up against her male oppressors and gave them simple instructions...fight alongside her and do what she says or let pride overcome you and be a woman to sit at home, seeing as her departure would leave no women in the Ackroyd house. Vincent agreed and gave his blessing, allowing Alex to move, but Alex moved in her own way, deciding to use what had been gifted to her, to trigger an attack by the vampires. Afterall, she was the daughter of the Head Hunter, and such a ploy worked, luring Viktor McKlaus, good old sweet Viktor, her first victim.

If she had been a man, then the ploy likely would not have worked, so she used what others percieve to be her weakness as a strength, and as such, she lured the vampire in a trap and offered a deal, die at her hand or assist her in her quest which will save millions and hopefully end the fighting. Viktor agreed to her demands and became her prisoner, despite the fact he voluntary served her now, she had him caged due to the level of trust and didn't want him unleashing his fangs on her prey, as she moved to the Werewolves' Pack where there was reports of missing women...coincidence? Alex did not think so.

With her fathers' men, Alex joined forces with that of Meagan who became her partner who she left in charge of Viktor as she investigated the pack in question, picking out a certain werewolf, who if successfully persuaded, would greatly aid her capture of the pack's alpha, gain submission, before leading them all to the labs to find a cure for her father which would inevitably help protect others and be a means in which the fighting could stop. Alex loved hunting and fighting, but when many loved ones lost their lives, and the fact some of these monsters had pretty faces, it was an awful shame....