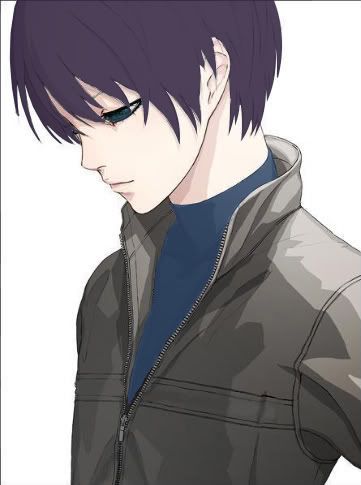 Click Here if above image is not working for some reason
Name: Zane Halbirn (First name said like the word 'sane' but with a 'z' sound instead of a 's'; last name sounds like 'hal-burn' with the 'a' taking the sound as in 'apple'.)
Nickname: Duce (Just like how Stewie from 'Family Guy' says it when he says 'what the duce'.)
Age: 16
Powers: Electricity/Lightning (Basically similar to Hei from Darker Than Black if you have seen that anime.)
Personality: Zane is usually very analytical with just about everything. Due to this he never saw any point in try to do things that he saw no purpose in. However he is very kind, usually even when he wants to be mean he can't do so since he is so nice to others. Zane is also very helpful to anyone that asks since he always seemed to excel in everything he tried to do.
Extreme Event: Zane was helping out the computer tech guys at his school on a Wednesday morning that seemed just like any other morning. As he was typing he was socked by some static electricity, and it was a little painful this time. At the time Zane truly passed it off as a release of highly concentrated static electricity, and that worked for the time. However as the day progressed people started calling him 'Zane' which was odd since very few people knew him by anything other than 'Duce', including his teachers sometimes. Sure Zane would commonly speak about reality being one person's dream and him being part of it with his few friends, but this was ridiculous. Zane decided to pass this off as just some huge prank since this was common, although usually not at this scale. At the end of school that day as Zane was walking out of the building the world around him seemed to lag so to speak. Exactly what it looked like was as if the world slid horizontally then went back again. Even though this last for a moment this was all he needed to see not all was what he had thought it was.
Fears/Phobias: Being mostly a loner for most of his life has left Zane not liking big crowds saying it makes it slightly harder to think. The true reason he doesn't like crowds is because there are so many people that could negatively judge him. Even though they are not much of a phobia or fear he hates not having a challenge and people calling him by his actual name, both for completely different reasons. He hates not having a challenge because he gets bored too quickly if he doesn't have to think about it for at least 10-15 minutes. The reason Zane hates people calling him by his real name is because of his 'Extreme Event', however this only started after that odd day.
History: Zane's elementary years seemed like they didn't exist they went by so fast, which left no memories from there that were worth keeping. From middle school until he woke up at a machine Zane was basically a loner save for his two friends Jannet and Riccardo. Even with them he was commonly alone and Zane was fine with that. Zane had always thought that this world was too simple and not enough of a challenge for him. His life was quite uneventful, he didn't even go to parties, dances, or do much with others that required a lot of thinking. This lead the world to think Zane was not very smart, however he was just too smart for the world. From boredom Zane started to develop his analytical speed and reaction time so he could solve problems quickly. Having a day that was completely off the norm (aka his 'Extreme Event') only caused him to analyze everything more often in order to increase his though process speed. Just before Zane was awoke at the machine Zane's thinking speed could easily match some of the greatest minds ever to exist.....Sadly this could sometimes give him a headache from thinking too fast.