---
╔
╗
╚
╝
---
---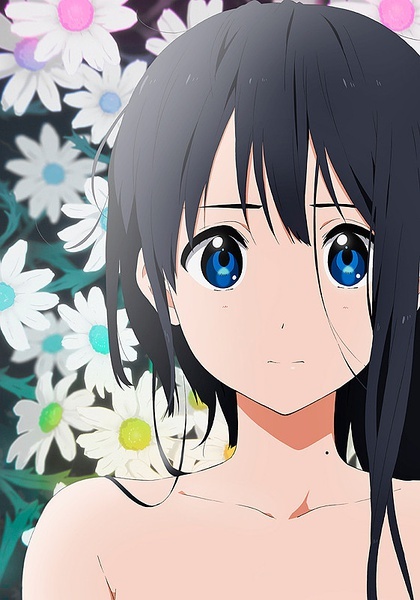 █
█
█
█
█
█
█
█
█
█
█
█
█
█
█
█
█
█
█
█
█
█
█
█
█
X
▌
▌
▌
▌
▌
▌
▌
▌
▌
▌
▌
▌
▌
▌
▌
▌
▌
▌
▌
▌
▌
▌
▌
FULL NAME
Kagari Yonamura
NICKNAME(S)
Kari - Her stage name chosen by her mother who
complained about her real name being 'too masculine'.
GENDER
Female
AGE
16
SEXUALITY
Heterosexual
NATIONALITY
Japanese
---
---
"Dolls have no say in what to where and how to play."
---
---
█
█
█
█
█
█
█
█
█
█
█
█
█
█
█
█
█
█
█
█
█
█
█
█
█
█
X
▌
▌
▌
▌
▌
▌
▌
▌
▌
▌
▌
▌
▌
▌
▌
▌
▌
▌
▌
▌
▌
▌
▌
▌
HEIGHT
5'5"
WEIGHT
122
HAIR COLOR
Black
EYE COLOR
Deep Blue
SKIN TONE
Medium
GENERAL APPEARANCE
ANSWER
---
---
"There's no such thing as 'real'. The way I see it, we've all got a mask or two we like to wear."
---
---
█
█
█
█
█
█
█
█
█
█
█
█
█
█
█
█
█
█
█
█
█
█
█
█
█
█
█
█
█
█
█
█
█
█
█
█
X
▌
▌
▌
▌
▌
▌
▌
▌
▌
▌
▌
▌
▌
▌
▌
▌
▌
▌
▌
▌
▌
▌
▌
▌
▌
▌
▌
▌
▌
▌
▌
▌
▌
▌
PERSONALITY
✦

Clever

✧

Eccentric

✦

Thoughtful

✧

Secretive

✦
Kagari is an undeniably talented young lady. Despite being a product of the film industry, she's done well to keep up with her grades and is rather intelligent, having a wide understanding of how the world works and how to move forward in that world. She's the media's sweetheart; polite, smart, pretty, hard-working, practically the embodiment of perfection. However, Kagari is not nearly as pure-hearted as the media likes to write her off as. Perhaps she is kind and obedient, but her actions and thoughts are often colliding with each other. To be honest, she mostly puts on a friendly smile for the aim of getting on someone's good side so she can take advantage of the resources they'll provide. Growing up in the film industry, she knows exactly what to do to get exactly where she wants.

She's remarkably mature for her age, with her priorities lined up in the straightest of rows. She takes responsibility for her actions, never blaming anyone else for her mistakes. Not the type to start foolish arguments over insignificant things, she prefers to handle conflict calmly with a realistic point of view. However, she can say things that are rather cruel sometimes. Kagari sees no point in sugar-coating things, especially when someone is seeking her opinion. It's best to be straightforward and honest, whether that may be harmful to others is really no problem of hers.

On camera, she's is the beautiful youth that anyone would love to have as their friend, but Kagari has a cold side to her. To due the events of her past, she's grown hard and sturdy; a tower that refuses to collapse. In a sense, she's one of the strongest people you will ever meet, but every impenetrable force has it's secret passages. There are a number of cracks that, if done carefully, can be easily squeezed through. On the contrary, even getting a genuine smile out of her, and I mean one that hasn't been practiced in a mirror countless times, can prove to be a challenge or even impossible for those who aren't persistent or patient enough.

Her life as an idol on the big screen is portrayed to be magnificent with everyday luxuries being showered over her every day. However, her home life is actually fairly normal, at least when she doesn't have her manager or mother breathing down her back. She hasn't been to a public school since her 5th year in elementary school so, despite her being capable of smiling and waving for the fans, she's not all that skilled in casual relationships. Preferring to keep her off-screen life as private as possible, she tries to keep her outside interactions brief and to the point, handling herself in a professional manner so not to lead conversations into becoming too personal.
---
---
LIKES
✦ Cherry Blossoms - Finding a nice place in the grass and sitting for a while just to watch the sakura trees gives Kagari a nostalgic feeling. It's unfortunate that she rarely gets any free time to relax in such a way.

✧ Reading - Another thing Kagari rarely has the time to do. However, when she's able to stow herself away for a couple hours, she likes to spend those hours reading. She's a fan of practically every genre, finding it boring to just stick to one.

✦ Thunder Storms - The sound of the rain pounding on the roof puts her right to sleep. She likes the vibrations that she feels in her chest when thunder rolls across the sky. If only it would storm so violently every night.

✧ Stuffed Animals - Her room is made up solely of stuffed animals. Or at least that's how it looks with her shelves lined with rows of fluffy creatures. Her bed is barely visible under the mound of all sorts of stuffed animals.

✦ Piano Music - It wasn't her idea, let alone her choice, to play piano, but after becoming a little more experienced at it she found that she actually really enjoyed the sound the instrument made. When she doesn't have time to play, she'll have her headphones on with piano melodies pouring into her ears.
---
---
DISLIKES
✦ Adults - Grown-ups only care about themselves. They think that because they're older, they know better and have the right to order you around like a toddler. Kagari has always been reluctant to put her trust in adults.

✧ Pudding - It's gooey and liquidy and weird. Whoever came up with the thought that that mushy crap could actually be edible was clearly off their rocker. Kagari refuses to even stand next to a bowl of this stuff.

✦ Physical Contact - Giving her fans a hug, kissing them on the cheek, holding hands, and other stuff she can tolerate. However, she won't stand for others grabbing or touching her without her permission being given first. She doesn't even like it if someone puts their hand to close to her without warning.

✧ Watching Herself - Seeing herself on screen is actually a little embarrassing, not that she'd ever admit to it. Though, she also sort of feels like she's not even watching herself, but someone who just looks like her.

✦ Cameras - Always, always watching. Always wanting to get a sneak at her life and never keeping their distance. I suppose cameras by themselves are okay, but the people holding the cameras are just annoying. Kagari has grown to hate cameras so much that she won't even take personal photos anymore.
---
---
█
█
█
█
█
█
█
█
█
█
█
█
█
█
█
█
█
█
█
█
█
█
█
█
█
█
█
█
█
█
█
█
█
█
█
█
█
█
█
█
█
█
█
█
█
█
█
X
▌
▌
▌
▌
▌
▌
▌
▌
▌
▌
▌
▌
▌
▌
▌
▌
▌
▌
▌
▌
▌
▌
▌
▌
▌
▌
▌
▌
▌
▌
▌
▌
▌
▌
▌
▌
▌
▌
▌
▌
▌
▌
▌
▌
▌
TALENTS
✦ Acting - Kagari only entered into acting classes after she'd already played a part in a number of commercials. Acting comes as naturally to her as breathing, being capable of changing her entire personality in a split second to fit any role that she's been tasked to play.
✧ Sewing - How else will her collection of stuffed animals stay in mint condition? Kagari took up sewing at a young age so she could take care of her precious teddy bears. She also enjoys making clothes for herself, though her mother never lets her wear her homemade clothes in public.
✦ Ballet - To be honest, she's not really fond of ballet. The movements are too perfect and the are too princessy for her taste, but she became quite good at it anyway, despite pretty much having no say in the matter of whether she wanted to take ballet classes or not.
✧ Piano - Kagari has long since mastered the piano and has participated in a number of recitals. Though this was another thing that she wasn't fond of learning, she grew to love playing the instrument. The opposite of ballet, which she continues to find boring and meaningless.
✦ Drawing - Kagari can't draw to save her life. That is, unless she's given the choice to sketch some flowers. Flowers seem to be the only thing that she's capable of drawing, but the flowers that she draws are absolutely extravagant. She loves to paint them with mixtures of colors that would never be seen in a bed of real flowers.
FLAWS
✦ Dishonest - She's an actor, after all, and as such she can lie right through her teeth. When it comes to expressing her opinion on certain subjects, her honesty can be brutal, but if she were to answer questions about herself, you could never know if she's telling the truth. Lying about herself seems to be a defense mechanism that she can barely control herself. Rather, she hardly even bothers trying to hold back the lies that may escape from her lips.
✧ Careless - Due to her boldness in taking action, Kagari can sometimes get herself into sticky situations. She's not the type to go hurling herself into danger without planning ahead, but her planning can easily be just as dangerous depending on the issue at hand. She doesn't really sweat the little details, though. The only thing that really matters is the big picture and she'll put herself through nearly anything to get the gold.
✦ Indifferent - Indifference is the only emotion one will see in her when it comes to the hardships of others. Sadness and anger are feelings she's buried deep within herself, and for her to show sympathy for another is quite the rare occurrence. She finds it pointless to feel sorry for someone who's pain is of their own doing.
FEARS
✦ Restraints - To be forced down to the point where you can't even move your body is quite the terrifying scenario, one that Kagari has experienced first hand. Ever since then, even having someone grab her arm and pull her back makes her heart drop. This happens to tie into her dislike of people touching her without her permission. She's more or less learned how to keep this fear under wraps, though. At least to the point where she can give hugs to fans without instinctively shoving them away.
✧ Empty Houses/Buildings - She could never live by herself. She can't even be left alone for ten minutes without her locking herself in her room with a knife at her side. Kagari absolutely hates being left home alone, feeling much safer having someone she's familiar with being just a few feet away. Even walking into an empty building can make her feel anxious, resulting in shortness of breath and rising paranoia. Despite her mother being aware of this, Kagari still tends to be left by herself more often than not.
---
---
"I'm beginning to think that selflessness only exists in fairy tales."
---
---
█
█
█
█
█
█
█
█
█
█
█
█
█
█
█
█
█
█
█
█
█
█
█
█
█
█
█
█
█
█
█
█
█
█
█
█
█
X
▌
▌
▌
▌
▌
▌
▌
▌
▌
▌
▌
▌
▌
▌
▌
▌
▌
▌
▌
▌
▌
▌
▌
▌
▌
▌
▌
▌
▌
▌
▌
▌
▌
▌
▌
FAMILY
Haruno Yonamura || Mother || Age 33 || Alive
Shouta Hiroto || Father || Age 35 || Unknown
BIO
A beautiful mansion with exquisite marbled counter tops, silk blankets, and a chandelier that hangs in the center of a elegantly furnished living room. This is the place that the Yonamura family now resides in, a thousand steps up from the small apartment where Kagari spent her toddler years. Her mother had become pregnant at the age of seventeen with a boy who was nowhere near ready to become a father, though her mother was also on the same boat. She may have gotten rid of the child had her parents not approved of it, seeing it as a lesson that their daughter should never forget.

Haruno Yonamrua would give birth to her first child on February 1st, her boyfriend deciding on the name 'Kagari' after a character who could control fire from a children's cartoon that used to be popular when he was a child. Though the two hadn't married yet, they agreed on giving their daughter her father's last name, 'Hiroto'. This last name would never stick, however. Within the first three years that the two began living together to raise their daughter, Kagari's father left, leaving his girlfriend to take care of the child that he gave a name to. With that, Haruno quickly changed Kagari's last name to 'Yonamura', but her first name was a constant reminder of the man that abandoned her and as such, she grew to hate it.

By the time Kagari was eleven years old, her mother had gone through quite a few men, but had finally settled with one. The man, Tadashi Yoji, treated Haruno well, giving her expensive clothes and jewelry. He had no shortage of wealth, seeing as he was the manager of a well-known filming company. Not to mention, with Kagari growing up to be such a cute girl, her mother was making money off of her daughter's slow push into commercial advertisements with the help of her new boyfriend. Of course, what her mother wasn't aware of was that her new boyfriend would sometimes find his way into Kagari's room and take advantage of her mother's absence while she was out shopping or taking care of some other business. Kagari tried telling her mother a number of times, but it would only result in her mothering becoming angry and calling her a liar, so soon enough she gave up.

Within the next five years, Kagari's faced moved from commercials to talk shows as she worked her was up large-scale films. Within the next five years, her real name had been blurred out by her mother and the media itself, the name 'Kari' being smashed over her as thousands of fans called her name. The advances of her manager became less frequent, as Kagari became more skilled with avoided situations where she would be left alone with him. Within those next five years, Kagari had also become hard and cold, with a long sliver of loathing wrenched deep into the pit of her soul.
---
---
OTHER
Fᴀᴄᴇ Cʟᴀɪᴍ ✦ Tamako Kitashirakawa


Pᴏʀᴛʀᴀʏᴇᴅ Bʏ ✧ BespectacledBeauty


ⒸⓄⓅⓎⓇⒾⒼⒽⓉ ⓌⒶⓇⓃⒾⓃⒼ
character basic form © aurei
modified form ઽ૮૨Α
edited, modified form Luna Delta; ઽ૮૨Α; Alliqua_Dark;
---
---