"Nothing of me is original. I am the combined effort of everyone I've ever known."
---
---
╔
╗
╚
╝
---
---
---

FULL NAME:
Kal Min-Su

NICKNAME:
Min

AGE:
18

HOMETOWN:
Seoul, South Korea

GODLY PARENT:
Hecate

GENDER:
Male

SEXUAL ORIENTATION:
Straight Questioning

ETHNICITY:
Korean

DOB:
13 August 2001

HEX CODE
#2f444b
---



HEIGHT:
6'1"

WEIGHT:
147lb

APPEARANCE:
Min is apparently a chameleon, able to shift his look and his style with ease. He can pull off just about any style he wants. Influenced by his search for identity and trying to figure out who he is, he's tried a range of looks. He's tried pastel colours and oversized jumpers, he's tried shirts and slacks, and he's tried a more punk look. And none of them seem to stick. He's terrified to make any permanent changes and such has no piercings or tattoos. He has a small birthmark on his left shoulder and no real scars of note.
---
---
---
WITHDRAWN ❖ INTELLIGENT ❖ UNSURE
CONFIDENT ❖ DEFENSIVE ❖ LEVEL-HEADED



On the outside, it can seem like Min has his life together. He's intelligent and capable, the type of person you want on your side in a crisis. It seems to take a lot to stress or fluster Min, and if he is stressed, he never seems to show it, only showing it in the smallest of ticks and habits. He's got a calming presence and manages to keep other people grounded by his presence alone. The fact he doesn't talk out of turn, doesn't speak unless really required to, only seems to add to that.

This calm persona is entirely an act. Over the past few years, his life has been turned upside down repeatedly, over and over again, to the point he isn't really sure who he is any more. He's trying to figure that out, but it's overwhelming. He doesn't know where he stands or even who he is any more. He can't even pin down an outer appearance right now. And for someone who lived most of his life so sure of what it would be like, of who he was, that's terrifying. Everyone around him always seemed so sure of themselves, and he sees this uncertainty as a weakness, as something that can be exploited. And so he hides it. He gets defensive if anyone as much as questions him knowing who he is.

Before all this, Min was the person that he tries to be now. He was calm, level-headed, and relaxed, always taking the time to assess a situation before making any decisions. And aspects of that old Min shine through. Despite everything, his sense of humor has remained intact, and he's often the one to laugh the hardest at any jokes, no matter how dumb they are. He's got a sense of mischief and while he's not usually the one to carry out the pranks or jokes, he's more than happy to be a lookout or contribute somehow- assuming, that is, that his giggles don't give him away.


Kal Kwan was an up and coming tech guru in Seoul when he met Hecate. She was entrancing and he was intelligent and witty. Their affair only lasted a handful of days, but a few months later, Kwan found a son on his doorstep. Kwan was young and single, with a promising career in front of him. Everyone expected him to give the kid up for adoption. But Kwan had also always wanted a family, and there was something in the baby's face that made him unable to give him up.

Raising a kid and having a successful career wasn't easy, but Kwan managed it. Min-Su didn't see his dad all that much, but what he did see of him was packed with affection. The two of them were always moving around, moving from Seoul to Tokyo to Paris and, finally, when Min was 13, they settled in London. Min didn't know much about his mom, and over the years, the story had changed enough that Min knew it was a lie. But no matter where they were in the world, her presents always seemed to find their way to him. Min never mentioned it to his dad, because it was something so precious to him. They were only ever small, tokens more than anything, but he cherished them dearly.

Because by the time they settled in Camden, Min was tired of only ever seeing his dad for a few hours in the evening, and always being second to his dad's cell and his emails. And Min was starting to realise that he wasn't like other kids. It started after he touched a dead butterfly and it sprung back to life, despite the fact it had clearly been dead only seconds before that. This was something he could apparently do at will, and something that he realised wasn't normal. He couldn't talk to his dad about it, and he certainly couldn't talk to any of the nannies or au pairs.

So it was his secret for almost two years, even as it rapidly became more and more difficult to control. The tokens from his mom began to increase in frequency, almost as if she was trying to reassure him. And then, days before his sixteenth birthday, on a rare day when his father was home, Hecate arrived at their door to talk to Min. She explained what he was, who he was and told him of an academy where he could learn to use his abilities safely and where he could be like others. Kwan put up a fight, but Min insisted on going.

It was the first major upheaval. The second came when his father announced he had proposed to his girlfriend. The third was perhaps the most significant. Min had always thought he was straight. And then he met Percy. They were almost polar opposites but something just clicked between them, and they quickly became friends, and then best friends. Their relationship was always playful, with Percy being his usual flirty self and Min always laughed it off. And then one day, Min looked at his best friend and realised that he was feeling more than he'd ever felt for another guy before. The realization was the final straw. Min began to feel like his life was no longer in his own hands, like everything was spiralling out of control, as he realised he wasn'tt who he thought he was.
---
---
QUIRKS
Min speaks English, Japanese, Korean, and French fluently (although his French is a little rusty), and has a tendency to switch back to Korean when he's tired or injured. He plays with his hair when he's tired. When he's stressed, he bites his lips, tugs on his sleeves, and tucks his hair behind his ears more.
LIKES
reading outdoors

shakespeare
poetry
sweets
asian food, especially Japanese or Korean
big gentle dogs
open air markets
DISLIKES
small angry dogs

most flavors of chips
tight or itchy clothes
being sick
beetles
pretentious people
country music
---
---
---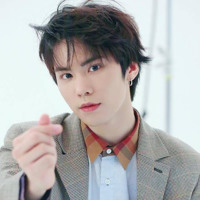 GRADE:
12th


TEAM ROLE:
Special

RELATIONSHIP WITH GODLY PARENT:
Hecate isn't particularly close to any of her children, and Min is no exception to that. He's always found his mother exceptionally hard to read, but unbeknownst to him, she's always kept a careful eye out for him, especially in the past few years.

HOBBIES:
Min is a bookworm at heart, usually found with a book of some kind on him, or at least within arm's reach. He also enjoys tabletop gaming and generally playing games of any sort with his friends.

AMBITIONS:
If he's being totally honest with himself, entering the Agon was a distraction, or maybe just another ill-fated attempt at figuring out who he is, who he's supposed to be. He really didn't think as far as to what would happen if he won. But the idea of getting some glory when he's been in the background his whole life is tempting.

FEARS:
Min is terrified of not figuring out who he is, of being caught in this uncertainty forever. He hates heights with a passion and will freeze up.

STRENGTHS
When most people think about Min's strengths, they generally think of his level-headed and calm nature. He keeps his head in a crisis, and that's beneficial. What surprises many is that he has excellent control over arcane magic, even for a child of Hecate. Defensive spells seem to be his strength, but he's able to hold his own when it comes to offensive magic. He's also got a special aptitude for necromancy, but he doesn't like to talk about that one as much, and tends to keep it to just bugs and butterflies.

WEAKNESSES
Never give Min any sort of weapon that requires aim, because it will end badly. It's only recently he's even managed to hit a target with a bow and arrow, let alone hit the bullseye or hit a moving target. Needing to focus on multiple things at once often results in him becoming easily overwhelmed and not being able to properly focus on any of them.
---
REPUTATION:
Min's reputation is largely positive, if only for his level-headed and calm nature. He's unaware of any rumours at present, but lives in constant fear of them.

FAMILY:
For most of his life, it was just Min and his dad. They traveled too much to put down roots. But Min's had has recently gotten engaged, and Min's still trying to get his head around that.


MISCELLANEOUS:
N/A
---
---
FACE CLAIM
Park Min-Hyuk

USERNAME
partially-stars