---
---
███████████████████████████████████████████████████████████████████████
---
---
╭━━━━━━━━━━━━━━━━━━━╮
Child Of Hades
•
Don't Fear The Reaper
•
Dialogue Colour ||
#575772
╰━━━━━━━━━━━━━━━━━━━╯
---
---
███████████████████████████████████████████████████████████████████████
---
---
F U L L

X

N A M E
Theodore Charles Luvgoode

N I C K N A M E (S)
Theo | Most used and preffered
Teddy | Childhood nickname, tolerates
Charlie | Less used, not a big fan

B I R T H D A Y
August 15th

A G E
Nineteen (19)

P A R E N T
Hades

S E X U A L I T Y
Pansexual

G E N D E R / P R O N O U N S
Nonbinary | They/Them/He/Him

E T H N I C I T Y
Japanese, Chinese, Korean, and Caucasian mix

H O M E T O W N
Palm Springs, CA


---
---
███████████████████████████████████████████████████████████████████████
---
---


S T Y L E
His style isn't much to note, he wears what he wants, when he wants. Anything with color, whites and , but more than not he can be seen in black, patterns, especially layers such as jumpers, sweaters, jackets, and whatever else he feels like in the mood to wear. He isn't exactly one for fashion, but he does try his best, often coming off as boyish. Anything including skinny jeans and t-shirts, and jackets such as leather and pullover sweaters tend to be Theo's go to clothing-wise. but on the occasion for a party or formal gathering, Theodore is one that knows how to dress to impress.

H E I G H T & B U I L D
5' 11" | 180cm | 154lbs | 70kg

A P P E A R A N C E
Theo's build is what many would describe as a twig with muscle. He's not very tall being around average height for his age. Much like many people his age he can eat and eat and put hardly any weight on, hence his rather small frame, except for his arms and legs which is where most of his natural muscle is found. His dark mousy hair contrasts against his darkened toned skin with his even darker eyes, almost highlighting the dark and sunken rings under his eyes. He in a sense is highly and conventionally attractive, full lips, strong jaw, and bright, friendly eyes put him on the more attractive end of the scale.

His hair is constantly messy either when let down and passed their shoulders, or is tied up in a tight pony-tail. By the end of the day Theo's hair is constantly messy as he is normally seen messing with his hair throughout the day. As for general looks, Theo basically screams the stereotypical young homosexual male stigma, or at least a more masculine type, maybe a combination of either. As Theo isn't afraid of representing their sexuality or gender, as he often has a bracelet or some other apparel like a necklace or what have you, with a flag or color combination on him in some manner. If someone doesn't like the way Theo carries themself, then they can speak to them personally. He spent much of his life hating himself for how Theo identified, and now they aren't going to have anyone else make them feel less of a person.
---
---
███████████████████████████████████████████████████████████████████████
---
---

L I K E S
Cooking, wherever Theo is, you can be sure that he is either thinking about what to make, or is already cooking away in the kitchen in his free time // Music, singing and dancing, considering that he's one that can never stay still for long periods of time, it's never a shock that he loves all things that involve music // Shiny and fancy things, he's easily entertained and loves most things that have a shiny texture or appearance // Making friends, Theo didn't have many friends in highschool, but he tries to make friends wherever he goes // Tea, especially the light and sweet ones that smell likes flowers // Making clothes/sewing, it isn't surprising that he adores making new outfits for him or his friends // Animals, it doesn't matter whether big or small, or cute or scary, Theo loves them all especially the cute and fluffy ones // Sweets, he has a major sweet tooth and adores anything from basic sweet to cakes and muffins

D I S L I K E S
Loud or sudden noises, seeing as they can be easily confused and startled by them // Sour, bitter, and hot foods, he doesn't have a high enough tolerance for them and doesn't understand how anyone can eat that kind of stuff // The smell of burnt things, like coffee and toast, they make him feel sick // He doesn't like anything that involves blood and gore, and as such anything scary or horror related is one sure way of scaring him and keeping him up at night // Theodore absolutely hates seeing people get hurt, and as such he's constantly paranoid of someone getting injured or worse // Being seen as a bother or waste of space // Strong smells, like burnt coffee or burnt flesh, something about that causes panic and anxiety // Things of his being touched, even his own items like a pen or cup being touched by someone else will have to make him clean the object several times before he can use it again // The sound of eating or mouth sounds, Theo can't stand the sound or sight of someone eating, which causes them to eat alone most of the time // Unclean and dirty surfaces, even the smallest specs of dust or dirt cause stress and anxiety for him, as Theo's room is usually impecibly clean // Public transport, he can't stand those places and avoids them at all costs


Q U I R K S & H A B I T S
Tends to rub their hands when trying to focus on something or overly stressed // Taps his foot when impatient or when trying to focus // Theo snorts when they laugh, and absolutely hates it as it's incredibly noticeable and ugly in their opinion // Scrunches up their nose whenever he laughs or finds something cute, much to their disdain people tend to point it out //

---
---
███████████████████████████████████████████████████████████████████████
---
---
P E R S O N A
In simple terms, Theo comes across as the younger and more flamboyant best friend that everyone would want, even if they don't want to admit it. He's funny, smart, kind, and loyal to the point that it's almost painfully so, and Theo would do anything to keep their group of friends-or more like family safe from harm.

Theo cares for people, they truly do, but it's just hard for him, since they've lost everyone he's ever truly cared for. Theo's the type of guy who would save a cup of tea or hot chocolate with some music in front of a warm fire with soft blankets and pillows in a heart-beat, especially if some good conversation was involved. He enjoys the party life, sometimes pretending to be that person who really never helps with the million problems you deal with in one's day to day life. Just like everyone, he has his good moments, especially with their friends. Sometimes they can feel like family to Theo, and sometimes he feels like they wanna kill him. His personality has been referred to as, innocent by most who know him, and annoying and arrogant by some others that haven't exactly gotten to know Theo very well. He always has a smile on his face and has jokes to tell and positive vibes to share with everyone Theo comes across.

Whether they try to or not, Theo typically becomes the noticeable one in a crowd. The only one who differs from being just an ordinary person, if that even exists in Legacy. Theo and his brother used to be both the ones who can have similar ways of thinking things through the right way, though all he feels like is that every good move he makes ends up becoming a bad one, which it usually does due to his lack of common sense, and in a way, his lack of everyday smarts. But that isn't to say Theodore is in idiot, he just lacs common sense more often than not. His charm and naturally calm and cool demeanor came from his father, as almost all children of Hades.

But then there are the bad days, just like everyone else has one. Sometimes, Theodore just wants everyone to like him for who he really is-tricky thing is that he's helpful and worst of all everyone tends to never see his usefulness due to his reckless nature and on the spure of the moment antics, and instead take his quirks and use them as a way to put him down, resulting in him shutting down and wishing to just disappear for a while.



---
---
███████████████████████████████████████████████████████████████████████
---
---

T E A M R O L E
Special

A M B I T I O N S
Theo wants nothing more than to gain control over their powers, in one way or another, possibly gain his father's favor. While Theo isn't outright hated by Hades, they know full well that they are a bit of a disappointment in their father's eyes due to the life choices and visions Theodore has for himself. If he can win the Argon, and win his father's favor, maybe then Theo can prove themself as a note-worthy child of Hades.

R E P U T A T I O N
Around Legacy, Theodore is known to be one of the loudmouth, trouble makers with a good heart. If he isn't pulling pranks or taking some things too lightly, then Theo is most likely just barely getting by in his classes. He's a good fighter and is known to be a bit of a show-off with not only his powers but his natural flexibility. Whether people love him or hate him, Theo isn't one to hold too much of hard feelings against anyone and understands when people give him space or decide to not be their friend anymore.

F E A R S
The fact he can commune with the dead, he hates the fact that he has been able to see ghosts since Theo was a very small child

Disappointing Hades, while Theo knows they aren't their father's favorite offspring, they still can't help but want to prove that they are in fact worthy of being called a child of Hades

Snakes, whether big or small they have always made Theo's skin crawl. The sight of one can cause anxiety and panic attacks until he is managed to be calmed down

T A L E N T S
Theo is a man of many talents, but he does know how to cook and is rather good at it and is easily seen cooking whenever he can. Often being a showoff in the kitchen // Sewing/knitting, seeing as how he was raised rather unorthodoxly, he grew up knowing how to make clothes and as such tends to make clothing for his friends and himself as gifts // Dancing, he's rather good at it despite people never knowing it as he is rather shy about other people seeing him dance, unless alcohol is involved // Parkour, Theo spent much of his time running across buildings and around the city of California

H O B B I E S
Parkour // Basketball // Swimming // Rock-Climbing // Boxing

W E A K N E S S E S
The fact he gets scared easily, anything from a simple bump in the night to seeing someone get injured causes him to begin to hyperventilate and panic // Theo's natural leaning towards reckless behavior, and borderline dangerous ideas of fun, it isn't surprising for him to act on instinct instead of thinking things through // Theo despises his ability to commune with the dead, and the fact he constantly hears whispers far off in the distance and happens to see shadowy figures in the night, it isn't shocking he doesn't sleep much as all Theo ever sees when they close their eyes is ghosts of the past


---
---
███████████████████████████████████████████████████████████████████████
---
---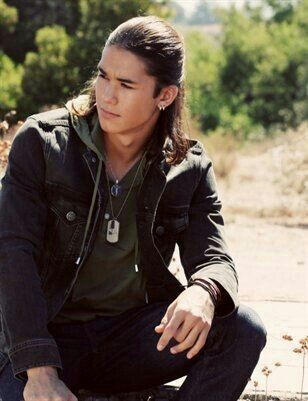 H I S T O R I A
Theodore had a much harder upbringing compared to many of his counterparts, and from an early age he realized it all too soon at an early age that he was different. Theo grew up on the streets of LA, and from an early age he spent much of his time running with people that in hindsight weren't the best for his developing years. Theodore had been tossed aside and left on a doorstep by his biological mother, who otherwise would have raised him in a drug den of a home. That is all he knew by the age of five. His mother nor his father wanted him and left him to an orphanage that had far too many kids than they should have had, and many went mistreated and abused by staff or other kids.

When Theo was eight years old, that was when the dreams started. They started out small and in random bursts. But they would always have the same effect and go along the same way. Theo would see shadowy figures among the hallways and room of the orphanage at night, or would have such terrible night terrors that he could never sleep. Constantly leaving him awake at night to the unnerving silence that filled his room. It was only when he turned twelve that he began to see things, or more so people that others couldn't. It started out small enough. Disfigured faces in places that didn't make sense for people to be, familiar faces among crowds that he could have sworn he saw in his dreams.

The endless dreams and nightmares began to become too frequent, too loud, especially when he would awake in the night and see a shadow figure at the foot of his bed. Talking to him, begging for Theo to listen. But the voices never sat right with him. They were always distorted, garbled ramblings that he could never fully understand. Doctors were brought in to try to help him, diagnosing him with schizophrenia and some other visual and mental possibilities. Theodore knew that wasn't the case, there wasn't something wrong with him, at least not like that. He knew what he saw were real and weren't just visions of a delusional mind.

The risk of being sent to a psyche ward was something he wasn't going to risk being subjected to, and the morning before he was going to be shipped out, Theo packed what he could into a small duffle bag and fled throughout the second story bedroom. Disappearing into the night. Memories faded in and out as the years slowly passed, Theo doing whatever he had to survive. Whether that was taking part in small crimes, begging for a few bucks, offering services to clean someone's car. Anything to help just make it by.

Theo was fourteen when he ran into a group of slightly older kids who took some pity on him, as well as thought that his skills would come in handy as he was rather light and quick on his feet. In exchange for his skills, they'd give him a place to call home as well as a family of people that would help him out. Theodore was skeptical, but what else did he have to lose? He spent the first few weeks making it by within the group by causing petty crimes like stealing a laptop or phone from an unsuspecting bystander. In turn, he received cash and food, as well as a place to rest his head, even if he didn't sleep much. Gradually over time, his other powers began to manifest like all children of Hades. It started out slow, he found out from one of his lack of sleep induced episodes as he saw a shadow figure coming after him, that he could manipulate the shadows around him, but only in small bursts of time and only when overly stressed. Something he isn't exactly fully a master in just yet.

Theodore began to think he was losing his mind as the voices and visions kept coming back, seeing those same faces and figures from his childhood once more. He thought he was losing his mind, and for once in his life, he questioned the figure. Never expecting it to answer him, but when the figure spoke, he heard it. Theodore heard the words that came from the normally disfigured form. The conversation was short and he never exactly understood, but ever since then he had continued to see ghosts and spirits, but he refused to interact with them. That night was just too much for him, what he was told and what he had seen, it was just too much.

The last of all of his strangest occurrences was when he was sixteen, during what was supposed to be a routinely done break in and leave. Take only a few things and get out. Leave no traces, no hand or fingerprints, nothing. They did everything they were supposed to, and midway looking through things, the sound of officers were heard from above. The cops had already arrived. Meaning they had mere seconds before they were cornered and left for dead. They began to scatter by the time the door had been kicked in, and officers entered the room, all guns were drawn and aimed at Theodore as his friends had already escaped by the time it was his turn was next.

Theodore didn't remember what happened exactly, all he knew was that everything began to grow dark. The next moment he opened his eyes, he was no longer in the basement of a building but was what looked like something only one had ever seen in movies. A deep yet calm voice spoke out to Theodore form a distance before a figure stepped out from the shadows itself. The older man bore a smile on his face as he looked at Theodore, but not one of happiness. But one that is from being expected, and even slight disappointment. Theodore began to question where he was and who this man was, but was interrupted as the man said none of that was important, but what was is that he had an offer. One that was better than living off the streets, constantly stealing just for the sake of getting by. If even barely.

The man introduced himself as Hades, and Theodore's own birth father. Explaining the things he had seen, the faces and ghosts and voices. He was going crazy or losing his mind. He simply had a gift that not many people had, and that there was a place for people like him, a place where Theo could learn how to control his powers that he otherwise saw as a hindrance and curse. Legacy Academy, a bordering school for demi-gods like himself. A safe place for people like him, that he could be safe and not have to worry about anything ever again. Theodore told Hades to show him, bring him there. Just to prove he wasn't losing his mind. Olympia was everything he had wanted and more, and Theodore never found himself looking back. Legacy Academy and the friends he had made since coming to the boarding school had been more than he ever expected, as well as figuring himself out in more ways than one, more than just a demi-god, and more than a child of Hades. Feeling like he had finally found a home that he could call his own, with people like him, Theo isn't willing to let anything take it away from him if he can help it.


---
---
███████████████████████████████████████████████████████████████████████
---
---