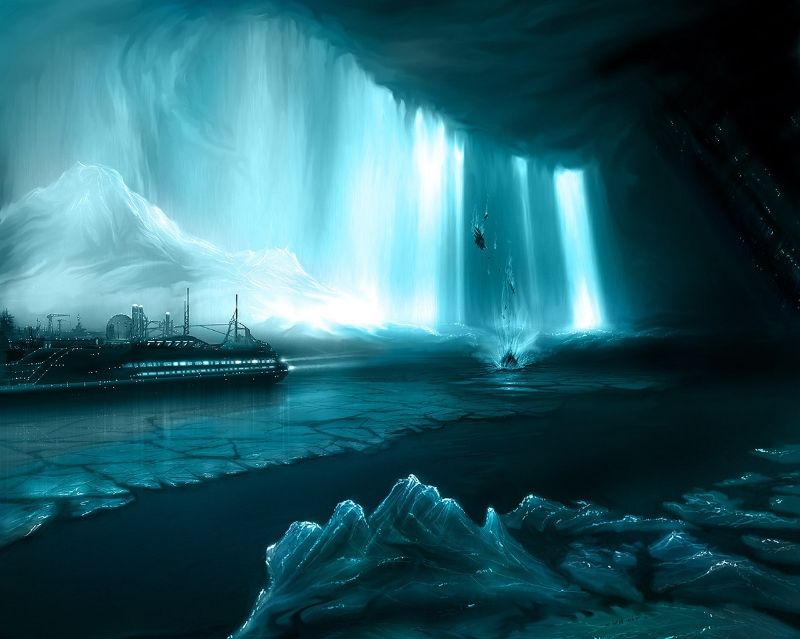 The world of Lorgaine, home to magic, monsters, courage and deceit. It is here, the cradle of life was nurtured by the gods. Immortal beings with nearly limitless powers, each deity holds sway of a select few portfolios of power. It is with these portfolios that they all worked together to forge something spectacular. Lorgaine itself was something of special magnificence. Expanses of stunning oceans of crystalline blue water. Towering mountains that score the clouds with their icy peaks. Fields of green that stretch across rolling hills as far as the eye can see. Dense forests with canopies so thick the sun never touches the ground. This environment was wonderful but even in those early days the gods knew it required more, it needed life. So animals were born, simple creatures who knew how to survive, how to hunt, how to forage and how to run. This was a good start but still not enough so The Moderator stepped forward.
The Moderator is the oldest, the God of the Gods. It is the Moderator who governs all, even the other immortals. He is the balance of all things, not for god or for evil and but for neutrality. This enigmatic being rarely speaks, rarely directly influences events except in times of great change. This was such a time, the birth of intelligent life. The Moderator reached out a hand lifted three objects from Lorgaine. A leaf, a stone and piece of molten rock.
The leaf was the first. Beautiful, elegant, full of life and change. It is from this leaf that The Moderator created the race of
Elves
. Like that leaf Elven kind are blessed with beauty and grace. As leaves change through the season yet their trees can last for lifetimes The Moderator bestowed upon Elves the gift of long life allowing them to live for centuries and barely age a day. As the leaf was organic and part of nature so too would be the Elves. Elven kind would ever be children of the forest and the meadows. Inherently good they would be a force of light, love and compassion in the world of Lorgaine.
The molten rock was the second. Blackened from great heat the searing fire could still be felt within it. Lava flow was a force so destructive it was unfathomable and it was with thoughts of such destruction that The Moderator created the race of
Orcs
. And so the Orcish Horde was born in that moment, a race of green skinned, savage, bloodthirsty brutes. Like the fire that birthed them they think only to consume and to destroy. The would become a tidal wave of death and chaos that would seek to sweep across Lorgaine and pillage everything in their path. The Moderator gifted to the savages strength and resilience abound as well as a blood rage that would give them a fire of spirit to spur the horde to victory after victory.
Finally was the simple stone. An object of resolve and unrelenting strength. With stone was the potential to build as well as to destroy. The Moderator breathed life into his final creation, his favored. The race of
Humans
. Humanity would be the catalyst, the one race totally independent of an alignment or solitary cause. They would grow and build, becoming the most numerous race on Lorgaine. Their potential for good as well as evil was astounding and it was because the choice was left to the individual that to The Moderator they were perfect. Beings that not even a Gods influence held sway over, their lives were their own and so balance could be swayed this way and that on a whim of the people.
With the creation of humanity The Moderator retreated into the cosmos never to be heard from again. The governing of the world was left to the remaining Gods and Goddesses. Times have changed since the beginning in this world of magic and steel. Technology has become a driving force while magic still held sway in the world. Many have begun to fuse the two to create such wonders it is hardly possible to imagine. Countless more races have been created by the other gods which have spread across all corners of Lorgaine. The forces of Good and Evil continue their eternal struggle for power as the ages pass by. The world has become one of swords as well as guns, magic as well as technology, myth as well as innovation.
Our story begins now as the Gods and Goddesses that have shed their influence across all of Lorgaine meet in the Hall of Immortals as they have done every thousand years. In an attempt to see that the race of immortals remains somewhat united in their duty to guide the world and it's inhabitants the gods have made this meeting mandatory to all of their kin. Evil and good gods alike meet to discuss current events, future and past endeavors, as well as to meet and greet any new immortals recently born.
This is where you will begin, as a God or Goddess. You will attend this meeting of immortals as a returning deity or a newly born being. Your power is all and only rivaled by your kin. None is more powerful than another, though all have their areas of expertise. Gods who hold sway over areas of combat for example would be considerably more dangerous in a fight than one of love or beauty. The only ultimate power in the verse is The Moderator (me) who at anytime can rip a God out of existence and cast them into oblivion should they seek to upset the balance to such a degree that Lorgain would crumble. Now that doesn't mean The Moderator will step in if evil gains control of the whole planet for in time good will fight back and retake it as is the cycle of things. No, The Moderator only would appear if and when The Gods upset the flow of events through time.
List of Elder Immortals
Arabella Goddess of Love, Beauty, and Innocence
Alahya Goddess of Music & Art
Corallium Goddess of Fate and Temptation
Revan Thanatos God of Punishment, Vengeance, Justice, Fear
Librus God of Knowledge, Scholarly Pursuits, and Enchantment
Athena Goddess of War and Order
Eris Goddess of Insanity/Madness&Chaos
Tché God of Rebellion and Revolution
Katergaris, The Trickster God
The Triumvirate
List of New Immortals
Sargon, Lord of the Hunt
Template:
Name:
Title/s:
Creed:
Gender:
Alignment:
Elder/New God:
Portfolios Governed:
Physical Description: Picture and written description please. Also add any and all alternate forms your god favors on a regular basis.
Realm/Home: Gods do not have to dwell on Lorgaine if they don't wish. For example beings like The god of Fear could live in a "fear realm" an astral plane of complete terror and maddening fear etc. Or if you want your god can live on Lorgaine in a home of their choosing. Completely up to you. Either way please describe, add pics if you so choose.
Symbol: if applicable
Personality:
View of Mortals:
List any Mortal Creations/Organizations: Example, Good god has group or light clerics devoted to them, evil god has evil night elves or something. If none feel free to ignore this section.
-One God character permitted per writer, mortal character limitless.

-Be courteous and respectful to fellow writers.

-This is an advanced level rp, illiteracy will not be tolerated or accepted.

-Romance is fine but keep it classy.

-I will be playing the role of The Moderator in order to effect IC issues that may arise OOC. Expulsion of characters for example will be handled by The Moderator. His power is ultimate and beyond being questioned.

-One God cannot undo to the work of another. You can destroy a Gods city or creation but not simply will it to cease to exist. As Moderator I will be supervising these events closely.

-The big two ie God/Goddess of Good/Evil will not be first come first serve roles. They will go the most well suited. Reservations for these characters will not be accepted. Simply send in your CS and I will make my decision. All other God portfolios are first come first serve.

-Due to the nature of this rp I will only accept characters who take serious approaches to their gods, portfolios, and motivations. God of pancakes for example will be laughed at and ignored.

-Have fun!
Taking place in...
Arcs are bundles of posts that you can organize on your own. They're useful for telling a story that might span long periods of time or space.
There are no arcs in this roleplay.
There are no quests in this roleplay.
Here's the current leaderboard.
A brotherhood of Paladins, Clerics and Warriors who seek out and destroy the Undead.
Welcome home, Promethean. Here, you can manage your universe.
Arcs are bundles of posts from any location, allowing you to easily capture sub-plots which might be spread out across multiple locations.
You can create Quests with various rewards, encouraging your players to engage with specific plot lines.
Settings are the backdrop for the characters in your universe, giving meaning and context to their existence. By creating a number of well-written locations, you can organize your universe into areas and regions.
Navigation
While not required, locations can be organized onto a map. More information soon!
By creating Collectibles, you can reward your players with unique items that accentuate their character sheets.
Once an Item has been created, it can be spawned in the IC using /spawn Item Name (case-sensitive, as usual) — this can be followed with /take Item Name to retrieve the item into the current character's inventory.
Give your Universe life by adding a Mob, which are auto-replenishing NPCs your players can interact with. Useful for some quick hack-and-slash fun!
Mobs can be automated spawns, like rats and bats, or full-on NPCs complete with conversation menus. Use them to enhance your player experience!
Current Mobs
No mobs have been created yet.
Locations where Mobs and Items might appear.
You can schedule events for your players to create notifications and schedule times for everyone to plan around.
Add and remove other people from your Universe.
Orphanage
By marking a character as abandoned, you can offer them to your players as pre-made character sheets.
46 sightings
Eris
played by Polarisbear12
Goddess of Insanity/Madness&Chaos
The Forge
Use your INK to craft new artifacts in Gods in a New Age. Once created, Items cannot be changed, but they can be bought and sold in the marketplace.
Notable Items
No items have been created yet!
The Market
Buy, sell, and even craft your own items in this universe.
Market Data

Market conditions are unknown. Use caution when trading.

Quick Buy (Items Most Recently Listed for Sale)
None
Discussions
Topics

Replies
Views

Last post
Most recent OOC posts in Gods in a New Age
There have been no posts in the OOC topic for this roleplay!