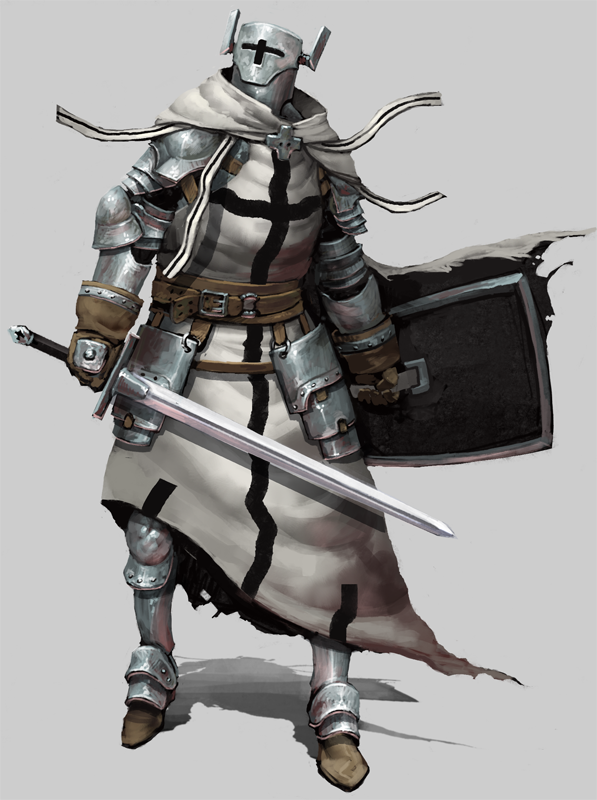 Name:
Johannes de Witte
Age:
31
Race:
Human
Gender:
Male
Relationship Preference(optional):
Too chaste to consider one.
Description:
Johannes is a tall man, standing at nearly 6 feet and 6 inches, broad-shouldered and clad in some of the greatest and finest armour that the smiths of the Triumvirate Faith can make. In a few words Johannes would best be described as an imposing figure. His armour makes an already large physique seem even larger and the symbolism of his faith that adorns it is often enough to strike fear in the hearts of the unbelievers. Over his armour he wears a simple frock displaying the black cross of his order and beneath he wears a simple combination of chainmail and boiled leather in order to protect himself from whatever weaponry might pass through his armour. Beneath his helmet he is known to be a fairly average looking man, with bushy eyebrows, a broad jaw and a somewhat large nose, said to betray his lowborn origins. He seems to holds some aversion to shaving his facial hair, as he keeps his beard bushy and wild, yet the hair on top of his head is always kept cleanly cut and is shorter than the hair on his face.
Abilities:
Expert Swordfighter
I As a member of the Black Cross order of the Triumvirate Faith, Johannes is required by scripture to be a capable fighter. Johannes adheres to these scriptures by being one of the finest swordsmen of the Faith.
Masterfully Crafted Equipment
I Johannes' armour and weaponry is crafted by the greatest armour smiths known to the Triumvirate Faith, who are known to employ ancient, mystical and religious rituals to strengthen the equipment of the Faith's finest.
Iron Wall
I Not only equipped with some of the finest armour the Triumvirate Faith's smiths can produce, Johannes is also an expert is using it, knowing exactly which parts are thickest and can take certain blows.
Strong
I As one might expect of a man of his size Johannes is strong, very strong in fact. Although short of being superhuman in strength, his strength is still a force to be reckoned with.
Favour of the Triumvirate
I As a member of the Black Cross order, Johannes has access to the power only gifted to the most faithful. He uses this power to make us of a limited form "divine" magic, usually in the form of divine shields and healing. Despite this, he is not a particularly talented magic-user, especially when compared to the Fae or the Elves.
Weaknesses:
Slow
I Even without his heavy armour, Johannes can only be described as slow and lacking in agility. As such, he prefers to remain standing and wait for an opportunity to strike as opposed to move around a lot during combat.
Stamina
I Although not necessarily possessing a poor physical condition, his heavy equipment makes every move a struggle and as such Johannes tires quickly when forced to move around a lot.
Xenophobic
I Johannes is highly xenophobic. Although normal for members of the Triumvirate Faith, it can be debilitating should Johannes be forced to work with non-humans. Or humans of a different religion. Or humans of a different sect of the Triumvirate faith.
Zealous
I Johannes believes with all his heart in the superiority of the Triumvirate Faith and denounces all who would follow a different religion or indeed, call themselves gods. His faith is such that Johannes is quick to underestimate those who do not follow the same faith as him.
Uncreative
I Johannes has been drilled and trained according to the holy scriptures pertaining to war of the Triumvirate Faith. Although they can be applied to nearly anything known by the Triumvirate Faith, there are no sections detailing how to deal with the unknown, leaving Johannes with little to fall back on and likely to resort to tried and true tactics, which can be predictable.
Personality:
Honourable, loyal, righteous, insanely zealous. Johannes is all of these things and more. As he is part of the Black Cross Order, a prestigious group of knights, he is expected to adhere to the highest standards of conduct and living. And he does so with zealous fervour. His loyalty to the faith is uncompromising and he despises everything that would even suggest it might be wrong. He is chaste as it is demanded by the scriptures and adheres to the code of honour, both in combat and in everyday life. He lives his life to defend the weak and those who cannot defend themselves, provided they follow the Faith.
History/Bio:
Once a simple commoner with a big dream, Johannes lived the majority of his life on a small farm. He had a different name back then, Johannes Bergen. He was a boy that dreamed of the big city, that dreamed of defending the innocent. Following his dreams, he travelled to the city and enlisted with the Faith Militant. Although this is often where such stories end, as the constant warmongering of the faith had cost more than few young men in a similar position to Johannes their lives, Johannes' story continues. Part of a unprecedented four wars since he enlisted, Johannes managed through survive through all of them by a combination of luck and skill. He slowly climbed the ranks, first becoming part of the Faith Militant's White Sword order, before eventually being promoted to the Black Cross order, the highest military position of the Triumvirate Faith. He discarded his commoner last name and took on a new one, de Witte, meaning the White, a last name commonly adopted by those who believed in purity first and foremost.
Even more zealous and loyal to the Triumvirate Faith than ever before, Johannes was quick to volunteer when foul heretics claimed gods had arisen to punish all living things. Knowing these gods to be but mere imposters, foul demons send to subvert the Faith, he stalks the lands with sword in one hand and the favour of the Triumvirate in the other, religious fervour burning and eager to sink his sword in the flesh of false gods.