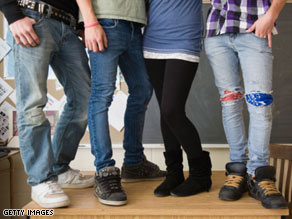 They call them the class from hell, the class from the bad tracks, the left overs and the spoilers. Whatever you want to call them, they've been called worse before.
Class 4F. You have been assigned to this class without hearing your side of the story. Teachers decided you can't cope up because you already have a baby. The school board thinks this is the best place to put you instead of letting you mingle with the good eggs. Students avoid you cause they are afraid you'd beat them up. Your family thinks it's better if you get your lazy ass a job instead of wasting your time in that place they call school. You think you might as well stay since it's your last year in this dump, next year's a new life anyway.
Sasha Lisa Justisio just got a call from the school she had an interview just last week. She got in! Everything seems to be going smoothly, including her newly acquired apartment and it's cheap rent. But what Lisa didn't know was that she's going to be assigned to the notorious "Class 4F". Will she able to survive her new life in a new country or will she end up going back to her country?
~~~~~~~~~~~~~~~~~~~~~~~~~~~~~~~~
This RP is greatly inspired by the movie "Dangerous Minds". Somewhere in the Bronx, NY. This RP is in need of students, not ordinary high school students but those that are problem teens.
Ie; a guy who joins a frat, a girl who sleeps with anyone, a girl who fails every subject and has been in high school for 6 years already, a guy who would bully a lot of students, a guy whose father is in jail and mother's under depression, a girl who got pregnant and tries to shuffle her job with her baby and school, etc.
Basically pretty much like the students in the movie I've mentioned.
The teacher will be played by me; she's an Asian immigrant who tried her luck in teaching in this country. Since it's her first time to teach she'll have a hard time winning the student's hearts and I was hoping you can share your interesting ideas on how we can improve this roleplay.

~~~~~~~~~~~~~~~~~~~~~~~~~~~~~~~~
Character Skeleton:
[img]REALISTIC%20PICTURES%20ONLY[/img] (place it on the left side of the page)
Name:
Age: (17-22)
Personality: Make it interesting
History: This need to be filled up as detailed as you can because this will show why the character has such personality.
Extras: If any
Role in the class: (ex. young mom, abusive parents, slow learner, drug user, etc.)
~~~~~~~~~~~~~~~~~~~~~~~~~~~~~~
We are need of dedicated players. We dont need you if you are only here to make a character then desert it without telling anyone.
PM me if you have any further questions.
Thank you for time in reading this post.
Again, we are open for suggestions and comments.
Taking place in...
Arcs are bundles of posts that you can organize on your own. They're useful for telling a story that might span long periods of time or space.
There are no arcs in this roleplay.
There are no quests in this roleplay.
Here's the current leaderboard.
There are no groups in this roleplay!
Welcome home, Promethean. Here, you can manage your universe.
Arcs are bundles of posts from any location, allowing you to easily capture sub-plots which might be spread out across multiple locations.
You can create Quests with various rewards, encouraging your players to engage with specific plot lines.
Settings are the backdrop for the characters in your universe, giving meaning and context to their existence. By creating a number of well-written locations, you can organize your universe into areas and regions.
Navigation
While not required, locations can be organized onto a map. More information soon!
There are no groups in this roleplay!
By creating Collectibles, you can reward your players with unique items that accentuate their character sheets.
Once an Item has been created, it can be spawned in the IC using /spawn Item Name (case-sensitive, as usual) — this can be followed with /take Item Name to retrieve the item into the current character's inventory.
Give your Universe life by adding a Mob, which are auto-replenishing NPCs your players can interact with. Useful for some quick hack-and-slash fun!
Mobs can be automated spawns, like rats and bats, or full-on NPCs complete with conversation menus. Use them to enhance your player experience!
Current Mobs
No mobs have been created yet.
Locations where Mobs and Items might appear.
You can schedule events for your players to create notifications and schedule times for everyone to plan around.
Add and remove other people from your Universe.
The Forge
Use your INK to craft new artifacts in Going Down in History. Once created, Items cannot be changed, but they can be bought and sold in the marketplace.
Notable Items
No items have been created yet!
The Market
Buy, sell, and even craft your own items in this universe.
Market Data

Market conditions are unknown. Use caution when trading.

Quick Buy (Items Most Recently Listed for Sale)
None
Discussions
Most recent OOC posts in Going Down in History