---
---
"I Use To Be A Bitch - But I Changed. Ha! Psych!."
---
---
Full Name:
Ashleigh Misha Hudson.

Nickname:
Ashleigh doesn't really like it when people give her nicknames because she thinks that people give you nicknames when they forget your name. If you do give her a nickname, she'll probably accept it, as long as it is not deragatory or cutesy.

Gender:
Female.

Age:
24.

Sexuality:
Heterosexual.

Occupation:
Bartender.
---
---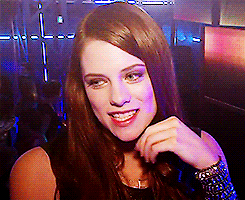 On the Outside
Hair Color:
Brunette.
Eye Color:
Emerald Green.
Height:
5'6.
Weight:
115 lbs.
Special Marks or Tattoos:
Ashleigh was never really fond of getting tattoos so she doesn't have any at all. She does though have her two ear lobes pierced.
---
---
On the Inside

Personality:
| Very Manipulative || Compulsive || Harsh || Sarcastic || Adventurous || Brave || Intelligent |

Hobbies:
| Writing in her journal || Reading || Being a bitch || Shopping || Listening to music |

Habits:
| Twirling the end strands of her hair with her index finger || Touching almost everything she sees || Saying whatever is on her mind |

Quirks:
| Usually drinks at least one cup of coffee before getting her day started || Using hand motions during an argument || If she is cold, she'll cuddle to the closest person towards her |

Likes:
| Writing || Manipulating People || Smiling || Sarcastic Remarks || Reading Romance novels || Coffee || Almost anything sweet || Men |

Dislikes:
| Ponytails || Being Cold || Uppity People || Loud Noises || Rap Music |

---
---
Back in School: Just a quick synopsis of what high school was like for your character, what they did, and who they were friends with.
History:
Why I've Come Back: Why is your character back? Family reasons, personal reasons? Disregard if you're reserving Josh Dallas, instead mention why you never left.
---
---
Other: