Annabelle Reed "Why, you can just call me Mrs. Reed, Ana or Nana if you wish dear."
Age: 63
---
LOOKS
---
Height and Weight
:
"Young man, you try to ask that out on a younger lady and she'd twist your head to your back."
Mrs. Reed's weight is of 140 Lbs, ever so slightly fat, but you'd be surprised how many people don't notice.
Her height is simply 5'2. That's only if you count the extra half inch her hair adds.
"Pish! Ladies are short and lovely while men are tall and handsome."
Body Type and Health
: Annabelle is healthy for a 63 year old woman. Of course, that really doesn't mean much. She doesn't run in her old age nor jump. Don't expect her to or else you'll be greatly disappointed.
Maybe
she could jog. Arthritis hasn't kicked in; so her fingers are still straight and pain-free but she has terrible stamina, bad enough to get winded by climbing a flight of stairs. She also has somewhat of a hearing problem in her right ear but she got a hearing aid for that.
Hair and eyes
: If there's one thing, only one thing you could ever know about Mrs. Reed,
never
mess up her hair. It takes time and effort to get her hair to curl at the ends and if you ever try to change it; nothing will stop her from giving you a verbal trashing while she waves around a pistol. Her eyes are a hazelnut colour.
Apparent Temperament
: Mrs. Reed is just about one of the friendliest faces you've ever seen. It's just about hard to see her not smiling in her spare time and she's one of the kindest people you'll ever talk to. She brings to mind the stigma of a typical grandmother who loves her grandkids, makes them delicious food, and tells them long-winded stories.
Facial features
: As you can obviously see, her face is littered with the wrinkles of old age, and is slightly sunken down.
Distinguishing marks
:
"Now, why would I have such a thing deary?"
Right between her shoulder blades, there is a simple tattoo, a Spanish phrase written in cursive, which reads "plata o plumo".
Casual wardrobe
: This granny dresses for comfort and efficiency. Normally a pair of dress pants, one that's got a waist larger then a perfect fit coupled with a belt, would give the perfect mix between comfort and functionality. A pair of white comfortable running shoes. As for shirts, she tosses on just about any old thing, but adores wearing those colourful Hawaiian shirts fat people and tourists wear. Lastly, Ana wears an overly large sunhat or any other large hat, to keep the sun from burning up her oh-so fair skin. The heat of Mexico doesn't allow a working lady to dress up in her spare time. Nothing except a pair of pearl earrings and a thin-strap watch.
ACTION TIME wardrobe
: The same thing except with a Kevlar jacket and her deceased husband's grey trench coat.
Etc
: She tends to wear an awesome pair of sunglasses, which can be seen in the picture, and a
silver
crucifix pendant around her neck.
---
PERSONALITY
---
Annabelle Reed is what you expect your typical southern grandmother to act like: Sweet, kind, and a tad racist. She's the type of person that can go on and on about her family, grandkids, and experiences for hours on end.
Anyway, as I said before she's sweet and flattering, often barraging men and women with compliments, and getting on their good side. Ana is the type of person to genuinely care about the health and well-being of others. She tends to strike up conversations with complete strangers for the sake of conversation.
While one may notice, she tends to speak about Jesus and the Lord, in the attempt to be a devout Christian. She was raised in a strict farm, taught to never hold the lord's name in vain, and taught to always be grateful to the lord. She was raised like a Texan and adores the lifestyle she's gotten used to. Fresh outdoor air, barbeques, testing a guns out on the range, and going to church.
Annabelle
is
slightly racist, it's not direct, but rather a subconscious, subtle type that's not meant to be insulting.
Despite her sweetness, she is quick to assume things, and slightly mischievous. In her old age, she does like to mess with people, sometimes friends. Telemarketers are the most fun to screw around with. Annabelle doesn't appreciate rude behavior and disciplines that sort of behavior. A sharp twist of the ear ought to do the trick as well as a few choice words, which may or may not be swear words, ought to do it.
Oh, unlike her Texan, conservative brothers, she's rather accepting of other beliefs.
tl;dr version: Nice old lady; not afraid to smack you upside the head.
Speech
: Imagine a sweet but heavy southern accent. Ana's voice is noticeably elderly and somewhat worn out through the years but it's by no means raspy.
"Why dear, this is just the voice Jesus gave me."
Pet Peeves
: Kids who don't eat their vegetables , because it's not healthy or ethical to leave perfectly fine food on plates.
Adults
who don't eat their vegetables because, well, they should damn know better than children. The undisciplined and spoiled
really
annoy her because 1) They're the self-entitled bastard children who think the world revolves around them, annoying little pricks they are, and 2) Money tends to give birth to the inner snob in people.
---
EQUIPMENT
---
Weapons
Considering Mrs. Reed was recruited for her talents regarding her expertise in weapons, in gun-smithing, shooting, and supplies, she has quite the armory available.
The M1911A1 is recognized as one greatest semi-automatic pistols of all time due to its ergonomics, reliability, reliability, and stopping power of the .45 ACP rounds.
This particular model has been modified by Anabelle herself. It features a custom three dot sight giving it superior target capability, a feeding ramp that's been polished to a mirror shine to eliminate feeding problems, the slide has been replaced with a reinforced version, meshing perfectly with the frame which has been iron-welded and scraped down multiple times for maximum precision, the front strap of the frame has been checkered to dig into the hand, preventing slippage. The regular hammer was then replaced with a ring hammer to enhance cocking control and hammer-down speed. The thumb safety and slide stop are extended to allow for more precise handling, the trigger itself has been exchanged for a long type for easy finger access while the trigger pull is 3.5 lbs, about a pound and a half lighter than the usual pull. The grip safety has also been permanently disengaged, making the gun one for pros, and not for amateurs if they try to wield it. The mainspring housing has been changed to a flat type to increase grip and it's fitted with stepping so it doesn't slip from the recoil when firing. On top of that, they added cocking serrations to the front part of the slide that lets you load and eject cartridges faster in an emergency, alongside with a threaded barrel to fit a suppressor. She has a suppressor. Comes with a holster.
"All you should know darling is that it's a fancy gun."
It's the Texan in Anabelle that makes her adore revolvers. The Colt Anaconda is a heavy duty gun that has a six shot cylinder which loads .44 Magnum rounds. These double action revolvers have good stopping power at short distance but have a high muzzle flash and recoil as well. She keeps two of these.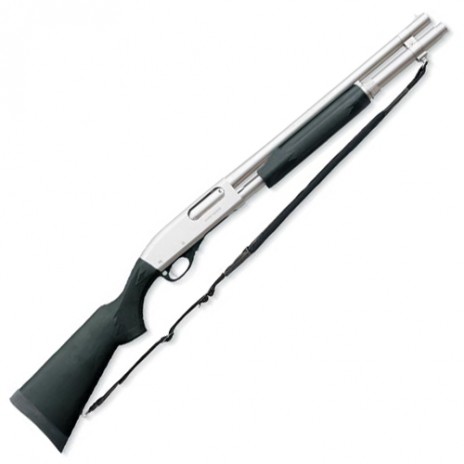 A Remington 870, loads 12, 16, 20, 28 gauge shotgun shells as well as .410 bore. Has an internal feed magazine of six shells.
"I tell you, those Russians are smart folk, considering they made one of the best guns I'd ever seen."
Ah, the AK-47. While most Americans are ignorant to its capabilities; dear Ana isn't one of them. Matter of fact she added a 40mm grenade launcher to her AK.
Then she keeps a couple of actual frag grenades. Just in case. Normally it's all packed in that big luggage bag that reaches up to your hip, has a handle that you pull with you and wheels.
"You don't know what to expect of them vampires, witches and ghosts."
Special Ammo
She normally keeps a couple of FMJ magazines for the AK, revolvers, and M1. Mrs. Reed also keeps hollow point bullets that she carved out for the M1.
Misc
Some old ladies knit sweaters, this one likes to keep her guns clean, and maintained.
Then she has a purse, she has about five grand American, and nothing else but lipstick. Oh, and a really fancy-looking pager.
---
LIFE
---
Favorite color
: Blue. It's such a soothing colour.
Hobbies
: Annabelle has got a few hobbies she likes to do in her spare time. One of her favorite ones is gun collecting. She does have a particular taste for old rifles, bolt-action rifles to be specific, as they remind her of her life back in the farm back in the 40s before her dad decided to sell it. She's got quite an extensive collection in the back of her gunshop, ranging from the 1900s to present times.
Her other hobby would be cleaning and maintaining guns because really; people are only as clean as their guns. It's sorta therapeutic now-a-days.
Then of course, her third hobby would be knitting, which she really used to like when she was younger but is easily bored by it nowadays. So of course, Grandma's skill is sub par, so you better feel an itch in those gloves she gave you for Christmas.
Likes
:
Guns
Getting to know folks
Cooking
Jesus
Being organized
Cinema
Dislikes
:
Gangs
Rude behavior
Lewdness
Misuse of guns
Being forced to do something
People who are spoiled
Fears
: There isn't much to fear really. The thought of dying and no-one having remembered her life. Getting shot in the face. Getting shot. Dying in general. The normal stuff.
Homeland
: Despite being born and raised in the heart of Texas; she comes and goes down the border to Mexico, sometimes staying a few days or weeks, even months.
Day job
: Legally, the only job she had was being the owner and gunsmith of "The silver bullet", a small gunshop in Texas.
However, she worked for The Cartel in Mexico, establishing contacts and suppliers for munitions in other
countries. She handled the exporting of illegal guns and munitions; establishing and maintaining contacts in different parts of the world. Of course, these contacts weren't legal gun companies (though some were) but other criminal organizations.
In her last years before she got out, she became a cocaine trafficker as well, and worked closely with Pablo Escobar in securing the anonymity and safety of the cocaine. They visited each other often, seeing how Annabelle worked in Mexico and how Pablo did his work in Brazil, and had become good friends. The tattoo on her back was Pablo's famous words, and appeared after a night with too many tequila shots.
General Agenda
: Ana wants to do something good for her life. She watched her mother just waste away her own, sitting in a rocking chair, a shriveled up corpse in the sun waiting for death to come on by and take her. Anabelle doesn't want to be stuck in a rut like her mother happily was but wants to see the world, experience, and live.
What keeps you a Monster?
: It gave the precious opportunity to leave her previous job. Not the owner of "The Silver Bullet" but the gun runner of The Cartel.
You see, Annabelle got the job entirely by accident. At first, she knew it was wrong, but that's just part of the thrill. Of course, she didn't know how terrible The Cartel was, until the years started to pass by. Annabelle knew this one gentleman, who was her bodyguard, named Jesus. Tall, strong, young man, 21 or so, had a scar across his face, didn't know he was named Jesus because everyone kept called him Hey-Zeus. They were expectantly good friends after a couple years, causing Annabelle to pick up Spanish, and him to understand English. She visited his family on more than one occasion and found out he had a wife, Elena, and a three year-old daughter, Vanessa. The girl even started to call her "Abuela". One day, when she was making a trade with some Brazilians, the money we had came up a little short. After a few hours, the thugs found a few grand in Jesus' jacket.
The next day, he was nowhere to be found. At first, Annabelle though he was going to just get a slap on the wrist, call it being hopeful. After a few weeks, she started to worry, and asked around. She was told he was on a long vacation but after visiting his wife; she found out he was missing all this time. After prying for some time, she found out he's been killed, and laid with the "others" in the Valle de la Muerte . It's when she found out if anyone tried to go against The Cartel, they were killed, liquefied in acid, and dumped in a valley. She was horrified.
After that, she's been taking care of his family, and thinking of getting out. She mentioned the idea once and her superiors agreed; she should retire and have one of her sons take over for her. Annabelle didn't speak of retiring again, even though she was pried many times to, there was no way she was willing to have any of her sons and daughters know about her secret life or become a part of it.
Annabelle was cornered. She didn't want the money or be part of this monstrous organization any longer but if she left; she'd have to send one of her sons and daughters to replace her. If she even dared to do such a thing, her grandkids would have to step in the place of their parents, then the next generation and the next, creating a vicious cycle of criminals. Caught between a rock and a hard place; all she could do was pray for an answer.
On a business trip to Columbia, she had gotten her answer. Since Annabelle was a friend of Pablo Escobar; she confined in him for her wishes to leave The Cartel because even though he worked
with
The Cartel in Mexico, he was independent of their influences, control, because he was a drug lord himself in Columbia. He offered her a job for being a supplier for the Medellin Cartel, his own criminal organization. She politely refused; explaining the fact that she wanted her and her family out of everything and just go back home in peace. Pablo tried to convince her otherwise but Annabelle's stubbornness won. Regrettably, he agreed to talk to The Cartel in Mexico, and call in a favor to find another gun runner.
The next day The Cartel told her they were going to kill Pablo Escobar. Apparently, he was of more use dead then he was alive, seeing as how they can take over from the source. They didn't leave the killing for Annabelle, oh no, they just stressed her importance in making sure Pablo didn't leave the estate. In a rebellious instant, she immediately told Pablo, and he went off with his bodyguard out of his estate into a more inconspicuous area. The next day he was killed, not be an assassin, but rather Columbian police.
The Medellin Cartel thought Annabelle set him up when in truth, she did no such thing. The Cartel in Mexico knew she moved Pablo when she was told to keep him place. Annabelle suddenly became a bulls-eye in South America; a 30,000 Peso bulls-eye. The Texan booked a room in a hotel under a false name, brought a few luggage bags filled with munitions, and locked herself in the penthouse suite. She sat in a chair, angled 45 degrees to the door with a shotgun in her hands, prayer on her lips, cross on her neck and phone positioned in a stand next to her, Kevlar vest pushing down on her shoulders, magazines clipped to a side, shells to another and old dreary caffeine-fueled eyes watching the door.
Then the phone rang. Ebenezer was on the line. That was the ending of her life as a criminal and the beginning of her life as a monster.
Notable experiences since then
:
"Well, I guess I do have a lot of 'notable' experiences under my belt. I remember the first time Pa bought back the farm he lost in the Depression. I was about eight or nine at the time when my dad suddenly got the money to buy back the family ranch, so me, my two sisters, and my five brothers, lived a farm life then. Little did I know he made that money smuggling in alcohol from Mexico during the ban.

Now of course, even though I was a lady, I still held guns and had to aim and shot 'em to scare away wild animals from ruining the crops. My brother told me I was such a good shot, he entered a contest in my name. Believe it or not, I actually won and I went in more and more contests, making a name for myself, Deadeye Ana it was. Why, I became famous, entering and winning concerts all across Texas. At the same time, Pa sold the farm because some big-shot lawyer liked the view it had and offered him a lot of cash.

So then, he took it, left the country, and left us, his family, hung to dry.

Everyone managed; in their own way. I managed with the prize money I won and could have kept on going until my rifle broke. So then, one day, I go into this quaint little gun shop, "The Silver Bullet", and I asked to get it fixed. That gentlemen there was one of them condescending folk; asking if it was my fiancé's rifle. I done tell him no, it was my own rifle, and he just laughed and laughed, saying woman were too "delicate" to shoot guns. He riled me up and then a found myself challenging him. Why, he had an ego as large as the south, said if I can best him, he'd fix up the rifle free of charge and pitched in ten bucks. Ten minutes later, the face he made, made my day. Why, I'm still not tired of the disbelief he had on him, looking like his jaw hit the floor. So next day, my daddy's rifle is fixed up, and he asked me to dinner. Of course, I said no, but then he said "It'd be ten dollars of Houston's finest food".

I guess it was the first time I genuinely liked a man; unlike those times as a child where the only time I actually touched another boy was when I was kicking their ass for hurting my younger siblings. Anyway, that fellow from "The Silver Bullet" was named Sam Reed. He was a mighty tall, strong man, built like cattle he was, going on twenty-five when I was just eighteen. High cheekbones, soft brown hair, and a body like one those cardboard cutouts with no face that tourists like to shove their head through in Hawaii. Sam was one of the cheesy romantic types I never knew existed. He always had a bouquet of flowers for me, played a beautiful, soft tune on his fiddle, and danced like an angel, oh, I felt like every time I danced with him I was just stepping on toes. I never knew anything about love, my parents never expressed love with each other, so I felt as lost as a headless chicken. The first time he kissed me; I felt like my head was swimming in joy.

When he proposed, I distinctly remember fainting, hitting the ground like a rock, then shouting yes with blood pouring down the side of my head. Everyone in the restaurant was looking at me like I had a few screws loose maybe I did, I can't really remember, but I was so much more rowdier in my youth.

Sam had NEVER let that one go.

With him, I co-owned "The Silver Bullet", and he taught me how to repairs, improvements, and even add a personal flavor to guns. Despite the fact that I loved him, there was always two things I've hated about him: his gambling and smoking. He thinks can win every hand in poker, goes out of his way to put our savings on the line, and thinks the smell of cigarettes are "fine as the sunset". Still, I loved the oaf and had four children with him. The first two were twins, not the identical kind, though, a boy and a girl. Ronnie's technically the oldest by three seconds, the athletic one he is, captain of the football team he was but as dumb as a sack of hammers, he is. Couldn't solve a puzzle to save his life but he plays running back for the Houston Texans, and play it very well I might add. Mary's the other twin, a shy, meek girl she was. Why, she kept wetting the bed until she was twenty and didn't speak a word around the house until she was ten. Me and Sam thought one of us dropped her when she was a baby, breaking something, until one day, out of nowhere she asked us if we could buy her a book. Mary now works as a librarian and an author of them science-fiction novels; although she changed her name to "Stephanie Leli" on the books for some reason. My next son, Zeke, was a pure troublemaker he was. Why, he had these parties with drugs in our basement and a meth lab if you can believe it, until the cops took him away for about fifteen years in jail. He's sent only one letter since he's been out, saying he's going to Florida, and joining some biker gang. My next daughter, Julia, was born deaf. Beautiful blonde haired blue-eyed girl she was, quicker with numbers then any calculator. She's an head accountant over at Bank of America now-a-days. I used to remember how she'd scare the neighbors since she learned how to read lips and spoke back to them when they thought they could say anything around her. My other son was named Kenny and he was a disciplined child he was. Kenny was smart, proper, and dedicated, even managing to get a scholarship to be a doctor. Of course, that there scholarship can't even cover half the cost of education, and that's when me and Sam needed to be good parents.

It was no wonder we started to lose money. We had to pay for Kenny's education, Sam's gambling debts, and a new home. Remember how I said Zeke had a meth lab in our house? The whole family including Zeke himself, were out celebrating Mary's birthday, and I guess Zeke must've forgotten something with his "lab". Sam parked the car in the driveway and all of a sudden, the house blew up in a fiery inferno, debris, and our lives scattered just about everywhere. If that didn't make it worse, a 2x4 came through the windshield, and sorta stuck in. Zeke folded like a poker hand, told us everything, and waited in the car while the sirens hailed in.

It was the late 60's at the time and the family had to live out at "The Silver Bullet". We needed money and needed it fast. Despite the catastrophe, we still went out and watched movies, laughed and pretend nothing had gone wrong.

A screening of "Bonnie and Clyde" gave me and Sam the idea to rob banks. At the time, Julia was just a child, so she knew nothing, like my other sons and daughters but that was because they were older and out of our lives. The twins wanted to give me money but I kept sending it back to them; I didn't want to burden them. So me and Sam pulled our first bank heist, cobbling up a couple of masks, and guns from the shop. Then we pulled another. And another. And another. We were quick and fast, in and out, in the flash of an eye before we got away. Nothing like getting in the vault; we just looted the main teller and just high-tailed it out of there. The press called us "Silver Cowboys" cause they thought the revolvers we used were silver (they're actually steel but that'll be our little secret). We went through the South of the the Good ol' USA like a wildfire. We must've hit at least thirty-five banks across five states but those were dangerous times. I could actually feel the air from bullets passing by me.

Then, on the word of my beloved husband, who got shot in the shoulder on the second to last heist, we stopped. 1975 it was. When I asked him what about the money; he told me we'll never have to worry about the money ever again. I assumed he won it big in one of his late night adventures to a casino. In 1982, our old house was now standing again and Julia was eighteen, off to good college for accounting.

I thought to myself, I had a good life…but what now? Then I received a phone call from my son Kenny. He was on his last year of medical school and I was proud of it; that I was. Kenny said he wanted to talk to his father, so I put him on the line, and they talked for a little while. When I went into the other room to prepare dinner for two, I heard a thump, and rushed back in to see Sam, passed out on the ground. My son Kenny, told him he was leaving medical school to go into acting.

Sam had a heart attack. He was rushed to the ER but didn't make it.

It was 1984 and I was alone. I had Ronnie's grandkids to keep me company some days but in the end of the day, when I went home, the Sam that slept next to me was gone and he'd never come back. For the first time in my life I truly felt lonely.

It didn't take long for me to discover how Sam made enough money to halt our little bank shenanigans. I got a phone call a few months after his death, with some folk who couldn't speak English too well, asking if Sam was around. I managed to explain to them that he was dead and I was his wife. They managed to explain to me, yet at the same time explain nothing, that they were Sam's employer and were in dire need of a replacement.

So, like every woman who was either heartbroken or lonely, I plunged myself into work, and closed "The Silver Bullet" to go to Mexico.

That's when I started to work with The Cartel.
Opinion of Others
:
Ebenezer
- "Why he's a miracle-worker! I practically owe him my life."
Vampires
- "Oh dear, don't be ridiculous. As long as there's sunlight, no Dracula would come after me, no siree. Especially when I have my 12 gauge. "
Witches
- "Why, those are the folk who know voodoo and magic, right?"
Werewolves
- "Wolfmen. Sure, I've had just about enough of your shenanigans for one day."
Criminal Record
: Technically, she's as clean as a whistle.
Really, there's about twenty counts of robbery, thirty-two counts of assault with a weapon, seven counts of murder, and they probably have a word for supplying a criminal organization with weapons.
Etc:
: She's fluent in Spanish, though it comes with the same terrible southern accent, and knows some Russian. Also, she's not very fond of pets and animals. I mean, she skinned animals in her younger days, stuffed them, and even have some hanging on her mantel of her old home in Texas.
Specialty
: Anabelle has guns. Lots and lots of guns. Most importantly, she knows how to use them. Even in her old age she could still hit a squirrel in the eye with a rifle. Her skills as a gunsmith also promises the ability to make special ammo, such as silver bullets, should they become necessary, and to run maintenance with weaponry to prevent them from jamming in a vital situation. Not to mention, she can also vastly improve her allies guns, customizing them to run at optimal levels.
The supernatural
: Really, this is all new to her. Ebenezer gave her the very basic rundown of things which was basically "vampires, witches, werewolves are real."
Social standing
: Regular people treat her normally; I mean, she does look like a grandma afterall. In the south, they treat her with respect, especially if they know about her reputation as "Deadeye Ana".
In Mexico...the feeling is as you can guess for hanging around The Cartel; fear.
STRENGTHS
Grandma Knows Best - She's got the image of a sweet old grandmother. Annabelle is naturally approachable and always gets on people's good side. With all the freaks unnerving creepy looking guys and gals for teammates; it helps to have someone who looks, acts, and is normal. She can also spot a liar as well; having four monstrosities kids will do that to you.
Deadeye Ana - Annabelle still got a damned good aim, even in her 60's, and trust me when I say after 40 years of holding up rifles, you get enough granny muscles to hold a gun and a right shoulder with a cemetery of dead nerves.
Gunsmith Granny - Her expertise in weapons would prove to be as invaluable as her abilities to customize guns and make special bullets.
Psychotic Driving – I'm not going to be an ageist here but her driving is damn near psychotic. Pedal to the metal driving that'll scare the shit outta regular people and think the driver of whatever vehicle just passed them is either crazy, old, or in a street race. Plus, she can drive a stick shift. Annabelle drives hard and fast.
WEAKNESSES FROM THE RACE
Grandma gonna knock you OUT! - ...Not really. I mean, she's no Mohammed Ali. Sure, she can hold up a rifle to shoot, load and reload but she's still by far the weakest of the Monsters in terms of strength. Really, don't expect her to carry some boxes because that's a gentlemen's job! What sort of a man makes a lady do all the work?
Endurance like a middle school girl - Again, her endurance sucks. She is an old lady after all.
Pathetic human abilities - Her inability to do anything extraordinary like vampires or witches. Just sorta walk around. Maybe jog.
Psychotic Driving – I'm not going to be an ageist here but her driving is damn near psychotic. Annabelle's driving is not discreet by any standard. If anything, she draws too much attention, and is liable to crash, flip, burn or a combination of all three. Definitely not desirable for missions with a need for discretion.