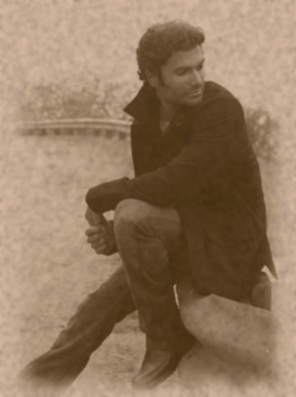 Race
: Vampire; Full-blood.
Full name
: My full name is Balthazar Eskandar Shirazi. I'm told this is a mouthful, so some people have taken to calling me "Raz." I must confess I'm not terribly fond of it, but I'm not going to bother to correct them. It's better than having my actual name butchered, I suppose.
Age
: 48- Practically a baby compared to a large portion of my species, and there are those among them who will not let me forget it.
LOOKS
Height and Weight
: Six feet and two centimeters, if I remember correctly. And I do, I assure you. Last time I checked, I was one-hundred and sixty-five pounds.
Complexion
: If the name wasn't enough to give it away, I suppose my complexion would be sufficient to inform a person that my ancestry is Persian- Iranian, as it's called in modern parlance, and of course frequently lumped together with all other types of Middle Eastern, North African, and Indian. Swarthy, if you like, though I've also heard dusky, and if you wish to be blunt about it, brown.
Body Type/Health
: Really, are all of these questions truly necessary? Hm… fine, if you insist. I am not some overly-muscle-bound protein addict, if that's what you're asking. I'm somewhat… lanky, I suppose, though really when one is of my species, the actual mass of one's tissue is largely inconsequential, yes? Of course. My health is fine, thank you for asking.
Facial features
: Is there something wrong with my face? It is… a face. Eyes, nose, mouth, ears, all of the necessary features. –Theatrical sigh- Well, if I must. The overall shape is somewhat squarish, at least in terms of forehead and jaw. My nose is straight, not too big, and everything lines up symmetrically. Oh, and my mother may or may not have at some point told me that I have eyelashes women would be jealous of. Women can have them- they do me absolutely no good at all.
Distinguishing marks
: How many people do
you
know with bright white fangs? I also have tattoos, but for the most part, these are under my clothing and I'm not telling you where. … I didn't mean anything like
that!
That was the working of your horrid little human mind, not mine!
Apparent Temperament
: Well, I don't make a habit of flailing my facial muscles about like some kind of fish, if that's what you mean. If I should feel particularly out of sorts, I'm more likely to say it than show it- human body language and expression is something I have difficulty with from time to time. All those nonverbal cues make very little sense to me. I walk upright and with dignity, like I was taught, thank you very much.
Hair and eyes
: Black and… black. I'm not going to say ebony and onyx because that sounds horribly droll. My hair is kept a bit longer than the average male, and it curls.
Casual wardrobe
: I am… partial to shirts, cardigans or sweater-vests, and jeans or dress pants. I find this to be an acceptable compromise between comfort and decorum. Under no circumstances will I be caught wearing anything without sleeves or full pant legs, nor sandals. My upbringing leads me to see this as a rather scandalous way to dress, old-fashioned as I have come to realize it is. I still prefer it to the alternative.
ACTION TIME wardrobe
: Usually, shirtsleeves and a vest, preferably with a Kevlar vest over that. A bullet may be somewhat less likely to kill me than the average person, but it's not impossible and I prefer not to take any chances if at all possible. Discretion, as they say, is the better part of valor. Still with the slacks and ordinary shoes though- I'm not some kind of soldier, after all, and frankly it makes more sense to wear what I'm comfortable wearing than get distracted by something else. I refuse to dress or behave like a complete barbarian, thank you.
PERSONALITY
---
I doubt I am the first thing you think of if someone gives you the word "vampire." Frankly, given the state of literature on the subject nowadays, I think we can all agree that this is actually a judgment in my favor rather than against me. First of all, I harbor absolutely no tendencies toward unbridled lust or unsafe emotional attachment- frankly the very thought is unnerving at best. I am a thoroughly rational creature and prefer it this way. Yes, nobody is rational
all
the time, and I will admit for the sake of this exercise that there are times when my other inclinations get to me, but most of the time I am well in control of myself.
What are those other inclinations? Well, if you must know, I am… well, I'm what a psychologist might call obsessive-compulsive, and somewhat germaphobic. I do not like any kind of disorder or filth. The extent of this neurosis is broad but not particularly deep- I do not like messy rooms, messy people, or messy relationships, but I can be pushed to tolerate all of these things if absolutely necessary. I despise the waste and filth of humans, which has made it more difficult than it already was to attempt any kind of understanding of them. Were I not immune to poisons and bloodborne pathogens, I might have starved to death a long time ago.
I have been called a narcissist, but that was by someone who thought I was human. Does this make a difference? Oh, absolutely. Is the panther a narcissist if he thinks himself better than the fish he eats? No, because better and worse do not factor into the relationship. One is predator, one is prey. This is a simple thing, one of the most basic correlations in nature. I do not hate humans any more than any predator dislikes prey, either: indeed, while I am forced by my nature to kill individuals with some frequency and do not regret doing so to survive, on the whole I wish the species only the best, else I might eventually find myself without a food source.
Friends? No, I can't say I have any. What do you mean you aren't surprised? I'll have you know I'm a very polite, sociable individual- I just don't really know what I'm doing around anyone who isn't one of my kind or raised in the manner I was. Lovers? Preferably not; I don't like being touched, mostly because I don't like bacteria and dirt. There something about the knowledge of millions of tiny microorganisms crawling around on the surface of your- My preference? Well, that's a rather intrusive question, is it not? I suppose gender is largely irrelevant, now that I think about it.
I am a particularly academic individual more than anything else, and certainly I believe myself to be in possession of both conventional knowledge and intelligence as well as a certain kind of tactical cunning. My social intelligence is considerably more lacking, and lately, I have taken to making a more extensive study of the humans I kill before actually dining upon them, to see if I might rectify this issue.
Speech
: Despite being Middle Eastern by descent, I have what I am told is a "cultured British" accent, perhaps because the man from whom I learned English had one. I am capable of speaking several different languages in the manner of a native speaker. I do no swear often, but it has been known to slip out occasionally in less polite company.
Pet Peeves
: Disorder, filth of any kind, rude mannerisms (though it may take me a while to figure out sarcasm), being interrupted, being treated like a child by older vampires.
EQUIPMENT
---
I carry a pager, a cellular phone, and in those instances when combat is truly required, a pair of curved, footlong knives, a piece of inheritance from mother dearest. All told, I'd prefer
not
to be in a physical confrontation, but that is not to say I cannot handle myself in one.
LIFE
---
Favorite color
: I'm partial to reds, actually, though greys and silvers are also nice.
Hobbies
: I'm an avid reader and chess player, though I more often than not spend my nights honing my abilities rather than engaging in anything more hobbyistic. I once hacked the American Pentagon- does that count?
Likes
:
Books and poetry
Machines and Technology
The hours after dusk
Interesting conversation
Cats
Cleanliness/neatness
Dislikes
:
Bacteria and/or dirt
Disorder
Recklessness
Physical confrontation
Being threatened
Having to decipher social situations
Fears
: I am not
afraid
of anything. Why should I be? I am, however,
wary
of some things, such as getting caught outside in the daytime without proper vestments. I also tend to avoid crowd situations and confrontation- this is because people are more likely to begin bleeding in such instances, and I do not relish the thought of having to fight my natural inclination to feed at an inopportune moment. I like to remain in control of things whenever possible, and such an state- should it catch me off my guard- is anything but.
Agenda
: Simply put, I wish to know how this Ebenezer individual knew as much about me as he did. My family is not exactly unknown, but too much of what he knew was personal. I take all threats to my person very seriously, and I of all people should know that someone with that much information constitutes a significant threat. My objective is to discover the nature of this threat, and then either leave it be or eliminate it as necessary. For now, though, nobody need know I am in this for anything but the simple intellectual curiosity.
What guarantees the fact that you'll stick around?
: Ebenezer seems to have been acquainted with my late mother. There is a chance he knows what happened to her, and a chance he'll tell me. While I am not normally one to waste my time on could-bes and mays, in this one case, I am willing… no, I
must
entertain an exception.
Day Job
: I have never needed one, but I do on occasion do consulting work with MI5 and the International Police. It has given me an opportunity to interact somewhat with humans, and also a less-obtrusive opportunity to continue thwarting their technology with my intellect, which entertains me.
Where they hail from
: My family is, as I said, originally from Iran. I was raised in the United Kingdom, however, and now reside there, in London specifically. My family owns a large estate there, of which I am now the sole occupant aside from the staff and occasional visits from my father.
How they became what they are
: I was born what I am. Well, not the adult part, or the intellectual part, or what-have-you. But really, I suspect the only part you really care about is the vampire part, anyway, and I was born that. Both of my parents are from old families, and ones who have for the most part integrated with the human world in ways I am not yet capable of myself. I was raised with the best of everything, in ways keeping with tradition and customary manners, skills, and courtesies. I would only later realize how out-of-place this makes me in the modern world, but all subsequent efforts to alter my behavior patterns have been partially successful at best. I am a relic, I suppose, without the age to back it up. A shame, I think. Perhaps when I am old and withered, it will suit me more.
It was only when I tried modernizing myself at around, I think, the age of twenty or so, that I had my first brush with human technology, or rather the more advanced aspects of it. It was a rather shocking situation, as though I'd been pulled from a peaceful darkness into sudden daylight. It almost stung to know that for all the knowledge I thought I possessed, I was so completely moronic on this singular level. I made it the object of much fastidious study thereafter, learning binary and coding sequences like I had learned French and Latin and Chinese in my childhood.
I might have continued living in such a fashion had my mother not disappeared. It had always been the three of us, and frankly my parents were for quite some time my only companions, but one day she just… right up and vanished. I have no idea what happened, though I have a fair degree of certainty that she is dead. My father was never the same after that. Seeing him suffer as he did made me realize that I really didn't want to go through that at any point, and I have been consciously avoiding anything remotely resembling emotional attachment ever since. That sounds terribly maudlin, doesn't it? Ah well. Make no mistake- I do not lie awake during the day and fret over what might have happened or where she might have gone. Rather, if I do manage to find a lead, I pursue it to its logical end and then leave it if it should turn out to be fruitless. One day, I will discover what happened. When I do, the person or people responsible will suffer and die. That is all there is.
Notable experiences since then
: Though better at using my inborn powers than my recently-changed brethren, I am still not an old one, and so I must practice with regularity to continue improving. This need has given me an unexpected benefit; I have been able to observe humans more closely and in doing so, am beginning to form a better understanding of them, though it is far from complete.
Opinion of the others
:
Ebenezer:
I do not know how that man knows what he knows, nor do I yet comprehend the full extent of his knowledge. I will, however, and when I do, I will be able to say with more certainty whether or not I trust him (unlikely), will tolerate him, or will simply be forced to wait until I am strong enough to kill him.
Humans:
I have nothing against them, though I feel I adequately discussed this earlier. Nobody has control over the circumstances of their birth, and as long as they do not begrudge me the need to feed, I do not begrudge them their weakness, natural adversity towards people like me, or their particular oddities. Unless they touch me. I despise that no matter who is responsible.
Witches:
Essentially the same, save these are stronger, yes? I understand magic only on an academic level, really. My encounters with witches have been few, but memorable.
Werewolves:
I cannot fathom the near-compulsive need for disorganization I observed in the one werewolf I ever met. Other than that though, she was a perfectly interesting individual.
Criminal Record
: In a more impulsive experiment into exactly how well I'd learned computer programming, I did hack the Pentagon, as I mentioned. I am told my current job assisting Interpol has expunged this from my record, and it is under these credentials that I am traveling to the United States. Perhaps unsurprisingly, I have never been caught feeding, and thus though I have broken the human laws against manslaughter more times than I can rightfully be expected to remember, there is no record reflecting this.
Etc:
: I may or may not… foster kittens. I like cats, all right? There's nothing wrong with that, and I assure you it makes me no less of an aloof, hyper-intelligent undead being who regularly kills people in order to survive. Ehem.
Specialty
: Well, aside from my obvious and oft-stated affinity for technology, my powers make me rather useful for getting places others cannot go, or perhaps reconnaissance, in addition to being useful in combat. I'm a tactician and a strategist- no, I cannot dent buildings with a single swing of my ham-sized fists (which I do not have to begin with) but I fight
smart
, as I believe the saying goes.
My actual powers focus on acrobatics and agility. I can climb, jump, balance and freerun with skills human parkour artists only wish they had. It requires a generally-high level of fitness, flexibility, and speed, but it's the agility in getting from one place to the next that's actually supernatural. I'm light on my feet and capable of gauging and completing jumps in excess of fifty feet. Consider me… something like a human-shaped cat. I always land on my feet, and have survived falls from very tall buildings. This last entails endurance beyond the norm, but not in the sense of being able to soak up bullets. High-speed impact of other kinds, though... well, I've learned to take such damage.
Preferred feed
: Blood, of course. While causing very little in the way of physical change, feeding to the right levels makes me stronger than starving myself would, obviously, though if I haven't eaten for a while, I tend to have that extra edge of irritability. It's a risky proposition, though, because distinguishing friend from foe would be nearly impossible if I were to be exposed to any blood at all in such a condition. Also, just like anyone else, if I drink too much, I tend to get lethargic. Gluttony does nobody any good.
Believe it or not, despite my gentleman's upbringing, I prefer to hunt myself. I'm not precisely sure why this is, but I have found that meals prepared for me lose all flavor. I do not eat human flesh, finding it utterly uninteresting and messy in ways that a simple puncture-and-drain is not.
Sunlight tolerance
: I can deal with perhaps thirty minutes of full noontime sun, or a good hour at dawn or dusk. Should I extend to these limits, I am unable to do much moving around for a good six to eight hours afterwards.
Social standing
: Amongst vampires, my family is akin to human royalty. Respected, often feared, and sometimes even admired. To humans, we appear to simply be wealthy humans. The official story is that my father was an oil tycoon. We're obviously "from" the right part of the world, and have all the necessary false paperwork, so nobody has sufficiently questioned it yet, and they are unlikely to.
Social stealth
: On a family level, quite well. As an individual, I… struggle somewhat with this. It is difficult to relate to a species that I spent much of my life dining on rather than speaking with, and many of the subtle nuances are lost on me. I'm getting more adept at blending as time goes by, and luckily my "job" doesn't seem to be one where much in the way of social aptitude is expected anyway.
BENEFITS FROM THE RACE
Power- Simply put, I am harder to kill than a human. My abilities lend me a range of tactical advantages, and I fully intend to take advantage of them where necessary. This includes enhanced senses, though obviously my youth hinders me somewhat where these things are concerned. Still, there is yet much time for improvement.
Intelligence- Knowledge, I am told, is power also. I am strategy-minded and quick on the uptake, in addition to having a wide array of factual information at my beck and call. Rarely do I meet someone else who can profess the same extent, though even I realize that there are bound to be such people in existence.
WEAKNESSES FROM THE RACE (or otherwise)
Sunlight- I simply cannot endure it for very long, full stop. Heavy cloaks help, and as long as all my flesh is covered or shaded, I'm fine, but if I dress this way, I lose my ability to appear in any way unobtrusive, so it lacks practicality to do so.
Bloodlust- When it's been too long since I've eaten or even simply when I'm exposed to human hemoglobin and blood plasma cells, I lose a good portion of my rationality and ability to think clearly. Depending on how hungry I am, it may also become difficult for me to tell the difference between enemies and allies.