Name
Title
---
Chloe Blackburn
Minion #1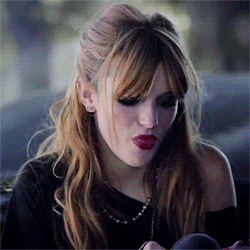 Age
Grade
---
17
Senior
Likes
Strengths
•Fashion
•Loyal
•Being Popular
•Intelligent
•Fear
•Gossip
•Money
•Honesty
---
Dislikes
Weaknesses
°Sweets
°Love
°Coffee
°The Queen B
°Bad Fashion
°Body Image
°Fakes
°Alcohol
---
Secrets
About Her
She has suffered with bulimia
since she was 12.

She was sent away when
she was 14 when her mother
finally realized it was a problem.

She is an alcoholic.
Of course her mother sent
her away when that was found out.

Her father was killed in a house
fire caused by her when she was 10.
Ci-Ci could be considered
one of the most self-centered
elites there
is if you don't count Ana.
She only cares
about keeping her social class
her mother
is trying to work on that but she
won't hear it.
Her social class and reputation is
everything to
her, without that she will ruin her
mothers business
thus becoming poor.