▅▅▅▅▅▅▅▅▅▅▅▅▅▅▅▅▅▅▅▅▅▅▅▅▅▅▅▅▅▅▅▅▅▅▅▅▅▅▅▅▅▅▅▅▅▅▅▅▅▅▅▅▅▅▅▅▅▅▅▅▅▅▅▅▅▅▅▅▅▅▅▅
XXXXXX
▂▂▂▂▂▂▂▂▂▂▂▂▂▂▂▂▂▂▂▂▂▂▂▂▂▂▂▂▂▂▂▂▂▂▂▂▂▂▂
✼
Viktoria Farley
✼
Vi, Vik, Organized Havoc
✼
Goddess of Chaos
✼
Fully Aware Ex-Ruler
✼
✼
Heterosexual
✼
Touko Aozaki
✼



✼

Likes

:
Order, nature, fire, colors, dogs, puzzles, and games of strategy.



✼

Dislikes

:
Sitcoms, games of luck, disorganization, and peanut butter.



✼

Quirks

:
Always keeps her phone in her right pocket, always keeps a watch in her left pocket,
and always has cigarettes and a lighter in the pocket of her coat. If they're
anywhere else, she will freak.
#4B9FD7
✼
#A73333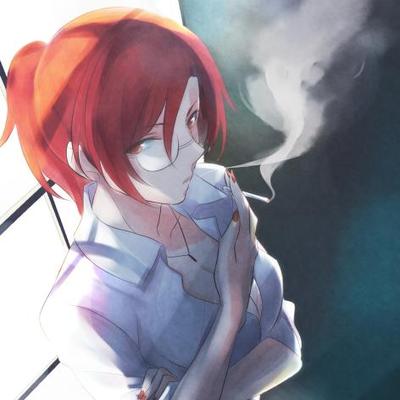 ▅▅▅▅▅▅▅▅▅▅▅▅▅▅▅▅▅▅▅▅▅▅▅▅▅▅▅▅▅▅▅▅▅▅▅▅▅▅▅▅▅▅▅▅▅▅▅▅▅▅▅▅▅▅▅▅▅▅▅▅▅▅▅▅▅▅▅▅▅▅▅▅
There is a method to Viktoria's madness; she is the ultimate order behind chaos.
Viktoria is a master of manipulation. She can twist things so that they go exactly her way, creating a chaotic environment where she still has control. She's a master at balancing several different elements at once, and she loves it. Her mind is always moving, and chaos is the only thing maddening enough to keep her entertained. The more chaos, the more fun she haves controlling it. However, if things get completely out of her hands, she starts to panic.
▂▂
What is chaos? It's what's awoken when the teacher leaves the classroom to get a piece of paper. It's what erupts when a terrorist threatens an entire nation. It's a lack of order, whether it be minor or full scale. Chaos is not created--it is awoken. Viktoria has the power to awaken said chaos and bend it to her will. However, she can't do it alone. Chaos always has some kind of source; a catalyst. To awaken chaos you must find a catalyst and trigger it.
Catalysts - Viktoria has the ability to trigger chaos through catalysts. Catalysts can be anything, from pens, to pianos, to people. Each catalyst has different amounts of potential; potential to cause chaos. The more potential, the more chaos caused and the more intense the chaos is. It's the difference between a gun and a gummy bear. To activate said catalysts, Vi must have at least come in physical contact with it. The more contact, the stronger the affect. The most effective form of contact is through blood. Vi knows this, and often if not always smears her blood on her catalysts. In fact, in rare instances she has been known to give herself gaping wounds in order to achieve maximum chaos.
Absorbing Chaos - In the presence of chaos, Viktoria can be very powerful. The more chaos around her, the more she can transfer inside of her. The more chaos she embodies, the stronger she becomes. Her strength, speed, reflexes, and endurance increase with chaos. However, the more chaos inside of her the more likely it is to devour her. To control chaos you have to be physically and mentally strong. If you're not strong enough, it will tear you apart from the inside out. Quite literally. The more chaos Vi absorbs, the more of a mental and physical toll it will take on her body. While she won't be able to feel anything at the time, for the next few days she'll be quite worn out and be prone to panic attacks. The intensity of her exhaustion and panic attacks will vary depending on the amount of chaos absorbed.
Scanning - In the midst of any type of chaos Viktoria has the ability to 'scan' for things or people. But in order to successfully find what she's looking for she has to distinctly know what she's looking for; she has to be able to 'see' it and 'hear' it. She has to be able to envision it, and only then will she be able to locate whatever or whoever she is looking for. This ability isn't very hard to execute; the only problem is getting the chaos to not only start but start in the right place.
Control - Mentally weak or worn people tend to succumb to chaos more easily. Vi can use this to her advantage and suck them into the chaos, therefore making their will hers.
*It should be noted that Viktoria, in her weakened state, doesn't have as much control over her powers as she'd like. The repercussions are also much more severe, so she uses her powers somewhat sparingly.
▅▅▅▅▅▅▅▅▅▅▅▅▅▅▅▅▅▅▅▅▅▅▅▅▅▅▅▅▅▅▅▅▅▅▅▅▅▅▅▅▅▅▅▅▅▅▅▅▅▅▅▅▅▅▅▅▅▅▅▅▅▅▅▅▅▅▅▅▅▅▅▅
Meticulous

✼

Friendly

✼

Logical

✼

Joking

✼

Persistent
Viktoria is a quirky individual. She's meticulous, analytical, and needs everything in her environment to be exactly how she wants it. In this sense, she's practically obsessed with order and organization, which is the last thing people expect from the Goddess of Chaos. So long as you don't mess her stuff up (and even then, she only gets cranky), she's friendly. Viktoria likes to crack jokes and has a mostly light-hearted attitude toward everything.
She also has a surprisingly amazing temper. Though she's annoyed rather easily, she never holds grudges and takes all teasing in a light-hearted manner. Even then, terrible betrayals aren't enough to enrage her. Instead, she becomes hurt, becoming more sad than angry.
Lastly, she is nothing short of a logistical genius. Vi always occupies her mind with puzzles, strategy games and the like, always trying to find a way to entertain herself. She has incredible focus and is very persistent. This can get annoying at times, but her persistence is one of her most admirable traits. In all situations, she never gives up.
It should also be mentioned that she has a darker side. When her chaos devolves into something even she can't control, she starts to go... well, insane. She becomes part of the chaos. It envelops her mind and turns her into a violent, aimlessly destructive loon. She hates this, because when that happens it feels like she doesn't even have control over herself. This 'darker side' will last until the chaos dies down or she gains her control back.
▅▅▅▅▅▅▅▅▅▅▅▅▅▅▅▅▅▅▅▅▅▅▅▅▅▅▅▅▅▅▅▅▅▅▅▅▅▅▅▅▅▅▅▅▅▅▅▅▅▅▅▅▅▅▅▅▅▅▅▅▅▅▅▅▅▅▅▅▅▅▅▅
"Nothing is more satisfying than controlling the beast called mayhem."
▅▅▅▅▅▅▅▅▅▅▅▅▅▅▅▅▅▅▅▅▅▅▅▅▅▅▅▅▅▅▅▅▅▅▅▅▅▅▅▅▅▅▅▅▅▅▅▅▅▅▅▅▅▅▅▅▅▅▅▅▅▅▅▅▅▅▅▅▅▅▅▅