---
---
███████████████████████████████████████████████████████████████████████
---
---
wish I could see what it's like to be the blood in my veins
always on my mind
- pet shop boys
clementine
- halsey
killer queen
- queen
---
---
███████████████████████████████████████████████████████████████████████
---
---
F U L L

X

N A M E
Roseanne Beatrice Thompson

N I C K N A M E (S)
Rosie, Rose

B I R T H D A Y
June 20

A G E
Actually 40, stopped aging at 25

R O L E
Siren

S E X U A L I T Y
Queer (still trying to figure it out)

E T H N I C I T Y
White American

H O M E T O W N
London, UK

H E X


#cc0460
---
---
███████████████████████████████████████████████████████████████████████
---
---

S T Y L E
While Rosie doesn't still dress like she walked out of the eighties, her wardrobe contains just as many bright colours and patterns. Her style can sometimes be a little quirky, but she's gotten better at adjusting her style to the era she's living in. She's even been known to be seen around town in just a t-shirt and jeans, but a brightly coloured accessory is never too far away. Sometimes that brightly coloured accessory is her hair. If her hair is dyed a bright colour, she tends to keep her wardrobe a little plainer, while when she's giving her hair a break and is her natural blonde, she tends to wear more colour. She likes to wear reds and pinks. She'll try anything at least once. She shops in thrift stores, vintage stores, charity shops, as well as more modern stores, and her style reflects that.

H E I G H T & W E I G H T
5'3", 100lb

A P P E A R A N C E
Rosie isn't exactly the typical siren. To start with, she's small, in height and build. Her hair is naturally blonde, but it's poker straight and lately, has been dyed fun colours. Her eyes are dark and usually lined with eyeliner, and hold a mischievous glint. Her heart-shaped face usually holds a grin, with a strong jaw and cheekbones. She has three piercings in her lobes and a helix piercing in her left ear. For the most part, she's scar free, save one or two acne scars. She has two tattoos - a design along her spine and two stars on her ribs.
---
---
███████████████████████████████████████████████████████████████████████
---
---

L I K E S
unsurprisingly, rosie loves eighties pop and eighties rock. she loves most nineties grunge and modern rock. she's addicted to iced tea and is usually found with something homemade in one hand. she loves live music of pretty much all kinds. she loves mythology of all kinds. she cycles pretty much everywhere. she loves bright colours in her outfits, while her taste in interior design is a little more restrained and quite minimalist.

D I S L I K E S
She hates coffee, hates the smell, the taste, the everything. She hates stereotypes about anyone. While she doesn't hate them, she's been known to shamelessly critique modern shows set in the eighties. Snobbery in academia annoys her to no end, especially in the classics. Teenage boys who think they're better than everyone else, especially her, are her worst type of people.

---
---
███████████████████████████████████████████████████████████████████████
---
---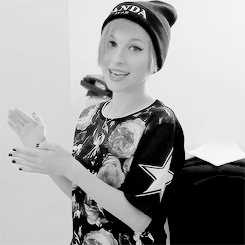 P E R S O N A L I T Y
Rosie's the English teacher from every coming of age movie. She spent her childhood being told what and who to be, and she's determined not to be that type of person. She encourages everyone around her to be themselves, and leads by example. Her hair, her bright colored clothes, her makeup and her shameless energy are all ways of expressing who she is. She encourages the kids to be themselves, encourages the quiet kid to speak up without forcing them, listens to the kid who has never been listened to before, and shuts down the obnoxious kid without destroying them. In some schools, she might be seen as unorthodox. But in Greythorne, an English teacher with dyed hair and eyeliner is far from the strangest thing that will happen in the school.

But even though she's had longer than appears to try and figure herself out, she's discovering it's not as easy as she thought. It took her five or ten years to completely outgrow the mould she'd been forced into, and another few then to find who she wanted to be. She knows she's not straight, but hasn't quite got the words to describe it and is still only learning most of them. Sirens in mythology were always presented in one way, and god knows that isn't Rosie.

Rosie's deeply intelligent, but growing up she was told she had no place in academia. She loves being a teacher, but she only went down that path because it was "appropriate." Part of the reason for her doctorate is because she was told she'd never be taken seriously, and she wants to prove them all wrong. One trait that has emerged as Rosie tries to figure out who she is is sheer stubbornness. Tell her not to do something and she'll probably do the opposite.

She's a good friend and the type of friend to either punch a guy for you or give him your number, depending on what you want. Despite her tiny size, she's intimidating and will stand up to anyone, even if they could probably pick her up with relative ease. She'll stand up for what's right, no matter what. She's been brought to the principal's office once or twice, but she's seldom been severely disciplined because most of the time, she was defending a student and often a minority. Her words can sometimes be a little too harsh, but her heart is in the right place, and the principal knows that.

Rosie knows the reputation that sirens have, and it doesn't sit right with her. She knows she's not that type of person, but the fact that people might make that assumption troubles her. So her PhD dissertation is partially aimed at improving their image, as well as searching for more positive portrayals of them. It's a lot of work, but she loves it. It means a lot to her, and she's working with some amazing people. She's extremely happy with how her life is. She loves her job, loves her research, loves the town, loves being able to express herself.



---
---
███████████████████████████████████████████████████████████████████████
---
---

H I S T O R Y
Rosie was adopted when she was only a few months old, so the only life she's only ever known has been with the Thompsons. Her adoptive family were wonderful and showed her all the love in the world. Her grandparents, however, were less so. They thought the young girl should be seen, not heard. She certainly shouldn't be out playing with the boys, certainly shouldn't be imagining herself as the great Perseus or Hercules. And they had ruling over the way her family raised Rosie. So Rosie was raised to curl her hair, wear dresses and heels, and be the ultimate lady.

She thought that when they got the opportunity to move to the states, she might finally escape the claws of her grandmother. But the old woman had just lost her husband, and so she moved with them. Rosie wasn't allowed date. She wasn't allowed do anything other than what her grandmother thought was appropriate. And all the while, Rosie was struggling with newfound abilities. Wings that seemed to appear and disappear at will, the ability to enchant and paralyze people with a song; the ability to hold her breath under water for long periods of time... they just seemed to emerge more and more. Somebody found her in the woods, exploring them, and gave a name to what she was. Siren. But her family seemed to have no magic. A few days after she found out, her family admitted to her that she was adopted. She appreciated them telling her without her asking, and she's still on good terms and in regular contact with her parents, even after they moved back to London. She visits for a week or so over the summer, and she Skypes them every couple of weeks.

She went to college, majored in English and Classics, and dropped contact with her grandmother. Her grandmother passed away while she was away in college, so she moved back to Greythorne to teach high school English. It took her years to grow out of the ladylike facade that had been thrust upon her. She dyed her hair for the first time and completely fell in love. She did a masters in classical literature, researching what she was. She didn't like what she found, and that troubled her. Rosie mostly only used her ability to cut down on travel time. She did, however, discover that bearing sharpened teeth worked to scare off the creepier guys in the club.

She didn't go to the festival, needing to use the time to catch up on some reading and research for her thesis. But she heard the screaming from her house and ran out to help, managing to get a few of her students to safety. But she lost some of them as well, reaching some of them only seconds too late to save them or help them. She's been the driving force behind organising a memorial of some kind for the fallen students, because she can't handle the guilt of losing some of them. And she's determined to prevent anything else from happening to them.

---
---
███████████████████████████████████████████████████████████████████████
---
---

A B I L I T I E S
As a Siren, Rosie's ability has a number of aspects. Most noticeable are her wings, which she can hide or reveal at will. They're about fifteen foot in span, and are jet black. While her teeth appear normal at first, she can also produce sharpened fangs at will, ready to tear a man's throat out. She can produce a haunting melody that draws people towards her and puts them under a trance. Her victims aren't aware that they're in a trance. She can also paralyze them with the same song, hold them in place for as long as three hours or until she releases them. She can hold her breath under water for a while, and her song carries even through water . While she's immortal, this simply means that she doesn't age. She's still susceptible to being killed like anyone else. Even if she can hide and summon her wings, one getting injured causes her immense pain, and hiding them does nothing to minimise that. When her wings are visible and her fangs are bared, she can sometimes go feral and lose control. It only happened once but she knows it's important to maintain control. Iron burns like hell and is the only thing that restrains her.

T A L E N T S
teaching - writing - memorising facts - juggling - singing (not the enchanted kind) - gymnastics - dying her own hair - finding bargains in thrift shops

S T R E N G T H S
rosie is great at working with people and bringing out the best in them. he figures out other people and knows how to work with them. she has a knack for finding the best bargains when shopping. she's enthusiastic when she needs to be and subtle when it's needed.

W E A K N E S S E S
she can sometimes overstep the mark a little. when it comes to protecting her friends, her fists can sometimes to do talking and unnecessarily so. she can only cook about five recipes and everything else turns out disastrous. she can't handle pain or being sick.

---
---
███████████████████████████████████████████████████████████████████████
---
---