---
---
███████████████████████████████████████████████████████████████████████
---
---
---
---
███████████████████████████████████████████████████████████████████████
---
---
F U L L

X

N A M E
Violet Rose Cynthia Marsden

N I C K N A M E (S)
Violet | Most commonly used
V/Vi/Vio | Used by those closest to her
Rose | Childhood petname by her mother
Marsy | Petname by a few people, doesn't like it much

B I R T H D A Y
November 10th

A G E
Died at 19 | Has been a ghost for well over ten years

R O L E
Ghost | Unknowingly a Revenant now

S E X U A L I T Y
Panromantic | Demisexual | Openly so | No preference |

E T H N I C I T Y
Caucasian

H O M E T O W N
Greythorne, British Columiba | Born | Raised | Death, and Return

H E X
#6605ab
---
---
███████████████████████████████████████████████████████████████████████
---
---

S T Y L E
Before Violet became what she is now, or more so what she used to be, her style was like any other for her age. T-shirts and jeans, sweaters and jumpers with boots or shoes. Anything that was comfortable for her. With the occasional dresses when she needed to for a special occasion. Her color choices were bright such as light blues, purples and pinks, and even reds. But after everything that had happened, her choice of clothing became, minimal as one would expect for a ghost. But since she came back from wherever she went after the attack, her style changed. She veers more on the darker colors now, of grays, dark blues and reds, but mainly black as her primary color. Now she wears leather jackets and sweatshirts, flannels of darker shades and skinny jeans with boots. Always veering more towards the darker side of fashion, and it seamlessly blends in with her almost doll-like appearance. The dark colors contrast with her pale skin is something to take of note as of recently.

H E I G H T & W E I G H T
5' 3" | 106lbs

A P P E A R A N C E
At first glances, she comes across as innocent and almost fragile. From her small and feminine frame, and doll-like appearance, she seems to be almost inhuman, possibly due to the fact that she indeed just that, but as well as her strong jawline and cheekbones and dark eyes and dark locks of hair. But one thing is certain, if her sharp yet doll-like features don't strike you first, then maybe her personality and way she carries herself will. Her appearance is the only thing lady-like about her. For anyone that truly knows her, they know that she carries an aura of confidence and pride. Her most striking features are her eyes, strong jawline, and her oddly muscular frame. What she lacks in initial intimidation, she makes up for in the way she exudes confidence and self-assurance, as well as not afraid of getting her hands dirty. While she may be somewhat short, she makes up for it and more with her surprisingly cocky attitude if her sharp glare doesn't get to you first.

For any oddities, she has a few. A small scar is visible in her right brow, causing a small notch in the hairline and is rather prominent when she has her hair up or pulled to the side. Aside from that, she has no real scars aside from minor ones from childhood clumsiness and accidents. But she does have a few tattoos, the first one she ever got was of a small ghost that is on her left inner forearm. She got it for her eight-teenth birthday and has some regret getting it due to the irony of the situation. And her last one is more of a brand than tattoo. It seemingly appeared out of nowhere when she returned after the attack in Greythorne. It is a small heart rate tattoo that crosses over her right wrist. She has no idea where it came from or how she got it. All she knows is that her wrist occasionally feels as if itself is beating at times and she doesn't know what to think of the strange and unknown mark.
---
---
███████████████████████████████████████████████████████████████████████
---
---

L I K E S
| Soft and classical music, oddly enough she's always found it calming and peacefull, and ever since she became a ghost she's found it even more calming | Books, seeing as she doesn't have much to do anymore all she ever does is read and is usually at the library for new books to read | Animals, as they're the only other ones that can see her, other than the other supernatrual beings in the town | People, she's very much so a people person and rarely likes being left alone as it makes her feel as if she'll nbe forgotten and disapear | Kalvin, as he was her pet before she died and is her only real friend |

D I S L I K E S
Paranormal Investigators and Exhorsists, rather obvious why she wouldn't like them | Her death, and she refuses to accept the fact that she passed away | Disapearing or being forgotten, she feels if anyone were to forget who she was, that she'd disapear not only from memory but also from the human world as well | Being alone, as it makes her feel as though she's the only one and it causes massive paranoia and anxiety | Cars, anything that has to do with them scares and terrifies her to the point that she refuses to go anywhere near them | Being ignored, as it only reassures the fact that she is a ghost | Being alone forever, she doesn't want to be alone for the rest of whatever existance she has left | Deep and dark waters, as she never knew how to swim and was terrified of water her entire life |


---
---
███████████████████████████████████████████████████████████████████████
---
---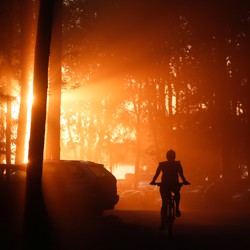 P E R S O N A L I T Y
In simple terms, Violet is the loyal Ghost best friend everyone wants. She's funny, smart, kind, loyal to the point that it's painfully so, and would do anything to keep whatever friends she has left safe from harm, even if the only thing she can really do is warn them or cause a chain reaction in hopes of them being safe. She cares for people, it's just hard for her since she lost everyone she's ever truly cared for aside from her grandmother who has fallen ill. She's the type of girl who would save a cup of hot chocolate and help you if you're having a bad day. She enjoys the quiet life, sometimes pretending to be that person who really never deals with the million problems she deals with in real life, and puts her friends first. That's her motto..and if it's anything she want's, she will do whatever it takes to get it. She has her good moments, especially with her few friends. Sometimes they can feel like family to her, and sometimes she feels like they want her to disappear. Her personality has been referred to as, innocent by most who know her, and annoying by those who are meeting her for the first time. She always has a smile on her face and has jokes to tell and positive vibes to share.

She never intends to, but she usually becomes the noticeable one, usually by being a clutz or making a really awkward first impression. The only one who differs from being just an ordinary person or in this case your normal ghost. She and her friend used to be both the ones who can have similar ways of thinking things through the right way, though all Violet feels like is that every good move she makes ends up becoming a bad one, which it usually does due to her lack of common sense, and in a way, her lack of everyday smarts. Her charm came from her mother or as she thinks as she has a hard problem with remembering things from her past life. Sometimes Vio just wants everyone to like her for who he is really- tricky thing is that she's helpful and worst of all everyone tends to never see her usefulness, and instead take her quirks and ending up having them be used as a way to put her down, resulting in her shutting down and disappearing for a while until her spirits have been lifted again.

Aside from the positives, and quirkiness she usually exudes, Violet is very stubborn to where it's painful, especially when it comes to the fact that she is indeed dead. And nothing more than a ghost, a small and slowly fading remnant of what she once was. With her parents gone and with her grandmother's slowly fading health, her memory is slowly fading and becoming none existant, and without anyone around to remember or think of her she feels herself slowly fading and growing weaker as time goes on, and she fears that the day her grandmother passes away so will her memory and in extension, Violet as a whole will soon be snuffed out as well..

But since she came back after the first attack in Greythorne, she hasn't been exactly the same. She can do everything a human can do and more. While she doesn't need to sleep like humans do, she now has the ability to if she so desires, as well as dream and even lucid dreaming and possible possession. Since coming back she's attempted a few that didn't end well and has vowed to never do it again. Ever since coming back she's been much more cheerful, but somewhat distant. Like, part of her never fully came back. She seems more distant at times than she ever did before and tends to get down and soft-spoken far more often than she did prior. Whatever happened when she was gone after saving Alex, she's never spoken about it and prefers not to. Her most recent behaviors has been cause for some alarm among her friends, like Markus. They've known each other for years, and even then their relationship seems to becoming rather distant, and it doesn't seem to bother Violet like people would imagine it would have otherwise.

But since her return, she has become even more sarcastic and almost cynical in nature. Her view on life and how she treats people has become slightly different than before. She was always a very sarcastic person that would easily insult her friend to no end and then remind them that she loves them, but since coming back she has been almost bitter and not seeming to really care if she hurt someone's feelings like she did prior. She'll realize what she did and apologize, but it doesn't seem like it's as genuine as it used to be and it has been rather worrisome for the others.

---
---
███████████████████████████████████████████████████████████████████████
---
---

H I S T O R Y
Violet's human life, from what she can remember was about as normal and average as one would imagine, even while living in a town full of supernatural beings. But as years went on and as she grew up, she learned to have an appreciation for the supernatural and was almost obsessed, always wanting to learn new things from anyone that would give her the time of day and answer her seemingly endless questions. From an early age, about seven or so she remembers being able to see things and people that others couldn't see, no matter how badly she may have tried to prove that she was seeing things and not just imagining things, while her parents put aside her childish thoughts her grandmother encouraged them. Which in turn caused more of a strain on Violet and her parent's relationship as Violet grew closer to her grandmother than her own parents.

Her grandmother was essentially her only real parent as her mother and father were always too busy to take care of and look after their only child. It was when she was eleven years old that her parents were killed in a car accident that left Violet badly injured, but nothing she wouldn't be able to recover from. Except for maybe a deathly fear of cars and loud noises. After the accident, she had refused to go anywhere near cars and would always walk to school, no matter if it was rain or shine, summer or winter she would always walk to school and back to her house in the small town with her grandmother. After a few years had passed Violet knew something was off about her, not just that she could see as her grandmother put it, "Dead people", as blunt as she was, Violet knew she wasn't like the other kids her age. While her friends were getting boyfriends and girlfriends she always felt like the odd one out as she never had any interest in anyone else. At least it was until she met someone that helped open her eyes and helped connect the dots she had been trying to put together ever since she was little, and it was because of said person that at the age of seventeen she was finally able to come out to her grandmother.

Violet sat her Grandmother down after a day at school and tried explaining it the most beating around the bush way she could, trying to avoid saying it as bluntly as she could until her grandmother simply called her out on it and blatantly said it herself. And to Violet's surprise and relief, her grandmother said she always had a feeling that Violet wasn't entirely straight, if not at most gay. She explained that she didn't care who she was interested in no matter if they were human or not, male or female, as long as they treated her with the respect that was all she cared about. And that night she invited a friend who was slightly older than her and named Sarah, over who she introduced as her girlfriend. They had been secretly dating for a few months and when Violet found out that she was actually a Fae, or more commonly known as a Succubus in lamen terms. Contrary to popular belief, Sarah did actually care for Violet, and their relationship was as innocent and pure and genuine as anyone would have guessed from a supernatural force.

But as time went on and two years went by, their relationship only grew closer and stronger, becoming rather intense. They had planned that once Violet had graduated her last year of school and got a job that they would think about getting engaged if the cards were on the table and that they would stay in Greythorn to take care of her grandmother as she was the only real family Violet had. So when her nine-teenth birthday finally arrived they had decided to go on a group date with a few of their friends to the lake in the backwoods of the town, as a way to get away from people and be able to have fun as their end of the school year was coming to a close. The day had been nothing but full of fun as they had a fire pit, ice skating, and sledding and all-around fun as they played guitar and sang songs until the sun had begun to go down and people began to leave as it was getting late. Sarah suggested that they should leave with their friends, but Violet simply said that Sarah should go as she would help clean up and catch up with them later. They kissed goodbye and Violet watched as the group left, and she busily cleaned up the area they had been occupying.

When she was finally done the sun had already set and it was almost entirely dark and the temperature began to drop. Violet was getting ready to leave when she noticed something on the ice and went to retrieve whatever it was, but little did she know that there were several thin patches of ice all across the lake. When she had retrieved the item that was on the ice she began her way back when without any warning the ice beneath her broke causing her to fall through the ice, and due to her never learning to swim due to her immense fear and no one else around she was helpless. After what seemed like an eternity of struggling and feeling weak as things began to slowly dim she felt herself begin to drift off. It was only when she opened her eyes did she realize something was wrong. Everything was silent and cold, as if she couldn't get warm, she finally found herself back home, but no one was there. She couldn't find anyone.

It was only after what felt like days that she finally found out the truth of what happened at the day at the lake. She never came back home and she was reported as a missing person. For weeks no one was able to find her, until two months later a body was discovered by an ice fisherman, and it was taken to be identified. It was Violet. She never made it back from that night and everyone, especially her grandmother and Sarah were heartbroken at the news of her passing. It was ruled an accidental drowning as it was public knowledge she didn't know how to swim. Violet attended her own funeral, not understanding what was happening as she was right there. She yelled at her grandmother, asking why she couldn't see her or why she didn't answer her. It was only when Violet saw her own body in the casket that the truth hit her. She was dead..Simply a Ghost of her former self, something no one could see or hear. Years passed as she watched the others eventually move past her death, accepting it as any other death. Her grandmother took the hardest and over the years that came by her health deteriorated severely, Sarah visited her every day until she wasn't recognized by Violet's grandmother anymore, understanding that it was her time to finally leave. Sarah left Greythorne as she had originally planned, but this time it was without Violet, who only watched as the only one that could see her left.

After that Violet was left alone, having nothing to do but watch over her grandmother silently as she was invisible to anyone that seemed to care. With being nothing more than a literal Ghost, Violet grew weak and depressed over the years as everyone she ever cared about either died or forgot who she was. But as time went on, Violet has been left alone by everyone from her life prior. in the weeks that led up to the attack on Greythorne, her grandmother's health completely took a nose-dive and hit the worst it ever had. The doctors said she had weeks, if not days to live. It was the day after the attack that Violet visited her grandmother, and for the first time in years they spoke. Her grandmother apologized for how she treated Violet and that she should have done more, and that she was sorry about what happened to Violet all those years ago. After some tearful words the two exchanged one final embrace and her grandmother was gone, finally able to move on knowing her granddaughter was safe, even if that wasn't the case. Her grandmother didn't know the truth of the situation, and had passed on with false hope that Violet was okay. Something that Violet know how to live with that sense of guilt.

But after that attack, and having to save Alex from death itself, which had caused her to almost die again in the process, something changed in her. She isn't sure exactly what happened or who or what it was, but something brought her back. She's taking every day as if it's her last, and she knows what she has to do, and she is simply waiting for that day to come. The brand on her right wrist is simply a reminder of the decision she made and she has to live the rest of her life with that, but something doesn't sit well with her, and she's scared of what type of reality she nows lives in, as no one makes a deal with the devil and makes it out without any repercussions...

---
---
███████████████████████████████████████████████████████████████████████
---
---

T H E H A U N T I N G
Unlike most of the supernatural forces that coexist in Greythorne, Violet used to be one of the odd ones out, as the others can live their life and get to enjoy life, Violet simply had to stand on the sidelines and simply observe but never interact with most of the people in the small town. As you see, Violet was a literal Ghost for well over a decade among the Vampires, Lycans, Faeries, Witches, Angels, Demons, and whatever else have you in the small town. While others could interact with anything in the physical world, Violet simply had to watch from afar as if she weren't even really there. Being a Ghost or well, a grounded spirit unable to move on, she possessed free will to roam as she wished, not being contained to the place where she passed away. But as a Ghost, she had the properties that came with it, which is when they are usually only visible to other supernatural creatures and occasionally some humans, often their loved ones, which in this case it would be her grandmother.

But due to her old age and ever failing memory and eyesight, she wasn't able to see Violet, but simply hear a faint whisper from afar and have a sense of someone being there, but just slightly. Which caused such anger and frustration as she can be standing right infront of her and be screaming and her grandmother would be none the wiser that her beloved granddaughter was with her. On the occasion, Violet was able mto ake herself corporeal for a short time, but that was relatively rare and required much concentration, peace of mind, and acceptance that she truly was dead. Normally with Ghosts or spirits, there's usually something that ties them to the mortal realm, something preventing their soul from resting, which usually, in the end, they can choose to pass on if that is ever resolved so they can find peace. But in Violet's case, she refused to accept her reality. For well over a decade she chose to reject what her existence was, and had been in a depressive episode for some time. That was until she had met some people in the town that had changed her perspective, a grumpy and reclusive lycan, a few witches that were chaotic, and then that one dumbass of a necromancer. They, for the most part, had made her existence worth it, being trapped in one's own made-up purgatory.

But during the attack, Alex, had been severely injured and with no other choice, she chose to give part of herself up to bring him back from the literal brink of death. After that, she hadn't been seen for weeks and everyone had thought she was gone. But one day she just reappeared like nothing had happened. Whatever came back, well, when Violet came back she was in an odd state and slowly became like her old self. But something has been off with her, she is able to sleep, eat, and interact with the physical realm on a daily basis without much effort compared to when she had to focus before. Now she can practically do everything and anything she could do before her tragic demise, and then some. If she focuses hard enough, she can project part of herself into other's subconscious in a state of lucid dreaming, but as everyone knows it has dangerous consequences, such as possible possession or in the ultimate rare case, both the host and the one performing the lucid dream can both perish and cease to exist.


T A L E N T S
| Before the accident, Violet had learned how to play several instruments such as the violin, cello, drums and piano, and as such she grew up to be a massive music nerd and has retained her skills even after all of these years | Unknown to most people, she was always obsessed with reading and writing, and as such she is also a history nerd as well as English nerd | Ice-Skating, ironically enough. She grew up living near the lake in the back part of Greythorne and as such she spent much time there especially in the winter | Memory and retaining knowledge since she didn't have much to do for well over a decade, she spent a lot of time reading and spending time in the library, and as such her knowledge in most fields is rather intricate for someone her age | Lucid dreaming and possession, while she knows she shouldn't, she's spent a lot of time practicing her newfound skills and is rather skilled in them, with only a few mistakes made so far |

S T R E N G T H S
| Lucid dreaming, she's spent a lot of time practicing and has almost perfected it, but that's not to say there wasn't any slight mistakes along the way | Since coming back, her ability to possess or momentarily take over someone has become one of her greatest skills, but that also has had plenty of drawbacks | Violet has been able to master the ability of becoming intangible without getting stuck in that state and has used it more than once to save her ass | Since returning, most things that affected her have no effect, but priests/exorcisms still terrify her | She's accepted the fact that she is indeed dead, or at least what she is now and uses it as her greatest tool and isn't afraid to do what she has to, to keep her friends safe |

W E A K N E S S E S
| Salt, exorcisms, and sage are still a major repellent to her and have only been amplified since she came back | Her inability to have any real sense of self-worth, being more of a hollowed husk than she ever was before | Her friends, while she loves them dearly and would do anything to keep them safe, it is also her greatest weakness now and she has the feeling if her feelings were to be exposed it'd be used against her |

---
---
███████████████████████████████████████████████████████████████████████
---
---