---
---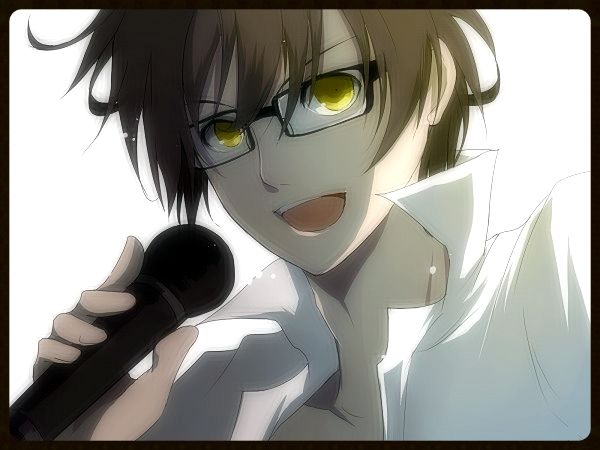 ---
---
Name:
Ryunosuke Jin Akura
"Though my friends call me Ryu."
Age:
17
"...and still growing!"
Gender:
Male
"Don't be so rude..."
Role:
Boy 8
Romantic Interest:
Being the near idol that he is, the subject of romance is one that his female fans may fret over. He has claimed to have feelings for somebody and that he will reveal these feelings when the time is right. Judging by the way he acts around them people have often assumed that his interest lies in
Shiro
,
Kaya
or
Joanna
however this is pure speculation and as such he may have feelings for any or perhaps none of these girls. The only sure fire thing known is that Ryu is straight and that the girl he has feelings for is one of his friends.
Height:
5'10"
Weight:
134 lbs
Nationality:
Completely Japanese.
Job:
Musician. He mainly plays guitar and sings, however he can write music and lyrics and has been known to play violin, piano and flute in his spare time. He is quite famous in the music world and is revered as an up and coming star, though for the time being he prefers to play small gigs around his home. "It's my passion... but I feel I have TOO much publicity some times."
Grade:
Senior
Oddities:
-Ryu has an unnatural obsession with helping others, his friends especially and has trouble saying no.
-Not really an oddity, but Ryu is short sighted, meaning he must wear his glasses to properly see/read things from any real distance.
-Ryu is an up and coming star in the music industry, however he currently prefers to only play small gigs in his home town if at all. He claims he will attempt to go bigger and better places when he graduates and it is for this reason that any fans and paparazzi interested in him generally steer clear for the time being.
---
---
---
---
Personality:
"A musical genius who takes his life seriously but acts more loosely around his friends..."
Calm, cool, collected and dedicated. To his fans and the paparazzi this is the only Ryunosuke Jin Akura that exists. They see a young man who is passionate about his music and pushes himself to the limits for whatever performance he may partake in. However to the displeasure of the media but the joy of many parents to children who aspire to be like him, he puts his education, home and most importantly to him, his friends first. He refuses to go anywhere extraordinary with his music career (concerts, record deals, big budget deals etc.) before graduating alongside his friends and c=obtaining a decent, social and normal education in a public school, even though the music World knows he has the potential to be the next big star whenever he feels like it. -
"Money and fame can't buy happiness. So I'll go after them when happiness is something I already have."
When it comes to his work Ryu is an incredibly dedicated person. He throws his all into his performances, practices his music whenever he gets the chance and has been know to lose countless nights of sleep simply staying up and writing lyrics or composing music. He writes and composes all of his own songs, he works as his own manager and arranges all of his own gigs, he preforms alone and does his best to contend with any expenses all to preform the music that he loves so much. In conversation he is the epitome of formality, calmness and cool perspective. He is always kind to his fans (though since he hasn't done anything big budget yet they are few and far between), always polite to the paparazzi and always humble when turning down producers who may approach them, informing them that he would consider them after he graduates. Behind this side of Ryu, however, is a bundle of stress that just keeps on tightening. Sleepless nights, lonely performances, difficult management, constant bothersome fans, paparazzi and stuck up music producers who act like they're offering him the deal of a life time through a lonely education and money that people would only use him for. He puts on a brave face and is good at dealing with whatever comes his way but even still nobody can take all that stress and pressure alone. Even still for the longest time he did... until along came his friends.
He had known them from before his recent musical progress (which began at the beginning of the previous school year) and thought the world of almost all of them. He became a bit more distant from them as he tried his best to cope with all the stress his discovery was bringing him. But a message from his uncle set him straight and he now feels he can be more himself around them and only them (excluding his family of course). His true self, behind the star image and stressed out life, is the person that Ryu is most happy and natural to be. He's still calmer than most, but he doesn't take everything as seriously as he usually does, often joking around with little puns or quips here and there. Unlike in his everyday life, Ryu isn't always the center of attention when he's around his friends and he most certainly doesn't try to be. He likes helping his friends deal with their problems, giving them advice whenever he can and doing his best to understand what they're going through. In his eyes he owes it to his friends to help them with their problems as by them simply being with him and treating him like the person that he is, they return the favor.
When alone Ryu tends to think and read alot, occasionally singing softly or playing his guitar to himself. He enjoys all kinds of literature and can never pass up a good read. Apart from reading Ryu is a bit of a poet, he originally wrote poems however when he learned of his talents in musical preforming and composition he was quickly able to adapt his poetic skills into lyrical form, he usually writes songs now because of this, however he has been known to occasionally write poetry as he used to... though he doesn't show anybody his poems... When alone he also tends to fill the void by talking to himself, usually about whatever happens to be on his mind at the time, as such he often tends to speak the words he writes or read aloud the books he may be enjoying at the time. When alone like this he is very relaxed and happy, content with being alone with his books and songs for a little while at least. Sometimes however, as is expected, some people may intentionally or accidentally interrupt his relaxation and this interruption is one of the few things that annoy him. This annoyance is only surpassed by his dislike of the attitude some people when they just "give up". He believes that if nothing motivates you and you simply "give up" then what point does life have? He thinks these people should get out there and find their motivation rather than lazing around with a frown on his face.
As a final note if he feels anybody he cares about is threatened Ryu will live up to his namesake as "Dragon" and defend them with everything he has. Since he feels he owes everything he has to other people he is more than willing to risk himself to save those others. Using his martial arts he is able to win in most fights and as such (though he dislikes violence immensely) he will enter into any combat with a high held head and overwhelming confidence, however if he gets angry, which can often occur if he is fighting, he has trouble stopping himself and could accidentally end up seriously injuring his opponent. As a side note, the only non-human he would most likely be willing to stand up and fight for is his cat, Hikari, who he loves to bits.
Likes:
Publicly:
~Music, it's his passion.
~Helping others, he feels it's his duty.
~Debating calmly, NOT arguing.
~Any form of chocolate biscuit or cookie, his favourite snacks.
~Being treated as an equal.
Secretly:
~Cats, he has a pet one named Hikari at home, though nobody knows about her.
~Reading, he keeps his reading private so that people don't bother him about it.
~Stargazing, it's something he generally does alone.
~People trusting him, he thinks it's the best feeling in the World.
~Martial Arts, though a pacifist, he is willing to defend himself and holds a black belt in taekwondo.
Dislikes:
Publicly:
~Insects, he sees them as pointless and disgusting.
~Fighting, he prefers peaceful solutions.
~Clowns, they unnerve him.
~Being bothered while reading, it annoys him.
~Getting annoyed, though it doesn't happen often.
Secretly:
~His fans, the over obsessive ones especially.
~Fame, he doesn't like being the center of attention.
~Fish, as a food, he dislikes the taste.
~People lacking in confidence, he doesn't see the point without it.
~Random noise, what he calls the typical horrible rap/punk/dubstep/etc. "music" that some people listen to.
Talents:
~Singing, he has an incredible voice that has gained him much attention.
~Instrumentals, he can play many instruments perfectly and is still learning more.
~Fighting, ironic due to his pacifist nature, he possesses a black belt in taekwondo.
~Debating, his calm nature makes him perfect for it.
~Giving advice, he is very mature and wise for his age and tends to advise people on issues when he has the chance.
~Understanding his friends, he has all the time in the World for the few people he feels see him as more than just some singer with a guitar.
Flaws:
~Takes his work very seriously, when not with his friends he can be over stressful.
~His calm nature sometimes make it difficult to gain motivation.
~His empathy for his friends makes it very difficult to say no to any of them... even when it's Delan... well, sometimes.
~He over-exerts himself in anything he does, often pushing his own limits.
~He gets annoyed easily when people just "give-up" or lose confidence in themselves.
~He can be extremely blunt with some things, leading to potential awkward situations.
Hobbies:
~Music, he enjoys just playing to himself or his friends when not working.
~Video games, they're the perfect escape from a stressful reality.
~Spending times with his friends, it lets him feel like a normal teenager even when he doesn't act like one.
~Martial arts, though only in self defense or friendly sparring.
~Dancing, comes with his musical talent and stage performances, he's good at it too.
~Volunteering for "normal" jobs. To pass the time and earn some extra money, though his status often gets him rejected.
---
---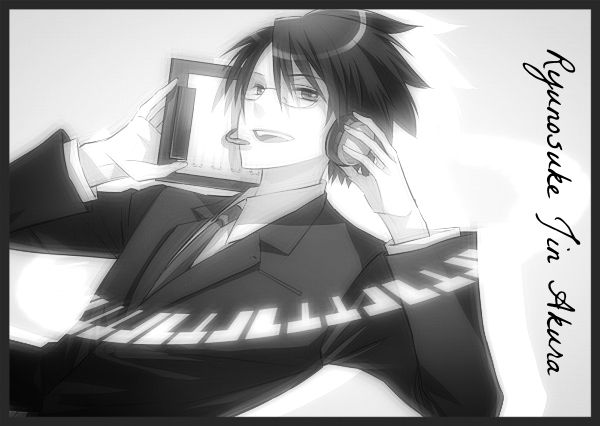 ---
---
Bio:
WIP
Other:
~Ryu moved out of his parents and uncles home to another house for unknown reasons.
~Ryu has apparently recently received a small cat with unusual fur, possessing an all black body but a white head and neck. Ryu named the cat Hikari and has told nobody about her apart from his family .
Relationships:
Shin Topen Akura - Father - Living -
"One of the most supportive men alive for me."
Mashiro Mitaki Akura - Mother - Living -
"She's a bit quircky and quiet sure, but she's always there for me."
Toma Jian Akura - Uncle - Living -
"My uncle, he lives with my parents and is a bit of a joker, but he taught me all I know about music, so I respect him."
Thoughts towards Other Characters:Holly Evans
~
"I think maybe if she was a little bit more friendly to strangers she may be easier to get close to. But I like Molly, I have no problems with someone depending on me or any of the others."
Rebbeka Jones
~
"She's easily startled by large crowds so remind me to never bring her to any gig of mine... still her quiet nature makes her easy to be around and I enjoy her company."
Shiro Rena Minami
~
"Shiro... she's so incredibly clumsy and appears so innocent that it shocks me to the core. Still that's mostly because I wouldn't want to see her hurt herself. Silly girl... if only she was a little more careful. She can be quite serious when need be however, which I can respect."
Jaemin Kim
~
"Jaemin? He's a nice guy, likes to keep things peaceful at the very least which is usually nice. However he is trained in a martial art like myself... so at the very least he can probably take care of himself. Though I've never actually seen him fight..."
Joanna English
~
"Her ethnicity confuses me... she looks Asian.... yet is apparently Caucasian... she is cheerful loyal and kind, if a bit mischievous. I hear she's not doing all too well in school however, she seems apparently resigned to her fate... her attitude has cheered me up many times and I worry for her."
Akiyuki Kawada
~
"A feminine young man in appearance to be certain. Though as far as personality goes I quite enjoy his company. I see his kindness abused occasionally however and while I feel bad standing by at such an event... I think I may suffer from a slightly similar problem."
An-Ren Huáng
~
"Oh An... so popular yet so clueless. I suppose he's not all bad but sometimes the things he may do make me cringe in almost physical pain. He isn't my favourite person in the World, but he is a friend and at the end of the day he has a good heart."
Delan Woo
~
"Talking to Delan is like talking to a child... Delan always has to be right, if Delan say it it must be true... or at least that's what it seems he believes. However, opposed to that is the fact that he reminds me of a younger brother type, so even if he'll probably completely reject it if it doesn't suit him, I try to subtly advise him."
Milo Jay Tonks
~
"Sure maybe he keeps to himself alot and MAYBE he enjoys completely avoiding giving direct answers... but the guy is a whiz with technology as a whole, if I ever need some machine fixed (and am willing to wait a while considering how forgetful he can be) I'll probably turn to Milo."
Ryoko Takahashi
~
"The female female charmer, I suppose you could call her. Even with an apparent "male" face, I don't really see her as unattractive, not that I'd tell her that... or any of the other girls I feel are attractive for that matter. Though being compared to a male would be uncomfortable for most females, she takes it in her stride and even seems proud. I respect that."
Kaori Yoshida
~
"A prideful and fiery young lady for sure... I understand that others may find that intimidating but I feel my calm personality would stand up well against her. Especially since she's a bit of a ditz and (although it may be mean to say) I feel I could probably outsmart her... though this might just further provoke her... what a dilemma."
Kayama Hinamori
~
"I'm not afraid to admit that I adore talking to this girl. Her calm demeanor reminds me of my own and I would have no trouble talking to her for an extended period of time... still her sleeping habits are worrisome... she sleeps practically anywhere she finds comfortable (or so it seems), I just wouldn't want her getting into trouble over such a detail."
Kyo Yoshida
~
"I'm an up and coming musical star and this guy still gets more attention from girls, I've been considering simply asking him for tips in that department... yet I don't see myself as the "flirting" type. He gets a little mad sometimes and is Kaori's best friend. I know alot of people probably get annoyed at his flirting... but it doesn't really bother me and I'd like to think we get along well enough."
Tamika Kondo
~
"She's certainly a headstrong and abrasive girl... that's for certain, she's another person who I must struggle to keep a calm demeanor around and one of the few who can actually annoy from time to time with their attitudes... even with that however, I know she can't be all that bad. So I try my best with her."
Hiro Maribara
~
"I have alot of respect for Hiro, pushing onwards even when suffering from the illness that he constantly deal with must be difficult for him and kudos are due to him for doing so regardless. I like to help him in any way I can (without making him feel a burden, of course), help him to overcome that illness to repay that brave attitude. He's a good guy."
Ana Yamaguchi
~
"Believe it or not but Ana actually annoys me. That lack of confidence and wishy-washy go with the flow attitude seem very unappealing to me and it makes me wonder why she doesn't exert herself more. It's not like she has an excuse like, say, Hiro would. So why? Still... she's not a bad person. I don't dislike her... she just... annoys me."
Emerie Granley
~
"A finely sophisticated and intelligent young lady is what I would describe Emerie as, despite her younger age she has more class than some other people I could mention... still she seems to be hiding something darker. Whatever it is I just hope she knows I am more than willing to offer her my assistance."