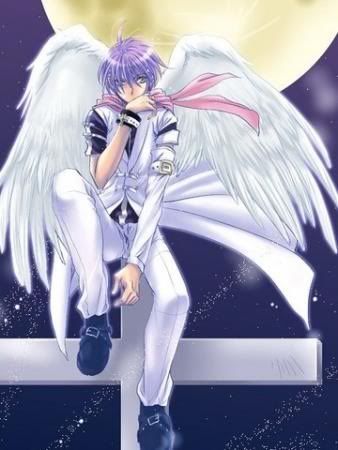 Name
Raphael Manisess. It's a good name, after all, he did make up part of it himself.
Age
21 and as lithe as a 19 year-old.
Sex
Male, obviously.
Species
He's a Guardian Angel, and a damn good one at that.
Guardian/Charge
Hephzibah Bishop
Crush/Love
You ask a lot of personal questions don't you? Well, no, he doesn't have one, except his charge of course.
Appearance
Well, as you can clearly see from his profile picture, Raphael is a young man. What you want more? Fine! Raphael is a young man with a slim, lithe body whose wings are a white with an added tinge of blue. He is fairly tall and doesn't have any sense of style, as you can tell from the photo. He has sapphire blue eyes which you can get lost in but by far the most peculiar thing about him is his hair. His hair is somewhat long and unkempt, but not to the point it looks unclean, and is a light shade of purple. No-one knows why or how it happened but Raphael seems to take offense to anyone who even vaguely comments on his hair colour, let alone laugh at it.
Personality
Where do I begin? Raphael, you could say, is the serious guy with a short fuse. He tends to be calm, cool and collected most all of the time and prefers not to get into arguments, finding them 'stupid' and 'unreasonable'. He's a bit of a loner, tending to not interact with other Guardian angels or humans beside his charge. Apparently, he finds other people 'troubling'. With his charge as well he tries to act as an authoritarian figure, constantly telling them what and what not to do.
However, if you get him to break his veneer of coldness he is a rather emotional guy.
He gets indignant when people don't follow his orders repeatably and will chase after someone if he is being ignored by them. He really hates to lose at anything and can be said to have a slight inferiority complex. He can be nice too though, and is extremely protective of his charge.
Other
Love Unknown