Name : Isobel Sasaki
Age : 15
Gender : Female
Arcana : Fool
Guardians : Satire > Risa
Weapon : Dual Wielding Daggers
Guardian's Element : ( What do I do about the Jack of all trades thing?)
Guardian's Weakness(es) : Fire, Wind.
Guardian's Resistance (Only applies for second forms) : Darkness
Appearance :
Satire: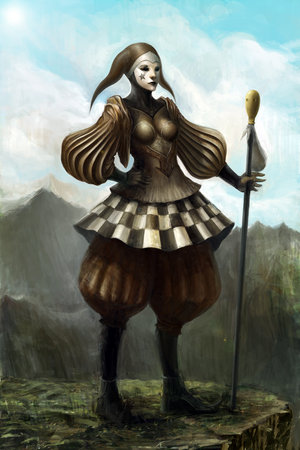 Risa:
Backstory: Isobel, the result of a Scottish woman and Japanese man falling in love, was never one to be taken seriously. She's always been mistaken for younger than she is and has been written off by most potential friends. Luckily for her, her father had children from a previous marriage that always seemed willing to include her despite the age difference. It wasn't much, the youngest being two years older, but as a child, it seemed like a lifetime. All three of her older brothers have attended Guardian High and this would be her first year. Despite Akashi, 19, graduating, Isobel, or Belle as she is called by her family, would still have Riki, 18, and Isao, 17, to keep her company. The family is fairly prominent in the area, but Isobel tends to forget her status, just like everyone else seems to.