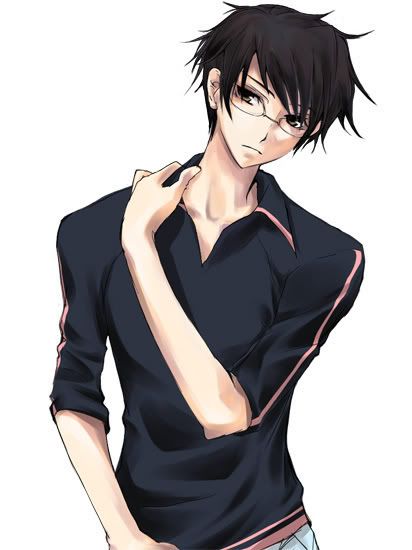 Name: Taylor Richards
Age: 16
Gender: Male
Appearance: Pretty much to the letter. Taylor always dresses in subdued tones, and doesn't stand out much. He is 6'0" and is a rather lanky build.
Nationality: American- Japanese descent
Religion/Philosophy/Beliefs: Religion is the organization of superstitions. I don't need others to tell me what to believe, I'll make it up as I go.
Personality: Taylor at first looks like a geek, and at first he will give the impression of it. He is rather quiet, when talking for the most part, but that is only half of his personality. In reality he is not very much of an academic and hates studying and would much rather spend his time playing sports. However he does have a sense of duty that compels him to do well. When talking to others he can be rather sarcastic, and is actually quick to make laugh. Although, with that ease to laugh he is also easy to anger... sometimes. Normally he will contain anger towards people he doesn't know to maintain his exterior, but with people he knows he can be rather tempered. one thing that can break through his outer shell is his passion. When he is passionate about something, he will certainly fight to the death for it. (Proverbially of course)
History: Taylor grew up in Washington state to parents who divorced when he was five. So as long as he could remember he was always shuffling between his American father's house and his Japanese mother. However he didn't continue shuffling for very long. You see, Taylor's father was a karate teacher and International level competitor. (In fact that is why he went to Japan and eventually met Taylor's mother) So through Taylor's early years, his father was constantly pushing karate on Taylor, especially since Taylor wore glasses due to farsightedness from an unknown birth condition. Unfortunately for Taylor's father, Taylor wanted nothing to do with karate.
After his father's death, Taylor began living exclusively with his mother, and from then on led quite the ordinary life until his mother started to tell him about his ancestry on his 16th birthday. In Feudal Japan his family was well known for exorcists and psychics within the Buddhist faith, the last of which was his great great grand father, Kenjiro, who left and became a samurai for a near by lord. He was afforded one day after he began his task as a warrior to visit his family, where his parents blessed his sword to protect him from all that was evil in this world and the next, she placed the katana in his hands and told him to keep it safe for it may one day protect him as well. Later that year Taylor was accepted into Ab Inito Academy due to his work. Seeing a perfect chance to expand his horizons and see the world he accepted and moved out.
Fears: Heights, going blind, dying, Failure, spiders, tight spaces
Likes: Chocolate, Playing sports/games, Learning new talents (Ex: music, or other fun diversions)
Dislikes: Getting stuck, Hypocracy, Loss of control, screeching
Element: Wind
Weapon of Choice: a family heirloom, his great great grandfather's katana, Sairento No Ookami
Fighting Style: Karate, Kenpo,
Magic?: Untrained Psychokinesis and Clairvoyance
Weaknesses/Personality Flaws: Taylor is very shy and distant to new people, if in a dangerous situation he will not help them til he gets to know them